This is not your ordinary ramen. This is not what you expect no matter what ramen shop you might go to. You think it is all the same. Especially here in the US. It has the same taste. It has an assortment of scallions, bok choy, and some chicken, beef, pork or tofu. It is warm and might be in a soup made from broth. It is mass-produced and ready for a quick meal. That is typical.
But step through this door. Step into Tokyo. Step over and try real ramen as it can be made. This is not the same as you imagine or have tried before. This is different and special. This is where you wanted to be. Welcome to THUMBS UP RAMEN.
THUMBS UP RAMEN: A NEW PLACE WITH A TRADITIONAL WAY
As you enter Thumbs Up Ramen you notice that it is not an ordinary chain of restaurants. This is a simple, well-designed location that is more like stepping into a place that you would find in Tokyo.
It is simple. Plain. But it has a design and look you can only find in a true Japanese location. Even the music sounds like you are stepping into the kabuki theatre and are listening to a new event on the stage.
As you sit down you receive a very simple menu to choose from. This is pure ramen. It is not a variety of different entrees. This is traditional ramen with two options right now. There are some additional side courses to select from as well. But when it comes to what you might want to have it is basic. 
You can have ramen in a broth, or you can have it without the broth. Without the broth, you will receive the ramen with a dipping sauce on the side so you can dip the noodles in before you take a bite. That is how it will work. And use a chopstick to make sure you can pick up a few noodles and make the dip.
We spoke with our waitress and she helped us know what is being offered. We could also see the chef at the counter cooking the ramen in the way we would expect. Having lived in Tokyo for several years we knew what we expected to have. And we were lucky. It was as we imagined it would be.
Starting with Matcha Green Tea and Gyoza
The first thing we started with was to have something to drink. With that, we ordered Matcha Green Tea over ice. It is not your typical iced tea. This is a green tea version of it. It is fresh and delightful.
It is a good way to have something to drink when it is taken with ramen you would find here or in Tokyo. In this case, the tea is natural, fresh and authentic. It is not from a container. It is made fresh for you when you request it.
Next, we started with an appetizer by ordering Gyoza. This was fresh, handmade dumplings that were hot and the perfect size to start with. They were made as we ordered. The dumplings were made in the kitchen area. They were stuffed with a combination of fresh meat, vegetables, and a little spice.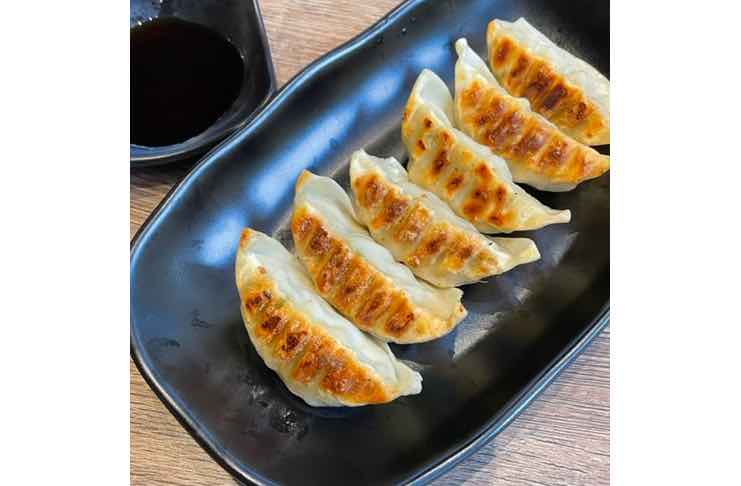 They truly tasted good. And that is one thing in Japan, there is nothing over-spiced. It is simple and direct. Just enough with each bite you take. There is always a dish of some spice you can add to make it sharper or have more flavor.
It is your choice. You can also take the gyoza and dip it into a dish of soy sauce to give it a slight taste as you eat each piece. There is nothing oversized. It is easy to eat each piece as you decide.
Now it was time for the ramen. And this was different. This is the ramen you can expect when you are in Tokyo. It is fresh. It is tasty. It is seasoned with the right spices and flavors that is just enough with each bite you take. 
Also, it is not cold and it is not hot. That is not traditional ramen. Instead, this is room temperature if you think about it. It was freshly made and cooked. But it is rinsed and put into your bowl at room temperature. It is topped with some scallions and the meat of your choice. In our choice, it was chicken and pork.
You select the ramen noodles with your chopstick and raise them up. These noodles are long enough. You then take the portion you selected and dip it into the side bowl that is filled with broth. 
We had one order of plain broth and one made with miso soup. It is mixed with some seasoning and is warm. It is a good combination with the room temperature of the noodle. One is warm. One is not. But when you dip it in and they give it a try you realize that combined they make a good selection and taste.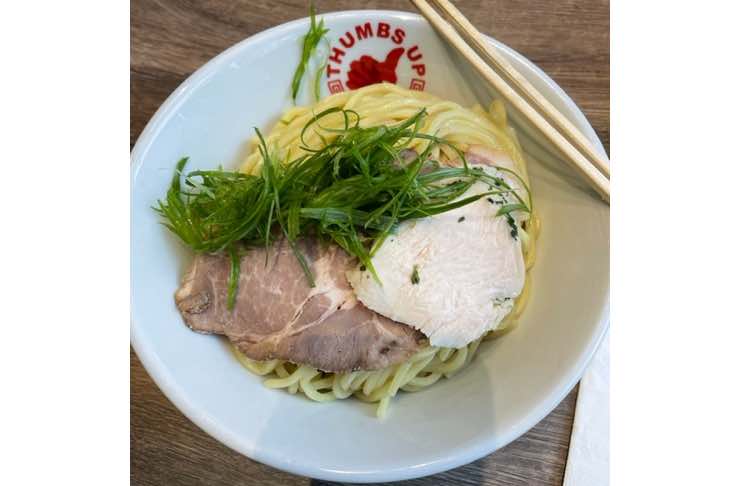 I had ordered the larger bowl of noodles as I really wanted to try it. It was perfect. With each dip I took, it reminded me of the ramen shop I would always go to when I lived in Tokyo.
It was bringing back the taste I had lost when I moved home to the US. But here, at Thumbs Up Ramen I had it back. I found the place where I could get the type of ramen I enjoyed and truly wanted.
On the table was a selection of lemon vinegar or a container of red pepper seasoning to add a bit of spice. I moved my bowl with a bit of each with the more I ate. 
As for the miso dip I had, it is as if I had my own bowl of soup to use. It was a meal to itself if I wanted. I made sure I completed this when I was done with the ramen. The taste of the dip was fresh and a little spicy. A good complement to what we had to enjoy.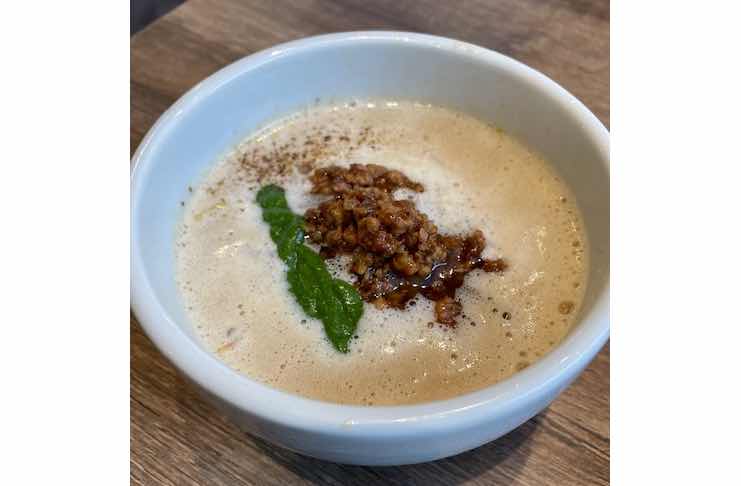 A PLACE TO ENJOY EVERY TIME.
Going to Thumbs Up Ramen was being back where I enjoyed and had missed. It is the style I like. It is the local shop you would visit that has one or two types of ramen to select. And that was it. 
These are not pages or varieties. There are only a few that are simple to choose from.
Japan has taken ramen to its heart, and there now exists an endless number of variations and regional flavors of what is essentially a bowl of noodles with toppings. 
The key aspect of ramen is the noodles, which are made of wheat and come in a variety of styles. Typical ramen noodles are long and elastic, but countless varieties exist that vary from thin and straight to thick and wavy. Some ramen-ya allow you to customize your noodle order to some extent such as by allowing you to select a thickness or doneness. 
As with other ramen in Japan, a slurping sound is made when eating ramen. The slurping enhances the flavors and helps cool down the noodles as they enter your mouth. At the end of the meal, it is alright to leave some unfinished in the bowl. You do not need to drink the whole bowl to be polite, although it is considered a compliment to the chef to do so.
The team here is wonderful. Chef Miyazawa-san is an expert. He is originally from Hokkaido and learned how to make the taste of ramen there. He is a true chef I spoke with on what was made. It was a pleasure to speak with him.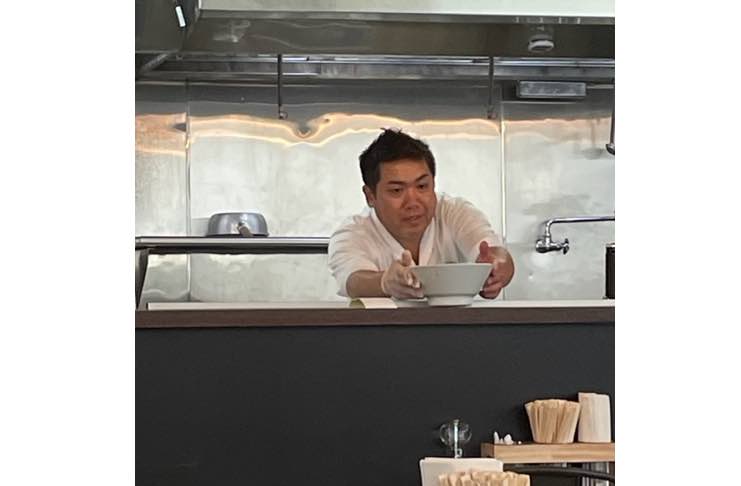 The price is right for the amount you get. It is a good selection to choose from. And you can expect a good taste that is freshly made for you while you wait. 
If you'd like to try some Japanese-inspired snacks before your "trip" to Japan, check out Sugoi Mart – a Japanese online store that is shipping all over the world everything that Japan has to offer. From snacks, chocolates, and anime licenses to toys and collectibles, their motto is pretty much: You want it? They have it! If they don't, let them know and they will!
Back to our review of Thumbs Up Ramen…going to this place was a great experience. It was nice to have the version of ramen that I do enjoy. It is always nice to grab a dish of ramen when you want it. But to have a meal of ramen that is different, fresh and reminds you of ramen you have always enjoyed, then this is the place to go.
As we would say in Japan, and as we should say here, Domo Arigato!
Check out more reviews on Yelp.
Location:
Thumbs Up Ramen
2024 Center Ave, Ste G, Fort Lee, NJ 07024
Phone: (551) 600-2010
Want to read more of our reviews? Check out our review of aRoqa – a lovely Indian restaurant in town.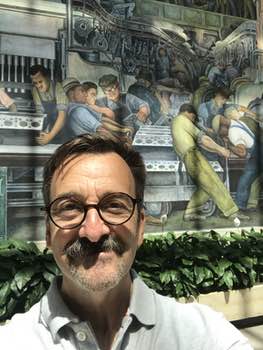 "The Jaded Traveler". Ron Rossi was born and raised in New York. A globalist at heart, Ron is a marketing director by trade, and has lived and worked around the world including Asia, Europe, Africa, and South America. Food is one of the best ways to learn about a country, a people and a culture. So, Ron is always looking for the best in mid-range to budget and street food. He is always on the hunt for a good meal anyone can afford. It is the food of the average citizen that excites him. And with having visited close to 100 countries on 6 continents so far, there have been some pretty good meals.