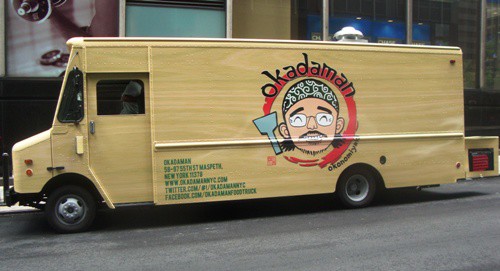 As detailed in our Sneak Peek last week, Okadaman is one of the most interesting new food trucks in NYC in quite some time.  Okadaman is the nickname of the chef whose recipes are served on the truck, Okada Yasuhiko, and whose illustration graces the side and back of the truck.
During our Sneak Peek at the commissary before their opening, we got to try much of the menu, but there was one item we didn't get to try – an original okonomiyaki, which costs $8.97 after tax.  There is also a seafood okonomiyaki available for the same price made with calamari.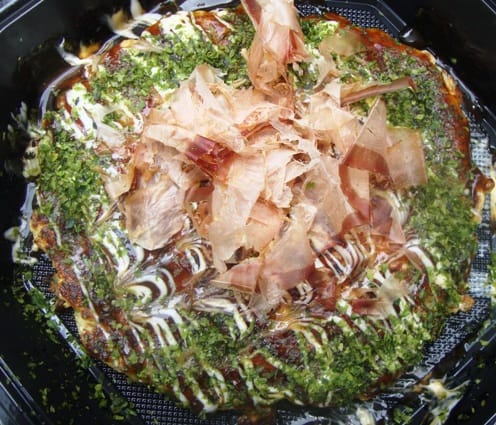 It's kind of tough to see with everything on top, but this all starts with a special batter of eggs and yams, to which some things are added including red ginger, cabbage and bits of tempura.
Chef Okada has very exacting standards for the batter. Yesterday Okadaman tweeted they were not going to be open for lunch until 12:30 because the chef did not approve of the batter, and they had to make it again. That kind of attention to detail will keep me coming back.
Once the pancake batter is poured onto the grill and starts to solidify, the pork or squid is put on, then it's flipped over.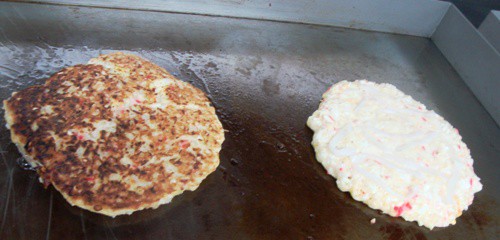 Where the true magic takes place is in the toppings.  The pancake is topped with okonomiyaki sauce (a delicious sweet and tangy brown sauce), Japanese mayo, nori (seaweed) and shaved bonito (tuna) flakes in the center.
Not only are the ingredients top-notch, but the presentation is gorgeous. Take another look at the top photo of the finished okonomiyaki.  This is one of the most beautifully presented lunches I've eaten, truck or not.
Not being an expert in this Japanese cuisine, it's kind of difficult to describe, but there was both sweetness and tang from the okonomiyaki sauce, some fish flavor from the bonito flakes, a little creaminess from the mayo, egg of course, and the pork added some meatiness and saltiness.  Great dish!
Okadaman has staying in the same place for lunch, 48th St between Park & Lexington Ave.  They expect to serve dinner too at some point, and they just started serving breakfast too beginning at 9am. We'll have to check that out one day.
You can find Okadaman on Twitter here or on our Mobile Munchies Twitter feed.
If you want something a little less adventurous, Okadaman also has fried chicken (kara-age) and yakisoba, a noodle dish with pork.  If you are more adventurous, try the takoyaki, which are fried octopus balls.
There are also combination specials so you can try more than one dish. The full Okadaman menu is here.
Enjoy! We certainly did.