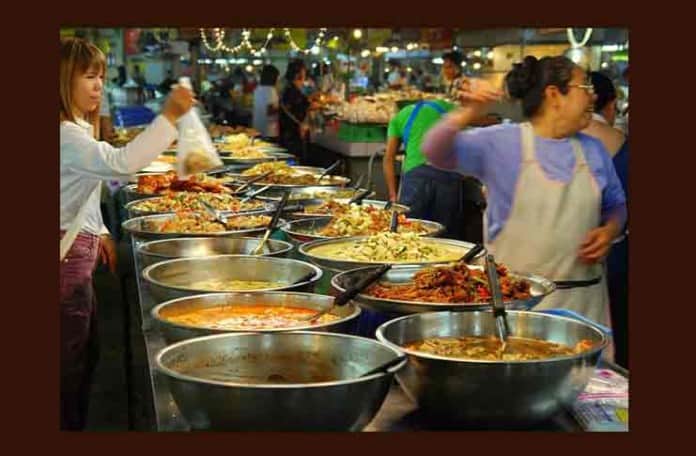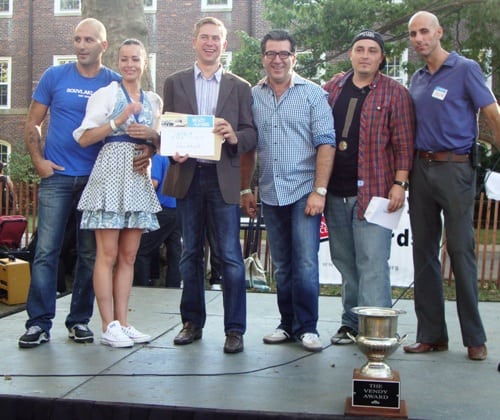 As we mentioned in our post about the Vendy Award winners, Souvlaki GR won the Rookie of the Year category.  Not a big surprise, as they had the longest lines of all the Rookie vendor nominees.  We've been talking about Souvlaki GR since before they hit the street at the end of August.  Thanks for backing up our hot air with your delicious food!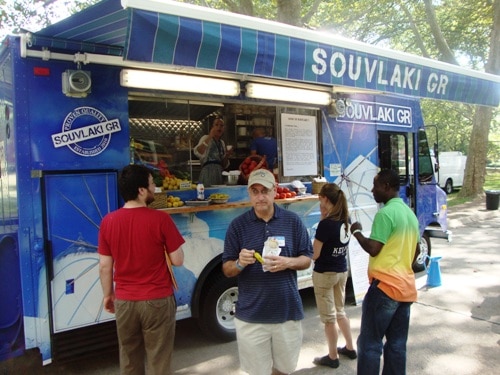 The Rookie of the Year category was a very diverse field.  In addition to Souvlaki GR, there was Mexicue, Cinnamon Snail, 99% Vegetarian Food and A-Pou's Taste.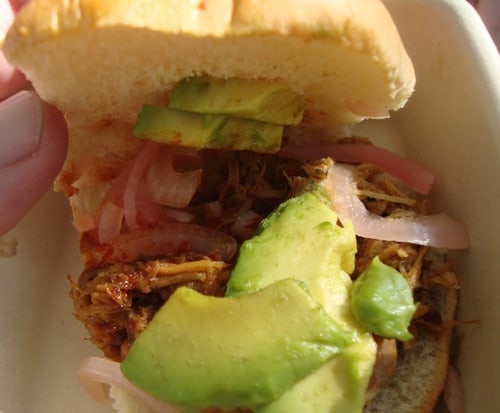 Mexicue had some great food as well.  Their pulled pork with a Mexicana rub, smoke flavoring, bbq sauce, pickled red onions and avocado was truly awesome.  Their bbq beet tacos with goat cheese and bbq brisket sliders were delicious too.  Excellent job Mexicue!
Cinnamon Snail, the vegan truck, put together a sampler platter that included grilled tofu over coconut mashed yams with mango salsa, candied pecans and fried ginger (below left) – and that was only one item!  They also had Korean bbq seitan with kimchi on a chili butter slathered tortilla (below right) and porcini crusted tempeh over white truffle mashed potatoes with a white wine French mustard dressing (top right).  This was probably the most ambitious plate of food put together by a Rookie nominee, which had lots of different tastes and textures going on.  Excellent work Adam and crew!
The Susano brothers of the 99% Vegetarian Food cart also let people put together sampler platters with your choice of a soy burger, vegetarian chili, veggie soy chicken, marinated grilled vegetables and our favorite, tofu scramble that tastes just like scrambled eggs.  They also had 3 sauces available- lemon carrot ginger, guacamole and a tomato sauce.  Nice job guys!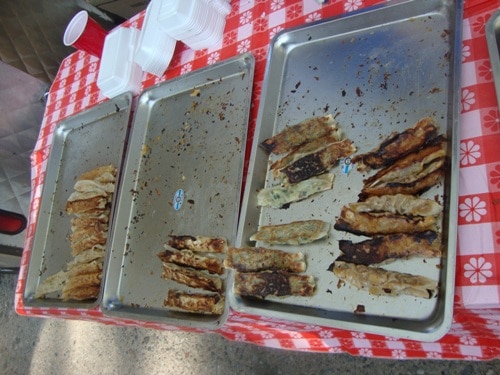 The last Rookie of the Year nominee was Wen Pin of A-Pou's Taste.  They had beef, chicken, pork and vegetarian pot stickers, as well as corn chowder and hot and sour soup.  We went to their cart for dinner last Thursday, and you can read our full write-up here.  We really liked their corn chowder, and were able to check out the different types of pot stickers at the Vendys, after only trying their pork pot stickers at their cart a few days ago. Nice work Wen Pin and everyone at A-Pou's Taste.
Last year's Vendy Rookie of the Year was Schnitzel & Things, who were nominated in the main category this year.  Let us know in the comments which of the Rookie Vendy nominees you expect to see next year in the main category.