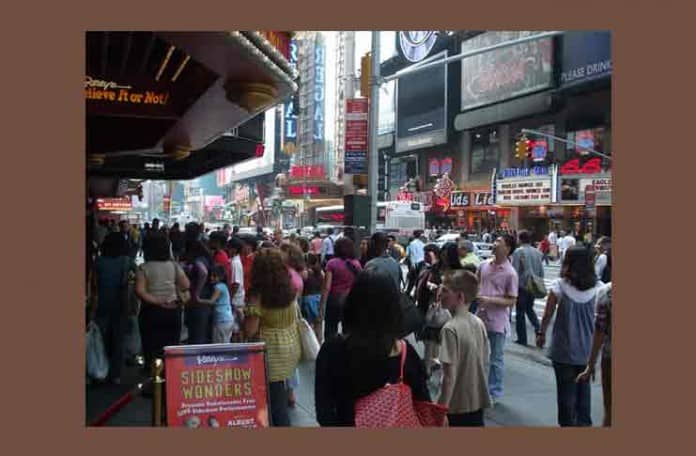 We're starting a new feature on Thursdays called Wall Street Winners.  FiDi Mama, a resident of the Financial District who has the Money Grub blog, will be writing about one food truck or cart in the  downtown area each week as a guest reviewer for New York Street Food.  As FiDi Mama says: "My goal is to eat my way through all the promising food carts around Wall Street and the Financial District during the Spring and Summer of 2010."  Here's hoping she decides to keep it going after the summer.
Her bio – Fidi Mama returned to New York, her birthplace, in 2007. But she is still a foreign correspondent at heart. To make stay-at-home mother days more interesting, she and her 22-month old daughter, HD, scan their Wall Street neighborhood for exotic and delicious street food.  Fidi Mama also studied at the Institute of Culinary Education full-time for two months in the summer of 1995, when it was called Peter Kump's New York Cooking School. But most of her opinions come from years of eating street food around the world, from Taiwan to Morocco.
FiDi Mama reviews 2 or 3 downtown places a week on her site.  If you are interested in downtown street food options, make sure to check out her Money Grub website.
For FiDi Mama"s first New York Street Food review, we have selected Veronica's Kitchen on the corner of Front and Pine Street.  Veronica's Kitchen was a Vendy Award finalist a few years ago, which solidified her reputation as one of the best food carts downtown.
Let's give FiDi Mama a warm NYSF welcome – and click through for her full review.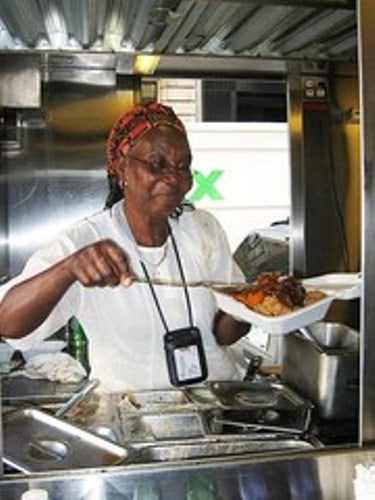 Location: Corner of Front and Pine Streets.  Across from the Eurostars Wall Street Exchange Hotel. Not far from South Street Seaport and the Wall Street ferry terminal to IKEA.
Grub: Small Jerk Chicken meal with 3 sides ($6.50) plus a 50 cent tip – it cost $7 to feed 1 adult and HD. (Maybe I'm dense, but I didn't see jerk chicken listed on the menu. The cooks suggested it as their most popular dish.)
Review: This cart caused me to junk my preconceived notions about jerk chicken. Forget the orange sauce or the bottled stuff that chain restaurants pour over a chicken breast. Veronica cakes on a mysterious herbal dry rub flecked with hot red spices. The chicken itself remains white or brown in color, but the meat is infused with the most addictive, delectable mix of flavors. I couldn't get enough. And it was spicy enough that I didn't need to add any of their hot sauce, convenient prepackaged in mini plastic tubs.  HD kept begging for more chicken even though my mouth was burning.  I gave it to her.   At the end, I dipped my last piece of chicken in the piquant hot sauce and I hit a whole new nirvana.
The sides were less to rave about.  The mac-and-cheese was dense and bland, but it had a good cheesy top crust. The string beans were overcooked for my taste. And the candied yams were far too mushy and cloyingly sweet. But HD loved them. It's no bargain at $6.50 for a small meal.  I would order the larger size next time.  Excellent, quick friendly service at 11:40am. Veronica advised me to send HD to school and give myself a break.  "Look, she's talking already," she said with a smile.
Rating: I'd go back tomorrow.