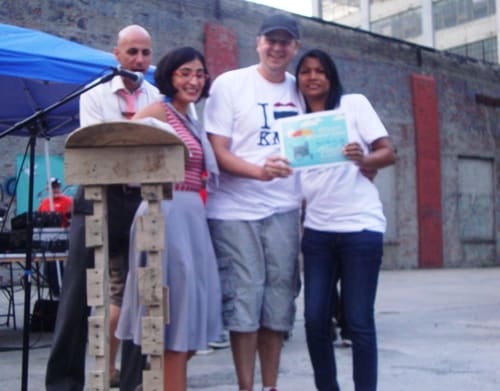 We said earlier that Rookie of the Year was a very strong category at the 2013 Vendy Awards. The other killer category was Best Market Vendor.
With the rise of food-based markets such as Smorgasburg, Hester Street Fair and the New Amsterdam Market, some of the most interesting creations are coming out of these markets.
We were not familiar with most of the Best Market Finalists, so it was a lot of fun trying many new dishes.
Khao Man Gai didn't look like much, a little shredded chicken over rice with a ginger garlic sauce on top.
What you couldn't tell until eating it was how great that ginger garlic sauce was! It hit all the bases – sweet, salty, spicy and sour.
Sometimes looks can be deceiving, but taste is not. We knew as soon as we ate khao man gai, that it was one of our favorite dishes of the day.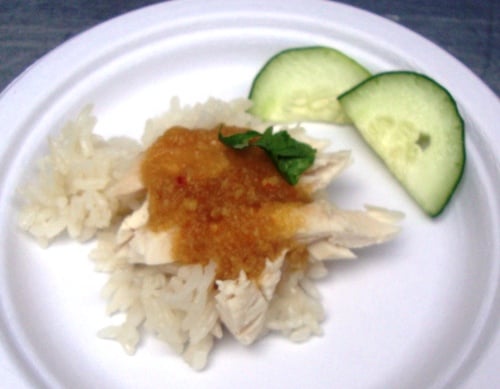 But there were a lot of fantastic dishes from the other Best Market Vendor Finalists.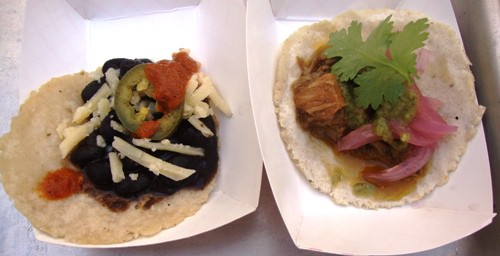 We only had one of the two tacos offered by Lonestar Taco, but it was so good, we immediately went back to their stand to tell them how much we enjoyed it.
The pork carnitas taco was served with pickled red onions and salsa verde that immediately woke up our taste buds. The acidity of the pickled red onions and the spiciness of the salsa verde were phenomenal, and the slow-cooked pork stood up to both.
Lonestar Taco was our 2nd favorite dish from the best market vendor category.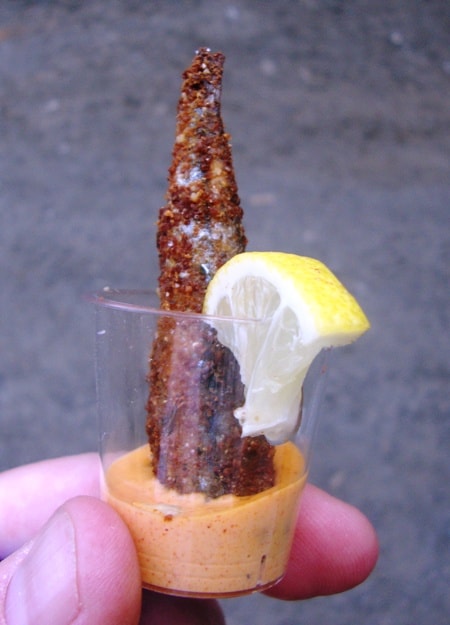 One of the more interesting dishes was offered by Bon Chovie. Fried anchovies Jersey Style (with the head) or Original (without the head).
The fish was served with smoked paprika mayo and a slice of lemon. We really like fish, and this was pretty good.
Bon Chovie not only had the best name of the vendors, they also had the best slogan: Swim Fast, Fry Young!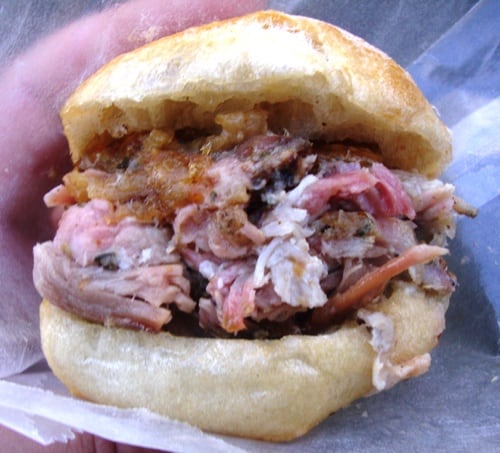 Porchetta had the longest line of the market vendors, with a lot of people familiar with them from their store in the East Village.
Even if you weren't familiar with Porchetta, the menu description would have grabbed you: slow-roasted pork loin wrapped in pork belly with bits of crunchy skin, and seasoned with garlic, sage, rosemary and wild fennel pollen.
While the porchetta was very good, we remarked to Street Grub Steve after eating it that we preferred the khao man gai, which had no line whatsoever.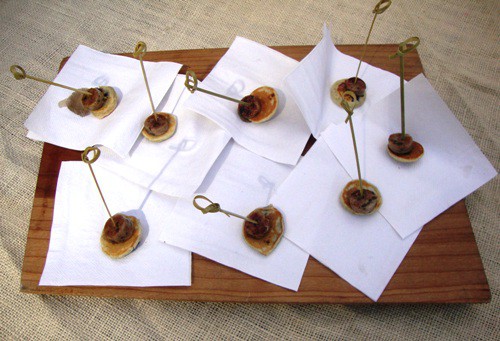 The final Best Market Vendor was Brooklyn Cured, who offered 3 different bites of sausages during the day.
We stopped by early when they had breakfast sausage atop a small blueberry pancake with maple syrup. It was tasty, but was literally only a bite.
Whoever decided to create a Best Market Vendor category at the Vendy Awards deserves a promotion. This is the 2nd year the category has existed, and it has been responsible for some of the most interesting food served at the Vendys.