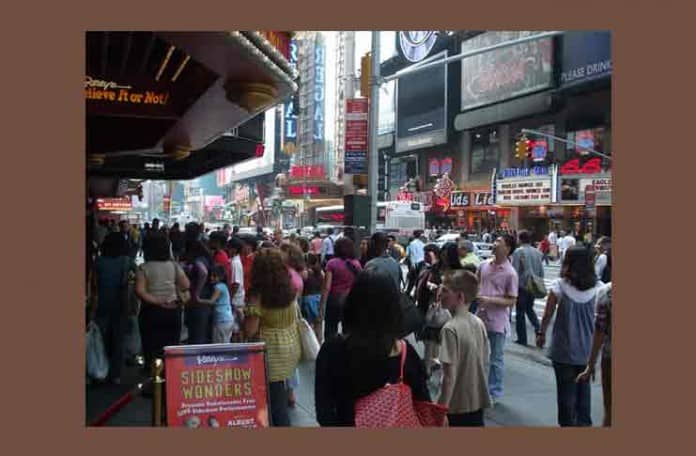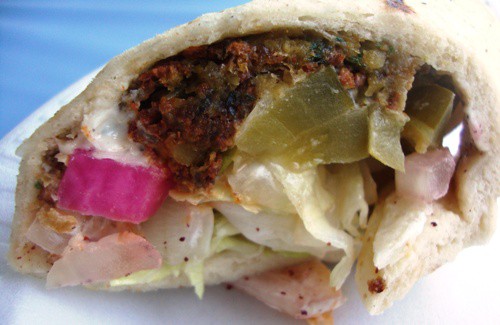 We had a great time at the 2010 Vendy Awards yesterday, and there's a lot to cover, so let's get to it.  As you probably know by now, the Vendy Cup and the People's Choice Award were won by The King of Falafel & Shawarma.  Click here for our post detailing the winners in each category.  Pictured above is the award-wining falafel sandwich.  But all the Vendy Award finalists had delicious food.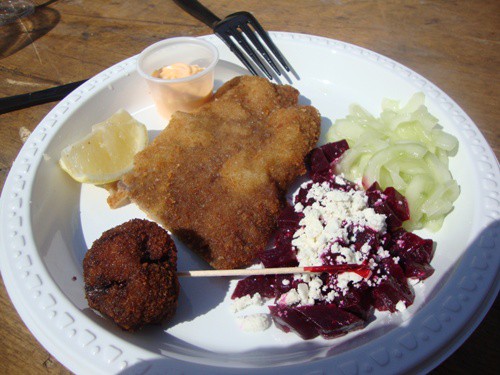 Last year's Rookie of the Year winner, Schnitzel & Things, was back this year in the main category – and they brought their A-level game.  Veal and chicken schnitzel, schnitz burger lollipops, 5 side dishes and four sauces to choose from.  They had Austrian potato salad, chickpea salad, cucumber salad, braised sauerkraut, and our personal favorite, beet and feta salad.  Excellent job Oleg and company.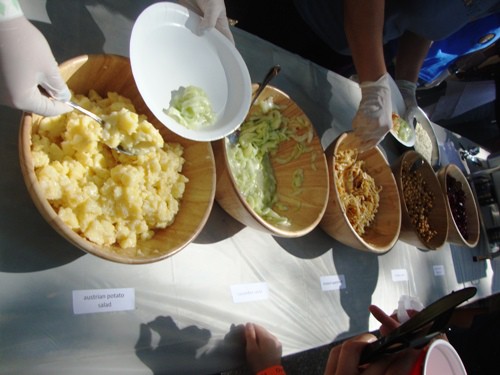 Next to Schnitzel & Things was Bistro Truck, one of our favorite food trucks and a regular lunch place for us during the week.  Yassir put together a sampler platter of lamb tajine with rose water and honey over couscous with a sesame dusted stewed prune (top item), chicken Dijon with creme fraiche (below right) and merguez sausage on a sliced baguette over a lentil pumpkin stew.  The best of Morocco with a little French influence thrown in for good measure. Amazing job Yassir and everyone at the Bistro Truck.
El Rey Del Sabor put together many platters of assorted fresh Mexican food such as enchiladas, chalupas, tacos and other dishes.  They have 3 carts in midtown, and are also on our regular lunch list.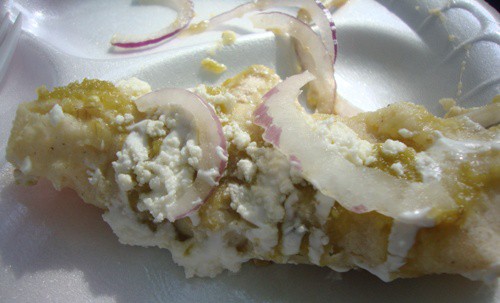 Above is a chicken enchilada with salsa verde, cojita cheese and red onion.  This was probably the spiciest dish I had all day, and it was great!  Thank you Rosa and everyone working so hard at El Rey Del Sabor.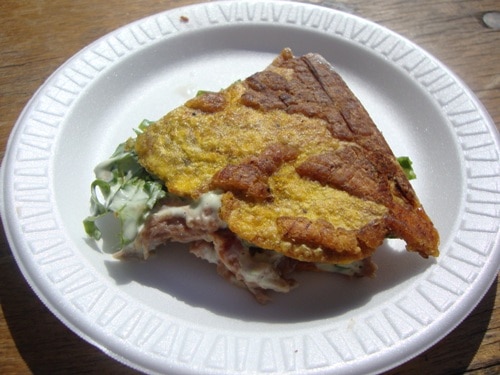 The last Vendy Finalist in the main category was Patacon Pisao, a Venezuelan truck that parks up in Inwood.  They specialize in patacones, which are sandwiches that use fried plantains as the bread, with shredded meat, lettuce and their special sauce in the center.  They also had a tres leches cake (below) that was really tasty. Great job Patacon Pisao.
These were the Vendy Award finalists in the main category.  We will be writing about the dessert and rookie of the year categories later, so please check back tonight or tomorrow.