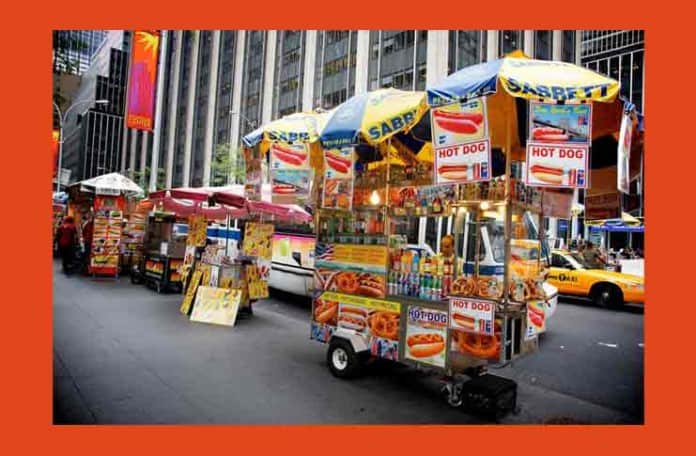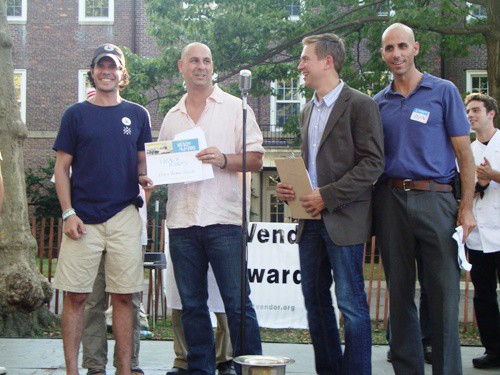 The Vendy Award Dessert category was a very difficult category to predict.  Any of the nominees could easily have been justified being chosen as the Best Dessert vendor, with 2 past Vendy finalists chosen again this year.
But the people at the event voted, and they chose Kelvin Natural Slush Company as the Best Dessert.  This has to be the first time a Vendy Award winner took their name from a temperature scale.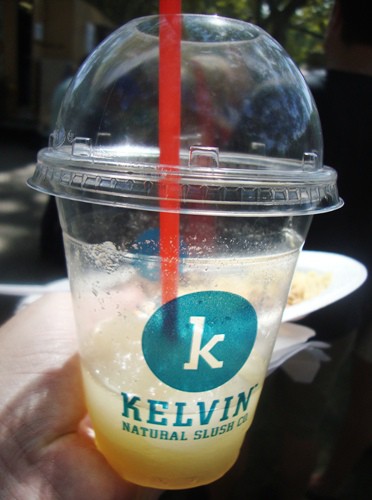 Kelvin came onto the scene a few days before our Dessert Alert on July 25th, which contains our first review of their delicious drink.  They came up with a couple of special slushes for the event: The Vendy, which was 1/2 ginger and 1/2 citrus slush with blueberry added, and The Governator, which was 1/2 citrus and 1/2 tea with pear added.  Congratulations to Alex and his team on this great win!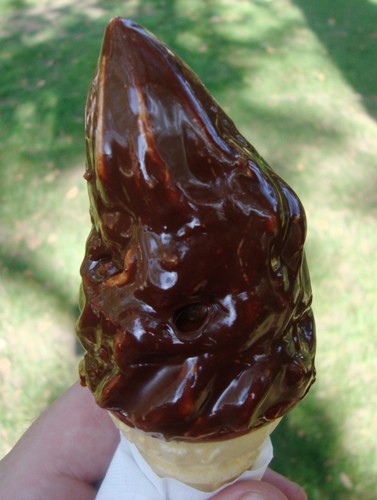 Doug and Bryan from the Big Gay Ice Cream Truck were nominated again this year after being a double nominee last year in the rookie and dessert categories.  They probably had the longest lines of the day, but everyone who read Doug's blog post would understand that no ice cream machine could meet the demands of the Vendy Awards.
To help alleviate this, they set up a table on the side of the truck with small samples and toppings for people who did not want to wait on line.   I waited on line for about 1/2 hour for a Salty Pimp – and it was well worth it.  Thank you Doug and Bryan for serving such great ice cream and making us laugh at the same time – as long as your ice cream doesn't come shooting out my nose because of it.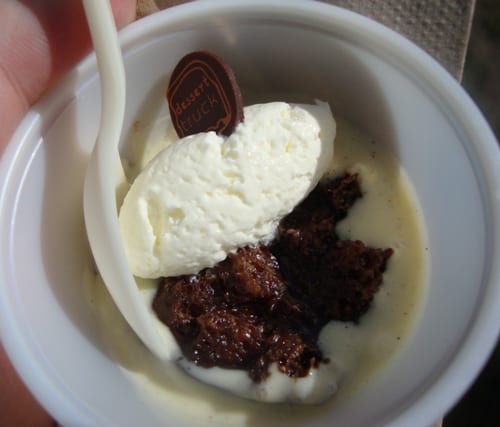 Also back at the Vendy's was Jerome Chang's Dessert Truck, who were dessert category finalists in 2008.  Since then, they opened a store on the LES called DTWorks, took the truck off the road in 2009 – and put it back on the road in 2010, leading to another Vendy Award nomination.
Jerome served two of his most popular desserts – warm chocolate bread pudding with vanilla custard sauce and buttermilk panna cotta with cassis compote and pine nuts.  We loved the warm chocolate bread pudding.  We didn't try the panna cotta, but several people I spoke with during the day raved about it. Excellent work Jerome and crew.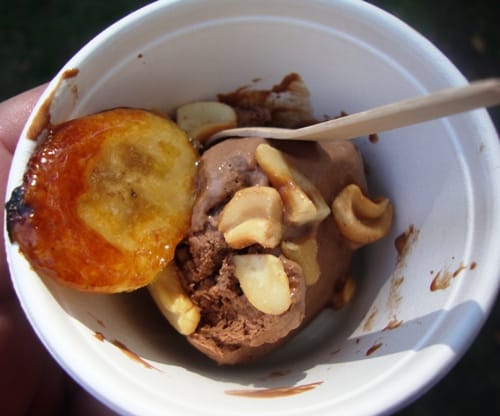 Guerrilla Ice Cream was new to the Vendys this year – and they showed they deserve to be here.  Ethan Frisch and Ori Zohar create gourmet ice cream and toppings based on p;olitical movements.
I tasted the 72% chocolate and port wine ice cream topped with a bruleed banana and cashews, which was inspired by the Guinea-Bissau revolution.  It was wonderful!
They also had a lemon poppy seed ice cream topped with crumbled spice cookies and lemon zest, which was inspired by the Czech Republic Velvet Revolution.  Excellente Ethan and Ori!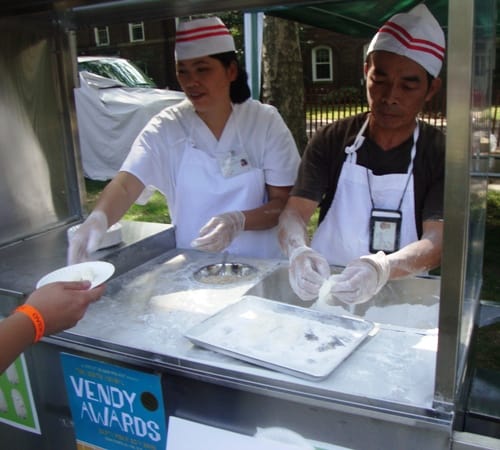 The last Vendy Award finalist in the dessert category was Yao Ai Kui of Yao's Dragon Beard Candy.  They pulled sugar into lace-thin strips and rolled them around peanuts and coconut.  We had some dragon beard candy in Chinatown a week ago, and enjoyed it very much.
Everyone in the Vendy Award Dessert category was amazing.  Congratulations to Alex and all the Vendy Award finalists.
To read more about the Vendy Award winners in each category, click here.
To read more about the Vendy Award main category finalists, click here.
To read more about the Vendy Award Rookie of the Year finalists, click here.