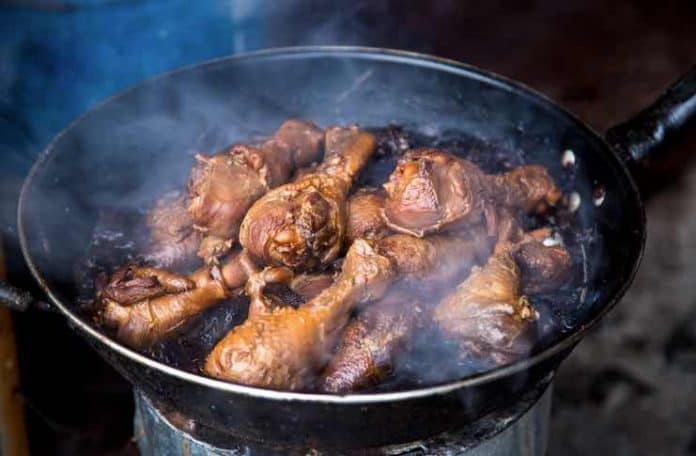 We live in a world where we just don't have enough time to prepare a good home-cooked meal. Our time is mostly consumed with our work and other responsibilities that we defer to restaurants and fast-food chains for our meals. But it doesn't have to be that way, there are meals that can be prepared with a few ingredients and a little time of our day to prepare them.
You don't need to raid the grocery for these recipes. These basic ingredients will give you a tasty home-cooked meal. With five or fewer items excluding water, pepper, oil, and water you can make a number of meals made from chicken. Read on below for tasty and quick chicken recipes. They're all easy to prepare and good for small gatherings with family and friends. 
BUFFALO CHICKEN WINGS
Buffalo, New York is the home of the world-famous hot wings named after the locality. It separates from the other hot wings by having the wings fried without being battered or breaded. Then a simple mixture of vinegar, hot sauce and butter is poured over the crispy wings. This simple but world-class recipe captures the hearts of a multitude of people in the metropolis of New York City. It's perfect for parties, game nights, or just one of those days when you crave the comfort of a familiar taste of chicken.  
Ingredients:
8 pieces of chicken wings

4 cups of oil 

2 tablespoons of hot sauce (you can add more if you want a little kick)

1 ½ teaspoon vinegar

1 ½ tablespoon of butter  
Instructions
Cut out the tips of the wings.

Pat the wings dry with a towel or tissue to make sure they'll be crispy.

Make a cut between the flat part of wings and the drummette.

Heat the oil in a skillet. The oil must be 3 or 3.5 inches deep.

On a separate pan, mix the hot sauce, vinegar, and butter on a low heat until the butter melts.

Taste the sauce if it's to your preference. If you want to reduce the spiciness, you can add butter, brown sugar, or water. And if you want to make it hotter, just add more of the hot sauce.

To achieve the desired crisp of the wings, separate them into batches. Make sure you reheat the oil after each batch.

Place the fried wings in the warm sauce and mix them to get the right amount onto the wings.

You got yourself the classic Buffalo Wings. Enjoy.
NEW YORK CHICKEN
This is the perfect combination of chicken, bacon and rich creamy cheese. It is easy to prepare and won't take much of your time to cook. You can use your favorite barbeque sauce for this recipe. You can serve it with salad, green vegetables, or brown rice.
Ingredients:
4 pieces of chicken breasts

4 pieces of bacon

4.5 ounces of barbeque sauce

⅛ teaspoon of black pepper
Instructions
Place the breasts in the oven dish side-by-side.

Preheat the oven to 395 degrees Fahrenheit.

Spread the sauce evenly on top of each of the chicken breasts.

Place the chicken into the oven to bake for 15 minutes.

Remove it from the oven, and add the strips of bacon on top of each breast.

Place the chicken again into the oven and bake for 10 minutes.

Remove it from the oven, spread the grated cheese on top of the chicken breasts with the black pepper.

Place the chicken back into the oven and bake until the cheese is cooked into a golden brown color.
For some New York fried chicken cart – check out this post.
HONEY GARLIC CHICKEN
This can be done in 15 minutes with a delicious sauce that you just can't get enough of. This is an easy recipe for a busy night or for just a quick late-night snack. 
Ingredients
1 1/2 lbs. of boneless, skinless chicken breasts,  preferably already cut into small half an inch cubes

Salt 

Black pepper

3 tablespoons of honey

3 tablespoons soy sauce (low-sodium)

3 cloves minced garlic 

1/4 teaspoon red pepper flakes if you want it spicy

Optional side dish: 

brown rice

sliced green onions

sesame seeds

squeeze lime wedges over the chicken
Instructions
Heat the oil in a large frying pan with a flat bottom. 

Season the cube with salt and pepper. (Don't overdo it since you'll be adding soy sauce.)

Put the chicken in the frying pan until it's brown on one side. (3-4 minutes)

You can make the glaze. Mix the honey, soy sauce, and the pepper flakes (optional) in a small bowl. Mix them well.

Add the sauce to the skillet and make sure to coat the chicken cubes well. 

Cook for another 4-5 minutes.

Take out of the pan and serve with the green onions, and or brown rice if preferred.
Notes
Make sure not to overcook the chicken. It's already cut into small pieces so they are cooked fast.

You can use boneless, skinless thighs instead of chicken breasts. But this will make the preparation longer.
These are just a few chicken recipes that you can do with not so many ingredients. The simplicity is the beauty of these meals because their flavor is a complete experience on its own. So the next time someone suggests that you cook dinner for a group, don't fret because with a couple of components and chicken you can make an exquisite home-cooked meal.