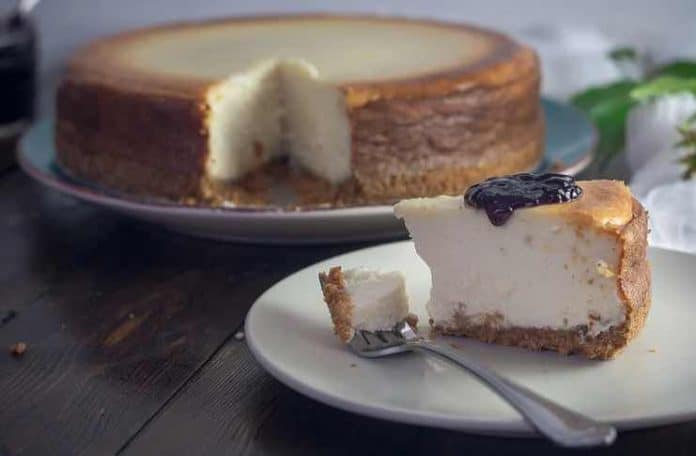 If you're anything like me, after you made your decision to commit to a vegan lifestyle, one of the things I found almost unbearably difficult to give up was cheesecake! Just thinking and drooling about rich, creamy fillings and a delicious buttery biscuit base is enough to make my mouth water… And don't even get me started on indulgent chocolate fillings!
I find one of the most challenging times to be vegan is during the holidays when cakes and other sweet treats are around every corner! Thankfully, I recently discovered this incredible vegan cheesecake recipe that uses the simplest and most versatile of all plant-based ingredients – tofu – to create a dessert that's just as good (if not better) than the real thing!
So, whether you're making a sweet treat for yourself to satisfy your cheesecake cravings, or are in charge of bringing an impressive dessert to the next festive get-together, check out our recipe for the most delicious and easy tofu cheesecake. It's so good, nobody will ever guess there's not a scrap of dairy present!
Here's our Simple Tofu Cheesecake Recipe:
Prep Time: 30 minutes
Cooking Time: 50 minutes
Soak Time: 60 minutes
Total Time: 2 hours 20 minutes
Serving: 8 generous slices
You will need
Boiling Water

A 9" springform pan

Cooking Spray

Heavy-duty aluminum foil

A food processor or high-speed blender

A tofu press (like this one at 

https://tofubud.com

) or your own way of squeezing the liquids out of your tofu before cooking

A wire cooling rack
Ingredients:
For the crust:
1 cup gluten-free rolled oats

1 cup of raw almonds

3 tbsp coconut sugar

½ tsp sea salt

1/3 cup coconut oil, melted
For the filling:
1 ½ cups raw cashews

8oz silken tofu, pressed

1 cup heavy coconut cream

¾ cup coconut sugar

1 tbsp cornstarch

2 tsp pure vanilla extract

2 tbsp lemon zest

1 tbsp lemon juice

¼ tsp sea salt
For the topping:
Fresh strawberries

Heavy coconut cream

Powdered sugar
Method
Place the cashews into a wide bowl and pour over 1" of boiling water, so they're just covered. Leave to soak for 1 hour. You may also want to

prepare your tofu

by pressing it at this stage, either with a dedicated tofu press or using other methods. 

While your cashews soak and your tofu is being pressed, preheat the oven to 350'F and coat a 9" springform pan with plenty of cooking spray. Wrap the pan with heavy-duty aluminum foil around the base to ensure there are no leaks while baking.
Prepare the base
Take your food processor and add rolled oats, almonds, coconut sugar, and sea salt. Pulse until a fine powder is formed (you could also use a high-speed blender for this step).

Place the melted coconut oil in a medium bowl and add the rolled oats mixture, stirring until thoroughly combined.

Place the mixture into the bottom of your prepared springform pan, pressing firmly to create a solid base.

Bake for roughly 15 minutes, until the base is set but not yet browning.

Place the pan onto a wire rack and leave to cool for 15 minutes (leave the oven on)
Prepare the filling
Once the cashews have been soaking for an hour, drain them and place them into a high-speed blender or food processor.

Add the pressed tofu, heavy coconut cream, coconut sugar, cornstarch, vanilla, lemon zest, lemon juice, and salt to the cashews.

Blend all the ingredients together thoroughly until a smooth consistency forms.

Pour the smooth cheesecake filling onto the prepared crust and return the pan to the oven.

Bake for approximately 50 minutes until the edges are turning lightly golden, and the cheesecake is set but still wiggles slightly when moved.

Leave the cheesecake in the pan while it cools on a wire rack for a minimum of 1 hour, then transfer to the refrigerator to set, uncovered, overnight. 
The Next Day
The next day, run a knife along the edge of the cheesecake to loosen it from the pan and remove it.

Make

whipped coconut cream

by whipping the remaining heavy cream until soft peaks form and pipe onto the top of the cheesecake (or use a spatula if you don't have a piping bag).

Top with fresh strawberries and a sprinkle of powdered sugar for the perfect finish.
I hope you'll enjoy this Tofu Cheesecake recipe…
If you want more delicious recipes – check out our Falafel Recipe, our exotic meat recipes, or our Match recipes.