Name: Davio's Northern Italian Steakhouse
Where: 447 Lexington Avenue
Each year, as February 14th rolls around, couples, families, and friends make plans, typically to eat out on this Hallmark-holiday.  This year, due to the cold weather and the craziness of going out on a Friday night, I know a lot of people who chose to stay in—why go out on Valentine's Day when you can celebrate the day after?  Unlike many restaurants, Davio's prepared for just that. They extended their Valentine's Day pre-fixe menu until Saturday, which I think was an incredibly smart decision—kudos to them.
For this review, I had to fill in last minute for my colleague; so that being said, I had no idea what to expect from Davio's, a restaurant that I have passed over and over again on my way to Grand Central Station.  I was even more surprised when the beautiful front façade became an entryway to a whole new dining experience down a flight of stairs. The thing about common restaurants is that typically, you open the door, and from a simple glance, you can see the entire seating area.  When I walked into Davio's, it was different. It felt special to be walking down those stairs. It felt like I was walking into a place so removed from the streets of New York City, that ambiance and intimacy became prominent features—fitting for Valentine's Day, right?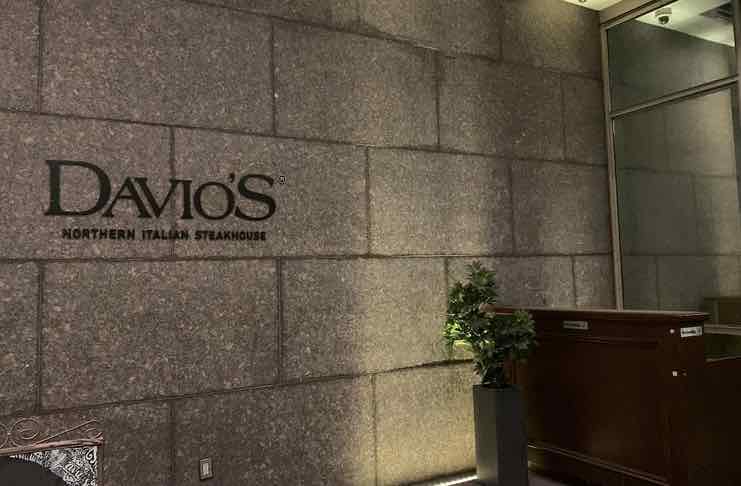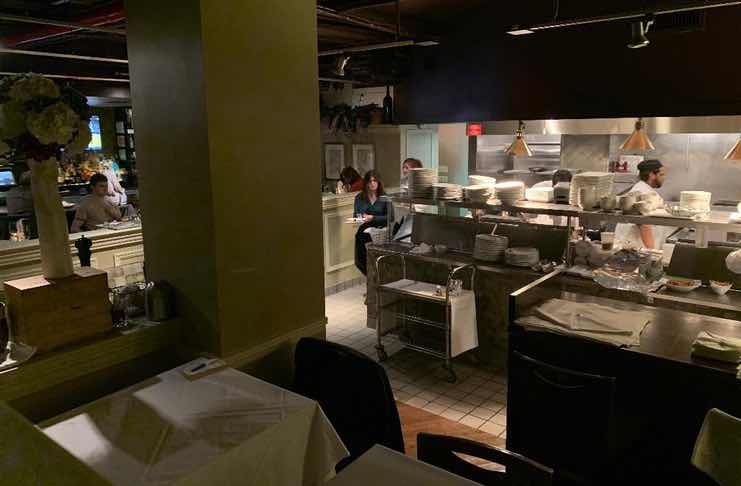 As my boyfriend, Taylor, and I started our dining journey into the restaurant, we were greeted by the hostess, who was so accommodating, especially given the last-minute change in plans.  She happily sat us at our table, as she was also very appreciative that we were able to make it to their restaurant that night. When we arrived, there were only a few tables of people, but it was because of that fact, that I was able to enjoy the overall ambiance for some time. Everything from the table set-ups to the simple and classic decor, to the clean white coats on the waiters and waitresses, made the entire experience feel elegant; and in my opinion, that's what you should want to feel like when you eat out at a restaurant, especially if it's for a special occasion.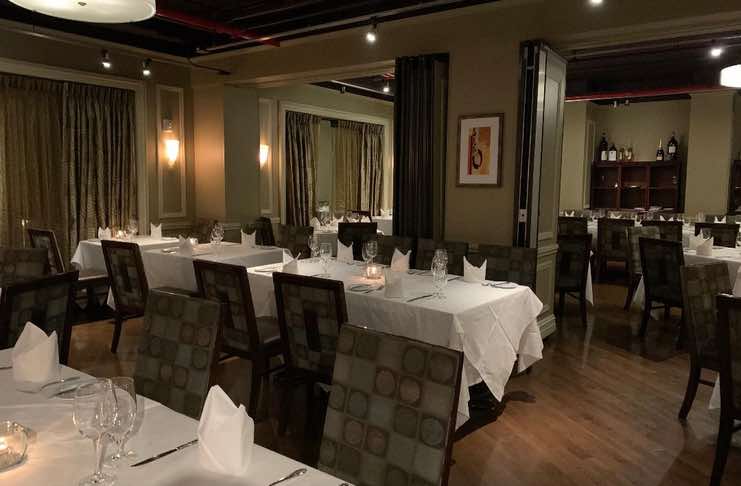 And while we're speaking of special occasions, I need to mention that instead of serving bread, like rolls or ciabatta, that is found at other Italian restaurants, Davio's offers guests popovers!  Although I'm not the biggest popover fan, they were pretty tasty (and HUGE), and are still unique compared to any other bread basket I've ever been served. They were a pleasant start to our pre-fixe dinner.  Taylor and I, being the foodies that we are, decided to maximize our tasting options from the menu. Since there were only two Valentine's Day selections for all three courses, whatever I ordered, he ordered the opposite.  The goal was to ultimately share and try everything (unless I REALLY liked mine, then I wasn't about to let him have any—just kidding, he would've taken it off my plate anyway).
I started off with Ricotta Agnolotti, which is essentially a mix between a ravioli and a small manicotti, that was doused in butter, cheese, and the piece de resistance, white truffles.  They were individual pieces of pillowy goodness, with that elegant touch of shaved truffle. That's my kind of pasta dish. Taylor got the Cauliflower and Sunchoke Bisque with lobster on top.  Both were delicious, but I did happen to like mine better based on flavor and seasoning. As a general comment, I wished both dishes were warmer when we got them. I think it would've brought about so much more flavor if they were hotter than lukewarm.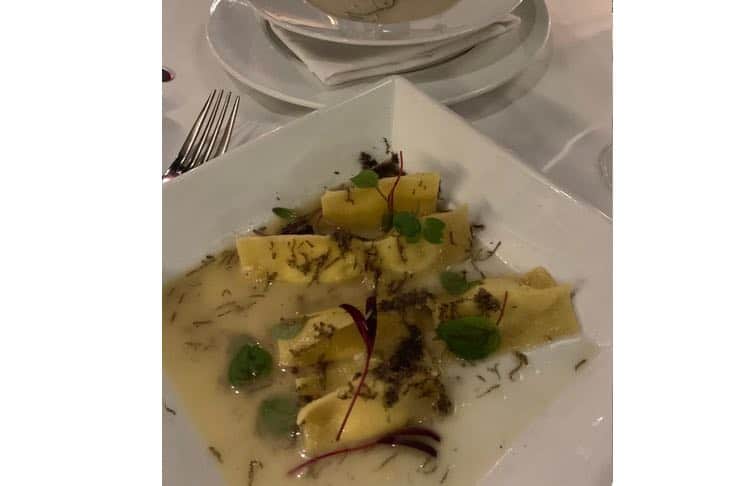 There's something to be said about ordering steak from a steakhouse, and that something is: it will probably be the best ordering decision you make.  For an entrée, Taylor got the Filet Mignon, with an accompaniment of foie gras and goat cheese potatoes. Everything about that plate of food was incredible.  The filet mignon was a masterpiece, with its pink, tender center. THAT was by far the best dish of the night, and I wished I had gotten that too. In regards to my Halibut, I was disappointed.  The fish lay atop a cauliflower white truffle puree and was topped with oyster mushrooms and hazelnuts. My thoughts on the halibut were: if you're going to make this dish a star on a pre-fixe menu for a holiday, it needs to be exactly executed; and mine was overcooked.  The puree and the mushrooms were delicious, but because of the fish, I felt like I was missing out on a key ingredient to tie all the components together.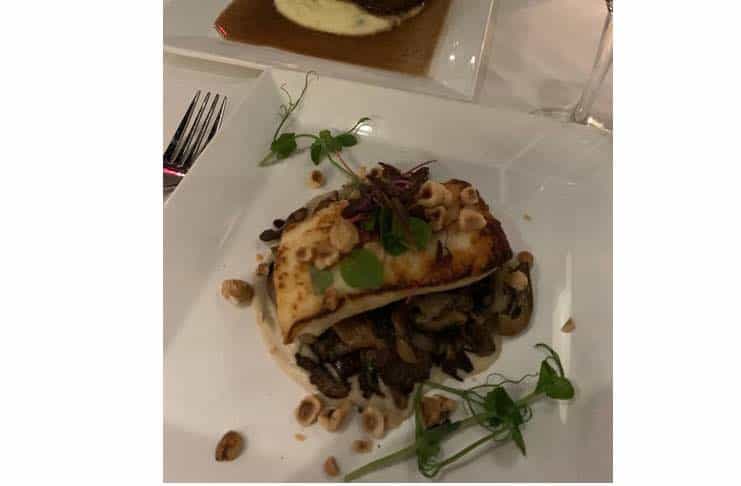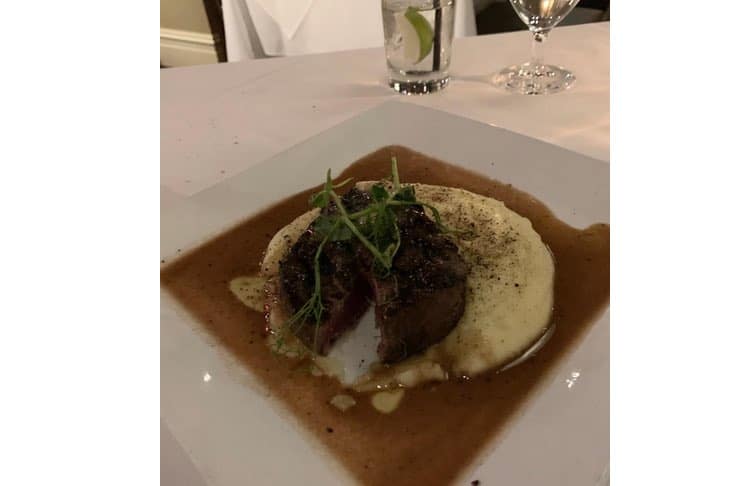 All this made me look forward to our dessert, and what a sweet dessert to end the meal it was.  I got a Chocolate Caramel Torte, layered in the shape of a heart—such a special end to Valentine's Day.  Taylor got a Strawberry Champagne Gelee, which is essentially strawberry gelatin with fresh strawberries on top.  In this final course, I liked mine better and didn't want to share, but as I previously mentioned, Taylor still took some off my plate.  I guess he liked it too.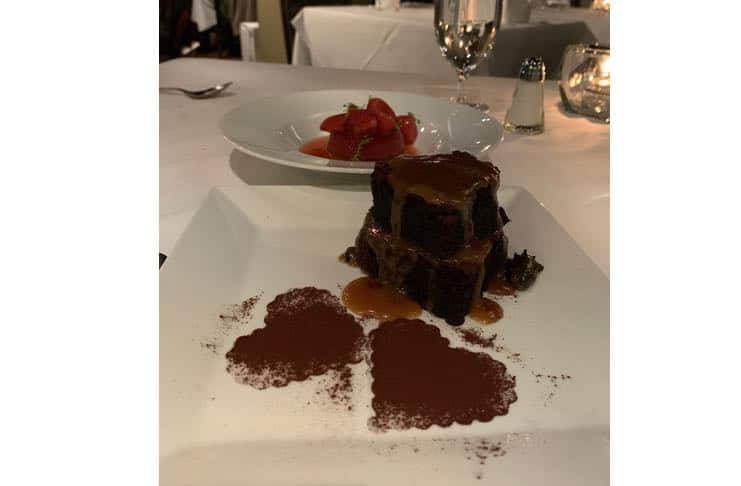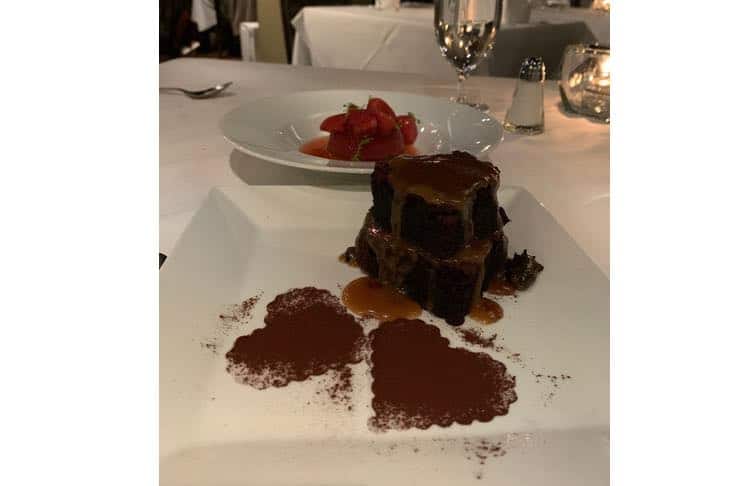 As a side note, throughout the dinner, I sipped on a lemon drop martini, made perfectly, so I highly recommend ordering a cocktail.  But as another side note, in my experience from doing reviews previously, one of my favorite parts of the dinner has consistently been speaking with a manager or owner, simply because he or she wanted to check-in and see how I was enjoying everything so far.  I was sad that no one came up to our table this time. I've noticed that having an interaction like that, allows customers like me to learn so much about the restaurant and its roots, and it also shows customers how much they are valued.
The ambiance and elegance of Davio's speaks for itself and makes you feel special regardless.  Be on the lookout for Davio's special menus for holidays and Restaurant Week, and if you like steak, I promise you won't regret ordering it.  Another Valentine's Day in the books, another day of loving food.