We've been waiting for it, and it's coming back soon! One of our favorite NYC food markets, the Bronx Night Market returns for its third season at Fordham Plaza on Saturday, May 2, and will operate weekly through the end of October, 4-10 p.m.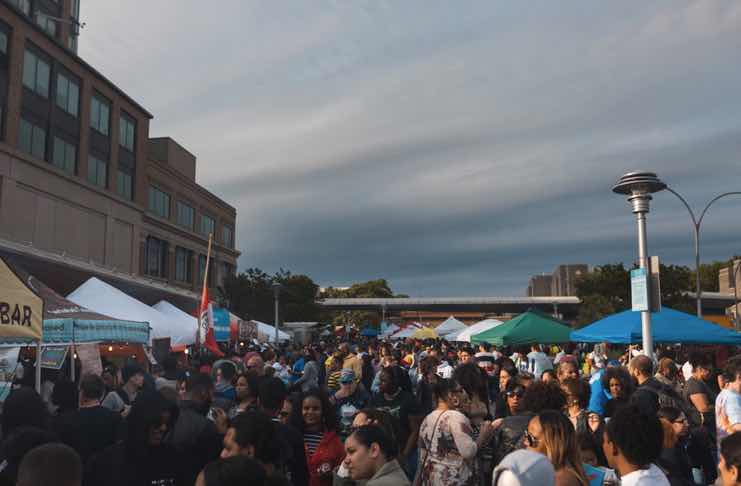 This wonderful NYC food market launched back in 2018, and has seen year over year growth. The market has boosted the Bronx food scene and has given rise to dozens of new food businesses. Much of the success, like always, is credited to the thousands of hungry food lovers that support this NYC food market every Saturday during the six month season.
The 2020 season includes an awesome list of 40 plus vendors and a rotating list of New York State craft breweries at the BXNM beer garden. In addition to the robust food and beverage line up, the organizers have introduced a new layout, weekly programming, and family-friendly activities.
Among the new food vendors you'll find Mao's Baos, Rooster Boys, Wowfulls, Bolivian Llama Party, Fried Lasagna Mama, El Lechon De Negron, Osicala Yuqueria, Made From Haven, I Heart Mac N Cheese, Pizza Vitale, Cocotaso Catering, Kemi Dessert Bar, and Baked In Color.
Returning fan-favorite vendors include The Bronx Burger Co, The Fried Kitchen, MozzArepa, Chavas Empanadas, ChefBoyarnetty, DownEast Lobastah, Crabman Mike, La Braza, Wah Gwaan, Mixto Tacos, C Bao, Uptown Vegan, San Antonio's Wood Fired Pizza, Spoonable Spirits, Mysttik Masaala, Don Ceviche, CoziTreats, Sam's Fried Ice Cream, Sweet Shots by AJ, Revelations Catering, La Maoli, Lokal Artisan Foods, Hungarican Hotspot, L'nox Cafe, and Island Love Cake.
The organizers maintain that Bronx Night Market is a food lovers event, ensuring that the vendor list represents a minimum of 20 countries' cuisine and that all menu items are affordable ($3, $5, $7, and $11). In short, $20 goes a long way at Bronx Night Market and will provide market-goers with an exciting international culinary experience.
Mark the date and enjoy every bite! 🙂
Fallon Chan is a food and lifestyle photographer and blogger.