By Ron Rossi
Love German Bratwurst? Or looking to learn more about the first German Bratwurst Pavillion in NYC? In this post, you'll get both.
This time is a special time. Since 2020 everything has changed and we have changed. And every so often we wish we could step outside and try something new that reminds us of something we would like and that is different.
That is possible now. When the time permits we can find a place that offers us a meal that is different from what we might be used to.
Here in New York we are lucky. Last year was quiet, but things are picking up. And this time I was able to find a place that brought me back to when I was working in Germany. It was truly going home.
Welcome to GERMAN BRATWURST PAVILION
I was walking by when I noticed the name. I thought I was back in Berlin. That was a name I would always see in the German capital, especially when the weekend markets were open, or it was time for the famous holiday markets.
I took a look and walked up to the Chef and Owner, Jens Wohld, who was there working on the grill and making the meals. We started to talk and the more I was reminded of being back in Germany.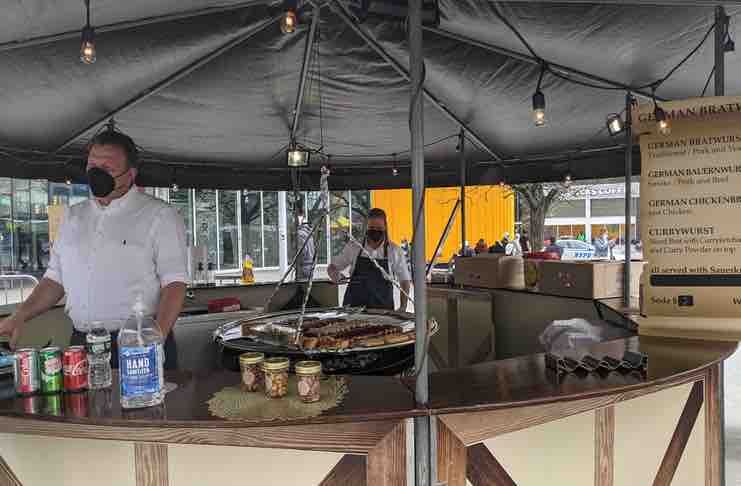 We talked of what was happening now, and what first happened when he brought the German Bratwurst Pavilion to NYC 10 years ago. Back then things were doing well. Business was across the city and the region. But 2020 changed everything. We all know that things slowed down. Times did change. Yet, now, things are changing and coming back.
GERMAN FOOD, GLORIOUS FOOD.
Hot Sausage and mustard according to the old song. But in this case, you have reality in front of you. This is a good reason to attend an outdoor market.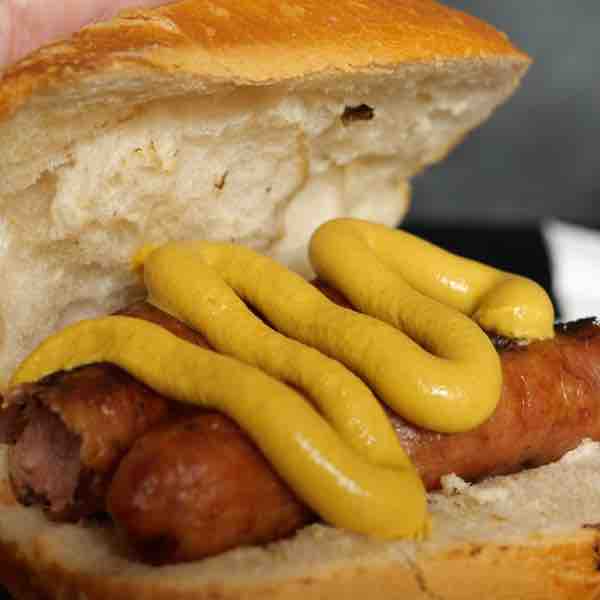 You can't really have an authentic German Holiday Market experience without having a sausage or two…or more. With so many varieties to choose from, there's certainly no shortage of options in sausage to choose from. Bratwurst and Rostbratwurst, which is traditional, white pork sausage that can be up to half a meter in length, are the most popular.
But first, look for Schwenkgrill. It's a circular grill suspended over charcoal by a tripod structure. This is the traditional way of grilling that allows sausages to be cooked evenly as they swing and rotate over the fire. It's a glorious, glorious sight for sausage-lovers.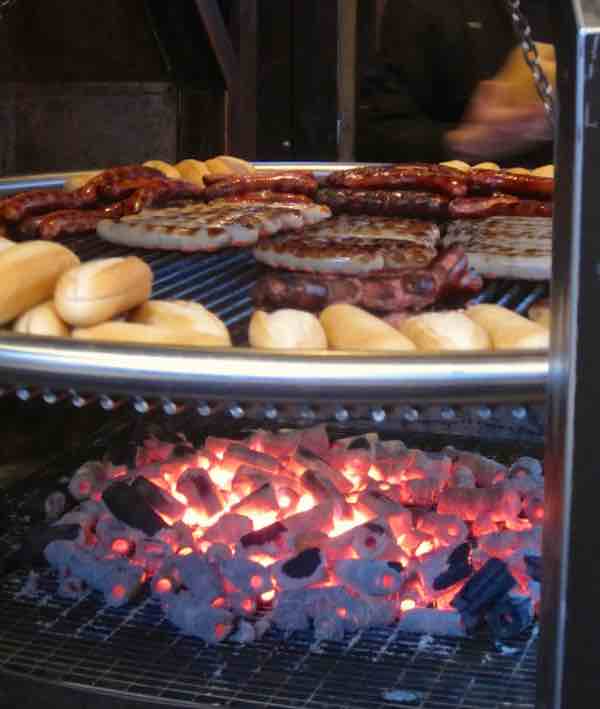 Currywurst is one of my favorites. I remember currywurst fondly when working in Germany. I'm a fan of the dish, which is basically sliced bratwurst swimming in a pool of curry-ketchup sauce. The sausage is covered with the curry and has a side order of sauerkraut to compliment it. This alone is worth it. They will also give you a roll to go with it as you enjoy.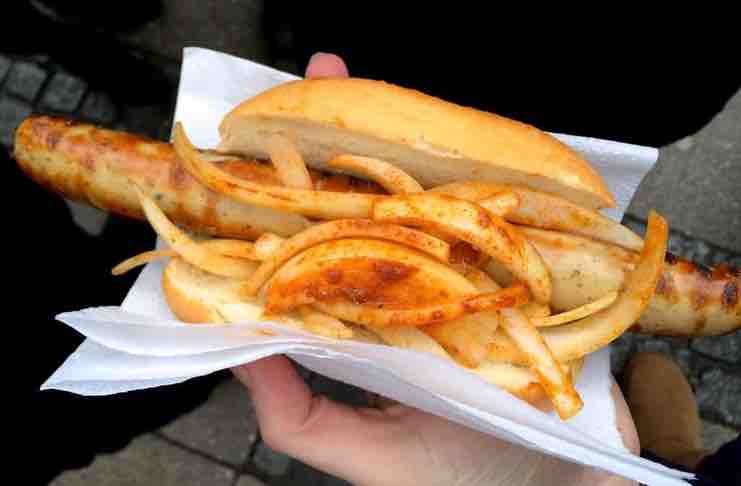 SOMETHING TO DRINK, AS YOU ENJOY.
What can you drink when you order your Bratwurst? There are many ideas available. The most popular is a beer or the holiday glühwein (wine) which is slightly warmed during the colder winter months. If there's one thing that Germans enjoy, it is their glühwein. A constant offering at every market, it's the warm drink almost everyone sips as they wander around from stall to stall.
The mulled wine is usually made with red wine, spices that include cinnamon, cloves, and sometimes aniseed or vanilla, lemon, and sugar. Poured into the holiday mugs, it is the drink to have at German markets. It can keep your hand warm as you enjoy your meal and walk around.
German beer, of course, is what we expect. It is good, cold, and has a fresh taste that will compliment your bratwurst while you are there. It is not the type you find in a grocery store. It is made fresh and has the flavor you need to go with the meal. Sometimes you can get the wheat-style beer which is ideal with what you have as well. Most important is that it is also available with the bratwurst.
A SPECIAL EVENT. A SPECIAL MARKET.
 Hopefully, as 2021 moves forward we shall see more of these outdoor markets and food stalls. And by this fall and into 2022 they will be back. Those will be nice to have once more. 
Historically, markets are a tradition across Europe and here. Every November through January, hundreds of cities and towns roll out beautifully lit and ornately decorated markets filled with food, music, and shops selling cute little handicrafts. It's as if storybook versions of a white Christmas spring to life every winter. 
In Germany, people surprisingly don't consider Berlin's Christmas markets to be the best of the best. There's a lot of competition given how passionate the Germans are about the holidays. Dresden, Hamburg, Cologne, and Nuremberg always seem to outperform Berlin in lists of best Christmas markets in Germany. That is always up for discussion. I lived in Berlin and had a wonderful, magical time. I think you would too. 
You'll find all sorts of unique hand-crafted gifts, decorations, jewelry, clothes, silverware, toys, and more. Artisans and sellers from all over Germany and Europe descend on the markets to set up shop. You'll find similar merchandise across them, but occasionally you'll run into a unique gem.
TIME FOR NOW.
Either you can wait for the fall, or you can hope that things will change sooner rather than later. It is possible. And one of the best ways to get a start is to stop by the German Bratwurst Pavilion and give it a try. 
If you have never been to one of the Pavilions when you see it, it is worth the chance. Experience something that is fresh, tasty, and truly special to have. It is different from anything else you might have tried. But it is worth it.
The brats (as they are normally called) are freshly grilled in front of you. They are made on a very special grill that is different and wonderful. It grills at the right temperature and for the right time. You can get the style you want as well. Maybe it is plain. Maybe it has mustard (which is traditional), or maybe it is a combination of mustard and ketchup. That is good too. Or try something new for you. Try the Currywurst Brats. That is worth it. It is like going home again.
LOCATION:
GERMAN BRATWURST PAVILION, Bronx Night Market
Owner: Jens Wohld, Email: info@german-bratwurst.us, Phone: 646-229-5770
You can check their Instagram profile here.
Want to read more of our latest articles? Check out our post about how to formulate a Restaurant Marketing Plan, or our post about the best protein bars to boost your workout.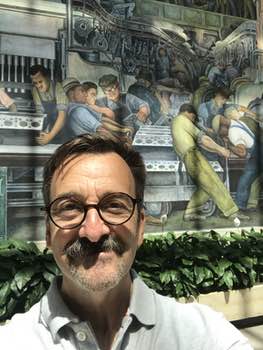 "The Jaded Traveler". Ron Rossi was born and raised in New York. A globalist at heart, Ron is a marketing director by trade, and has lived and worked around the world including Asia, Europe, Africa, and South America. Food is one of the best ways to learn about a country, a people and a culture. So, Ron is always looking for the best in mid-range to budget and street food. He is always on the hunt for a good meal anyone can afford. It is the food of the average citizen that excites him. And with having visited close to 100 countries on 6 continents so far, there have been some pretty good meals.