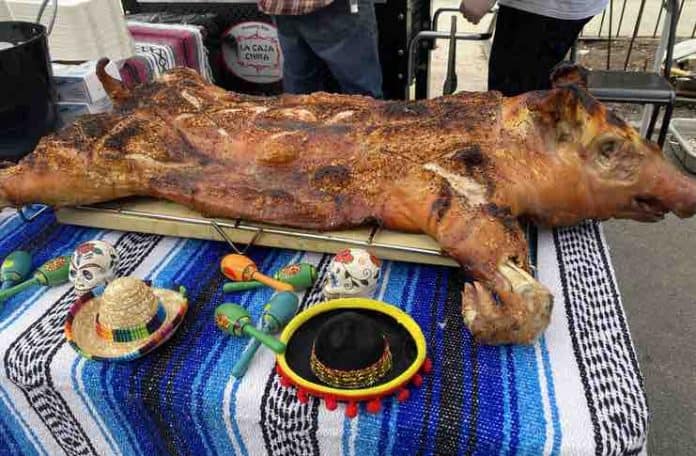 By Faith Rein
NY is Back. Almost.  As the world is trying to resume business as usual or reinvent itself after a year of a pandemic. Oaxaca Taqueria was one of the lucky ones. Making their already successfully delivery service more popular. 
This seems to be the best timing possible for a better-than-average taco shop. 
Chef John Jerman came to them last year from Texas and has elevated the food with a few new yet old ideas. 
Oaxaca Taqueria NYC Is Bringing Back the Outdoor BBQ
I do not travel to Brooklyn often but find the food search extremely appealing and hit this borough as many times as I can. Community is what makes NYC stand out. Neighborhoods coming together especially in a time when we cannot be close. 
As the weather warms up and restrictions lessen Oaxaca is bringing back the outdoor BBQ. 
Think block party, street fair, or just an outside celebration. From a few blocks away this small, charming street blocked off from traffic taunts the pedestrians with the wafting BBQ scents. 
75 Hoyt becomes a Pig Roast weekend until the fall with weather permitting. 
A Whole Pig BBQ Cooked "La Caja China" Style
Oaxaca Taqueria outdoors season with a whole pig BBQ cooked "La Caja China" style and served out front of their 75 Hoyt, BK location. 
According to Oaxaca Taqueria "La Caja China" is an ingenious style roasting box also known in Spanish as La Caja Asadora. It came to Cuba in the mid-19th century with approximately 150,000 Chinese workers.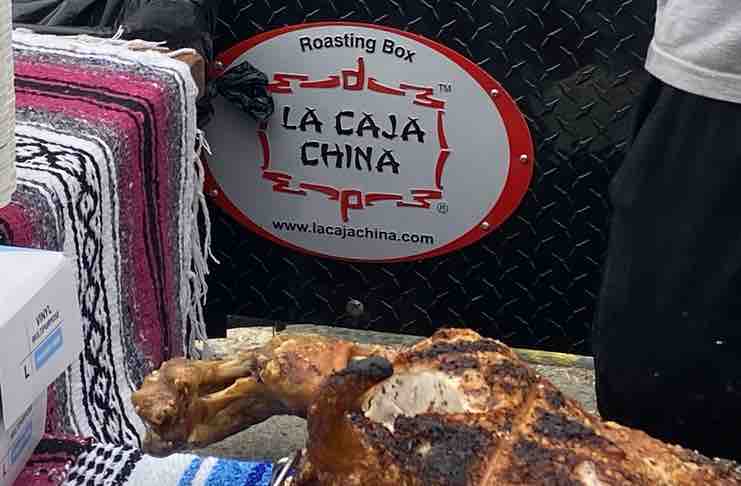 History says that by using makeshift wooden boxes, the men placed the heat source on top of the box. This method turned out to be very effective for roasting the whole pig. Today, this box is known as La Caja China, and it has quite a reputation within the culinary community and barbecues amateurs around the world. 
The name La Caja China means Chinese Box in English, probably was named after the Chinese workers, but what we know for sure is that what happens inside it is pure magic. Oaxaca Taqueria's chef, Jon Jerman, was inspired early on by Spain and Latin America's foods.
When he moved to Texas as a chef, he found he was inspired by the marriage of Texas barbecue and Latin American flavors. La Caja China is Jon's way to celebrate that marriage, and roasting pigs is his way of bringing cultures together. 
Authentic roasted pig or chicken with black beans, Spanish rice, salsa, pico, guacamole, sour cream, and tortillas. 
The Food at Oaxaca Taqueria
A very generous portion of pork cooked and cut perfectly. Injected with spices including salt, brown sugar, chipotle with a brine of salt and pepper. The La Caja China cuts the slow cook down to 4 hours to achieve the perfect crispy skin and moist flavorful meat.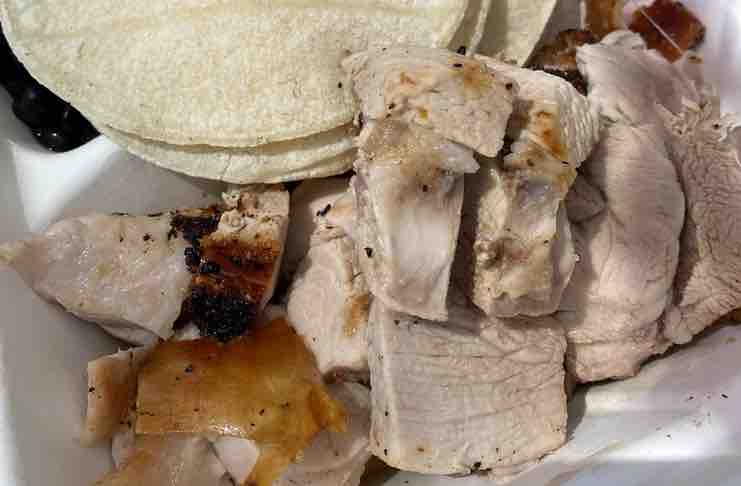 They serve this with beans and rice. For us, these were the best beans you can imagine. Seasoned with oregano, garlic powder, salt, pepper, etc., 
Oaxaca Taqueria has dedicated itself to bringing the traditional Mexican fare inspired by Oaxaca's flavors and ingredients. Their food is made fresh from scratch every day. Whenever possible, they purchase the ingredients from local, organic, and sustainable sources. To learn more about Oaxaca Taqueria, please visit  www.oaxacatacos.com.
I have spent the past 10 years in search of the best Mexican food in NY. None ever comparing to Southern California Mexican. 
Realizing perhaps my bias to LA Mexican food can be unfair. 
NYC has everything. We get spoiled here. Now I can say we also have amazing Mexican on the streets of Brooklyn. 
NYC is coming back strong as I will be back to Oaxaca Taqueria.
Want to read more of our latest posts? Check out our review of the first German Bratwurst Pavillion in NYC.
Living and loving in NYC, food has been a passion of hers. East Coast to West, Faith's goal is to explore and learn with the contribution of other like-minded foodies. Faith Rein has written for 2Girlsfromabar@blogspot.com. Youtube channel – faith.rein, love food love faith. You can find her @: Faith.rein/facebook (always looking to add friends) / faith rein@twitter / faith.rein@instagram / faith.rein@gmail.com