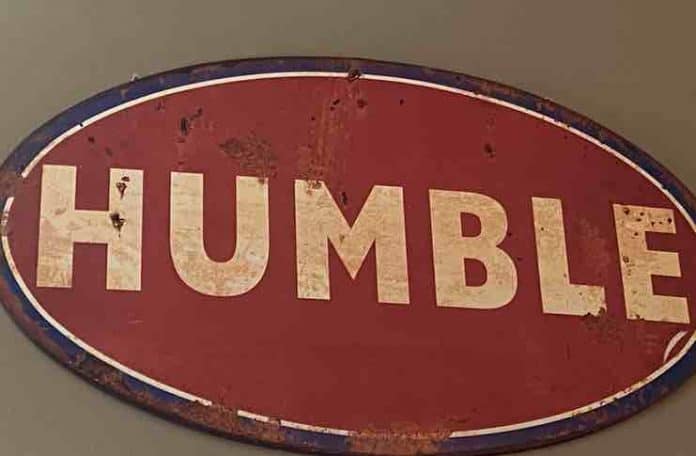 A review by Faith Rein
As a practically native New Yorker, I admit I have never been to Bushwick. 
There was no need. Now there is. 
I spent the afternoon with my new friends Kevin, Tom, and the staff of King Wang's brand-new Brooklyn sandwich shop on Knickerbocker. 
They say it's sandwiches and sides. Quite the modest description. Spending a few minutes with Tom and Kev you realize it is their humility that I noticed first. 
Co-Founder Exec. Chef Tom Baco-Wang has a pedigree to envy. CIA educated and trained under my personal Chef Hero, Daniel Boulud. Tom proudly tells me he also worked with Michelin Star Danji along with Chef Hooni Kim. 
This is no joke. The man can cook. 
Why not a high-end fine dining restaurant?
The #1 Chicken Sandwich
Kevin and I discussed this. Then I tasted the #1 chicken sandwich. First bite and you are hooked. No more questions of why but where you have been all my life.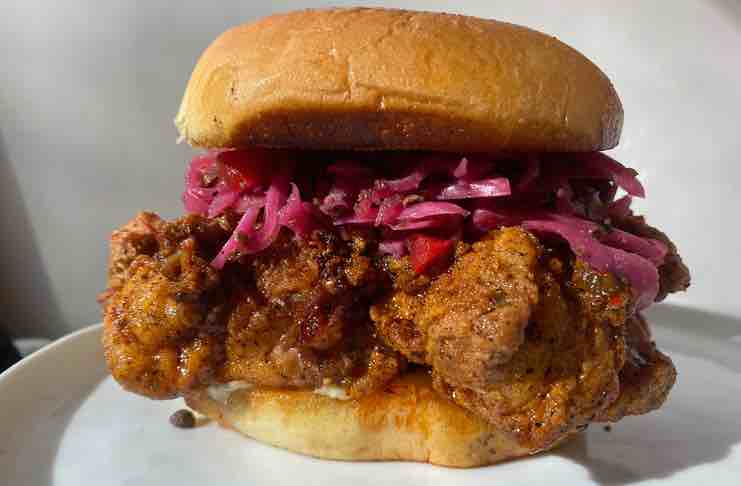 Bushwick has been transformed from old school NY neighborhood to this hipster, yet open and friendly neighborhood with amazing eateries.
No need for fancy in Bushwick. 
King Wangs does not have those fancy gourmet sandwiches with gold where you are investing in a meal rather than enjoying it. It's not that kind of Brooklyn sandwich shop. For $12.95 you are transformed on a journey across the seas to exotic ports. The warm comfort of a mother's hug is in the perfectly fried chicken. 
A spicy chicken that is layered perfectly with flavors that explode in intricate precision. Szechuan slaw and pickled pepper and a sauce that needs to be bottled. Tom says it has a hint of acid…to me it was like having that perfect martini. The hint of a vermouth bottle just waved across the chilled vodka filled glass with a dot poured over.  
A creation took me to that happy place 
It is not just the perfect first bite. It is the bites after that intensifies the taste and that food memory. Layers and layers that were unexpected.

Almost 24 hours later since I had that first bite, and I can still taste the flavors. And I smile. 
I mentioned to Tom as I was gushing over my Chef Hero Daniel Boulud that years ago I was introduced to Café Boulud. As that meal was a birthday gift by a dear friend, we enjoyed every bite. The dessert was the food experience I can say happens not nearly as much and when it does it is existential. The chocolate with gold flecks brought me to tears of pure pleasure. 
Tom's creation took me to that happy place. 
Falling in Love with Brussel Sprouts
I am going to say it. Yesterday I fell in love with Tom's Brussel sprouts. As I compose myself during these tastings, I spent most of the time talking with Tom and Kevin. The story brought me to the understanding of their food. I loved both.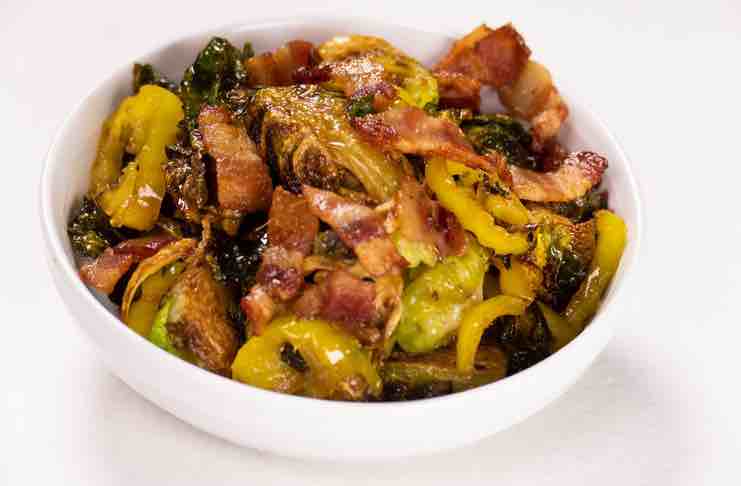 My first bite into the sprouts was a delightful surprise. The second bite proved I was not wrong. This was the best Brussel sprouts I ever had! I love sprouts. The foodie thing of the day has been sprouts lately. It is a thing. Not our mother's over boiled or steamed tasteless sprouts that you had to eat, or no one was leaving the table sprouts. 
There is no copycat of Tom's sprouts. It is crack. It is so addictive that I reheated them last night and they tasted as good or maybe even better. This is that food memory that I can still taste this morning and seriously am thinking about ordering them for delivery. 
If a dish of chocolate and a plate of the Brussel sprouts were placed in front of me, I would choose the sprouts. 
Bacon jerky with their pickled peppers and a simple sweeter sauce, that I cannot remember exactly what Tom said because I had to have that third and fourth bite. 
I was transformed to food heaven.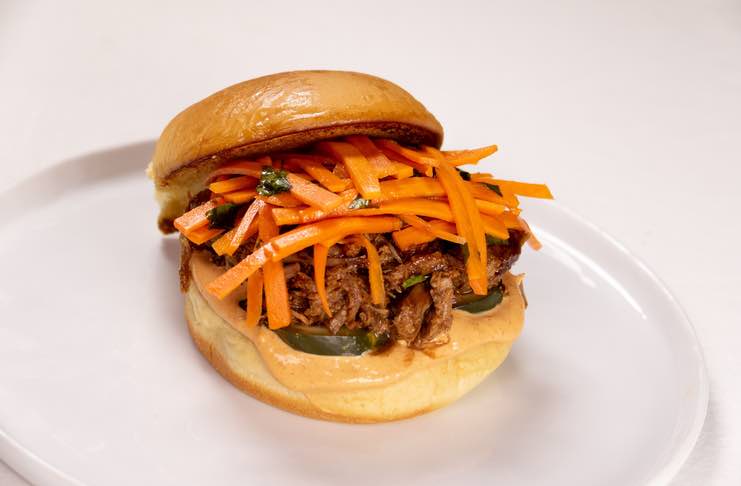 Be Humble
King Wangs is right now a hidden gem in Brooklyn. 
It is on the corner and not hiding. 
The courage of Kevin and Tom opening a sandwich shop during COVID-19 is brave and smart. 
King Wangs business side is Kevin Shin. Coming from the financial world he understands business. 
Venturing into other businesses he met Tom and tasted his food. Developing a friendship and alliance they collaborated to create King Wangs. 
There is a sign above the door of this Brooklyn sandwich shop. HUMBLE. This is who these gentlemen are.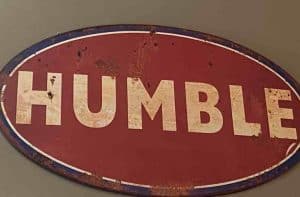 Kindness and warmth with amazing food is always a place I want to be. 
Kevin shared with me so much. What I immediately felt was welcomed. Sincerely and humbly. I was a guest in his home, and he treated us as we were new friends. A husband, a father of 2 and a man that survived COVID-19, which he got last April. His story was like so many I have heard. The pain and truth of this virus. The reality and fear of seeing your family also get it. 
The resilience and determination of the struggles to create and encourage something that rises above and excels to the best of humanity. 
Kevin's kindness and generosity, I always imagine was a part of him. 
Bushwick is lucky to have King Wang's presence supporting the neighborhood. They had a local graffiti artist create a piece on the exterior. 
Hiring unemployed restaurant workers and offering compensation that is more than they had before losing their last position. 
Sending food to the first responders in the neighborhood is something that is second nature. 
Truly giving is their joy. 
Humble and thankful for all that they have and to hope to share with others. 
I do not just say the food was great. This experience was above and beyond and as close to perfect as I can imagine. 
I do not do as many restaurant reviews lately. 
Sadly, too many have closed or are struggling. Too many have had been plagued and fell ill to this horrible virus. My friends who have worked in this industry are seeking other careers or leaving because as we know it is hard to make here in NYC. 
Those that stay realize how fortunate they are. 
Finding so much more kindness in a city that can be tough. 
You cannot Pass by this Brooklyn Sandwich Shop
This corner sandwich shop is a place you cannot just pass by. You can find that kindness, generosity, and comfort. 
NYC has changed. We all see it yet do not believe it is gone. The changes are big and scary. We also can find those gems in places and people. 
Big corporate take overs of streets and shops. Mom and Pop are moving out and being replaced by a Citibank. 
Then you come across a Mom and Pop like here in King Wang's. 
The people are polite, warm and creative. Are these hipsters? Maybe hipsters are ok. 
Be Authentic. One of a kind. 
King Wangs is Humble. 
Humble is a great thing.
Want to read more of Faith's reviews? Check out her review of The Stand Restaurant & Comedy Club, or the one on Sveta.
Living and loving in NYC, food has been a passion of hers. East Coast to West, Faith's goal is to explore and learn with the contribution of other like-minded foodies. Faith Rein has written for 2Girlsfromabar@blogspot.com. Youtube channel – faith.rein, love food love faith. You can find her @: Faith.rein/facebook (always looking to add friends) / faith rein@twitter / faith.rein@instagram / faith.rein@gmail.com