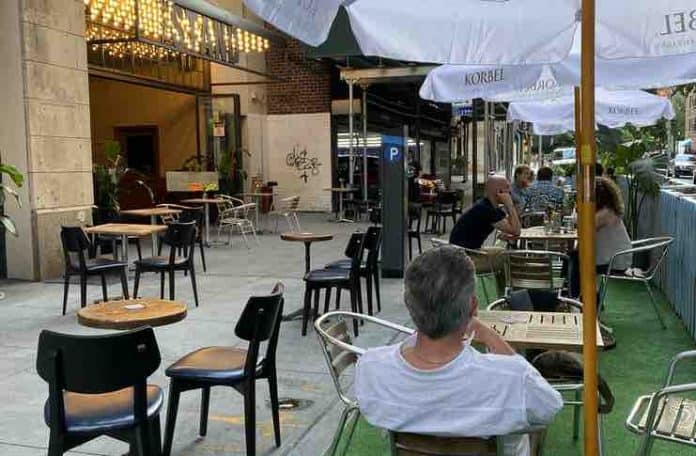 A Review by Faith Rein
What is needed in NY right now is good food and good laughs.
Have you missed eating out? Have you missed seeing a live show?
You can have all that on 16th Street, at The Stand Restaurant Comedy Club.
After days and weeks and months of staying home, I am stepping away from my kitchen, Netflix, and the safety of my sofa.
Exploring safely the best of our city.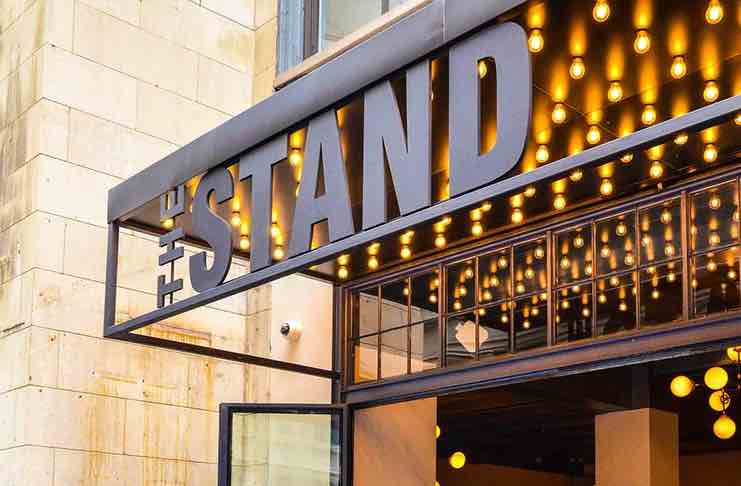 The Stand – The only Comedy Club Restaurant in the US
On this lovely summer evening in NYC, I was treated to a wonderful meal.
What the restaurant industry in NYC is doing what NYers do – Improvise…outdoor socially distanced tables. Masked staff. And smiling eyes.
About the Stand: The last seven years, The Stand has been a staple of the New York comedy scene by hosting A-list comedians and becoming a home to the city's funniest performers as well as the best comedy fans. By offering exceptional service, high-end cocktails, and rustic American cuisine, The Stand has become a hub in the Gramercy Park / Union Square area of New York City. 
Headed up by brothers Cris Italia, Paul Italia, and Patrick Milligan, The Stand was named the best comedy venue by New York Magazine and TimeoutNY. These three also own and operate a management and production company, representing some of the best names in comedy while producing for TV and film. Due to their success at The Stand, they were tapped as stand up comedy bookers for The Tonight Show starring Jimmy Fallon in 2015.
The Stand is one of the many restaurants doing it right.
Tables are socially distanced with focus drawn to the single mic stand.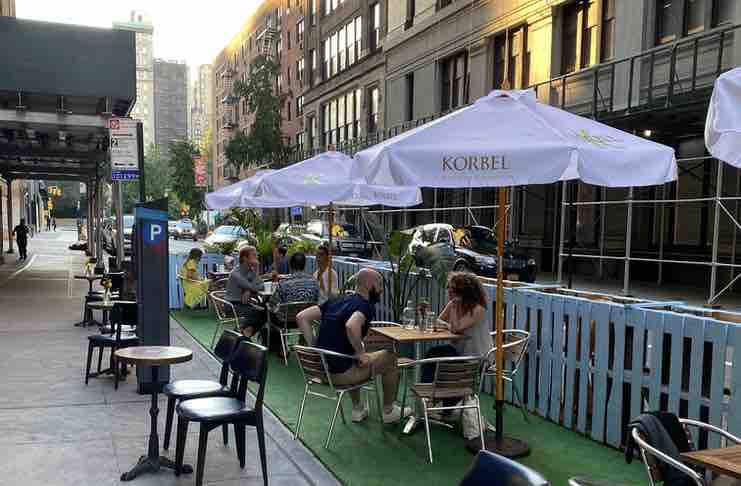 Catherine, our masked server suggested her favorite drink. One Liner – mezcal, orange, cucumber, jalapeño, lime. Bright and deliciously refreshing. Mike ordered his usual – An Old Fashioned. Cocktails in plastic cups are something to get used to and very welcomed.
Limiting contact, we scanned the barcode to see the summer menu.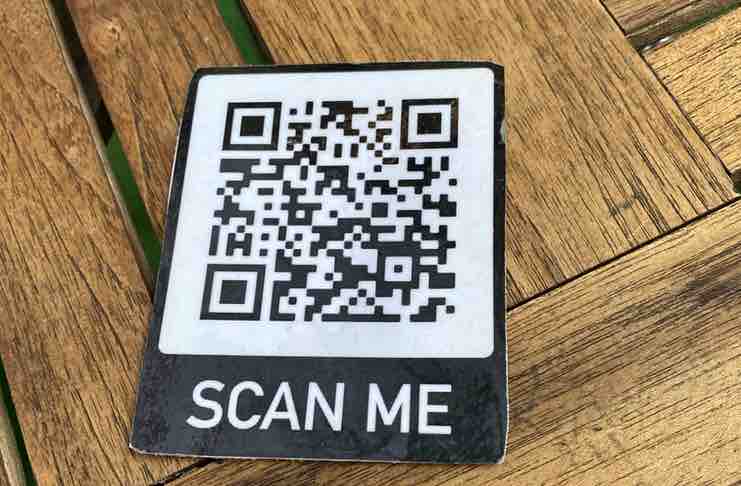 Jack Daniel's BBQ Pork Sandwich
Braised pulled pork smothered in Jack Daniels BBQ sauce served with coleslaw and house pickles. The Pulled Pork Sandwich was piled high with a lovely flavorful moist pork. Brioche roll and crispy waffle fries. Rivals some of the better BBQ joints.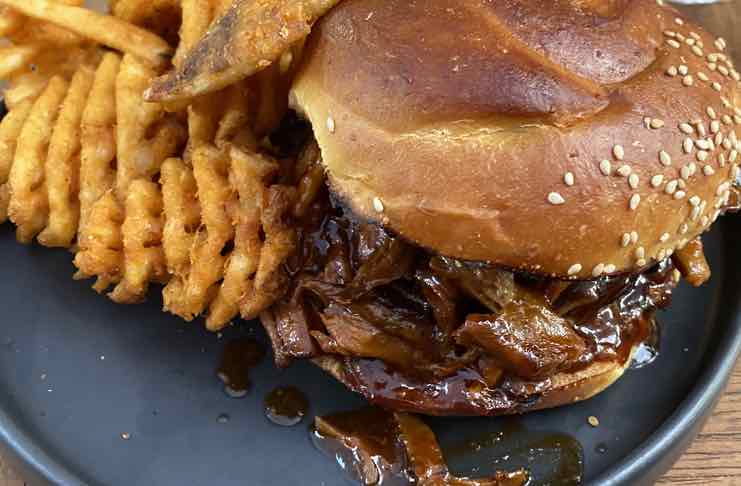 "Perhaps one of the best Mac & Cheese I have ever had"
Jack Daniels' Marinated Rotisserie Chicken & 2 Sides.
A very generous plate of half chicken dressed with finger-licking sauce.
The sides were the stars. Usual suspects were offered. Brussel Sprouts were done right, flavorful, and cooked perfectly.
It was the Mac and Cheese that gave me a foodgasm. Perhaps one of the best Mac & Cheese I have ever had. A bold statement with a plethora of amazing M&C throughout this great city.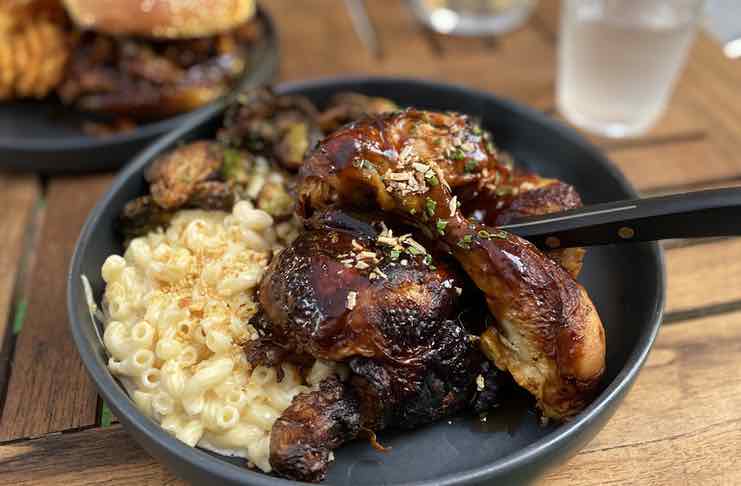 Lovely preparation of Gruyere and Fontina mixed with a perfect bechamel and the ever-familiar elbow pasta. This was better than average comfort food and it comes with a show.
No 2-drink minimum required. Just a great meal and atmosphere I have been craving. The Stand has returned.
This has been a year of challenges for us all. NY does was NY does. Comes together for not just survival but to come back better. Standing O for NY despite the odds we are slowly reopening our bars and restaurants. Albeit outside safe distance seating.
The Stand is back and is the perfect solution to all this gloom and doom.
Good Food and laughs. The first and only Comedy Club/Restaurant.
Patio seating with a live show – the best of NY.
Come for the food, stay for the laughs, and keep coming back!
Where?
The Stand Restaurant & Comedy Club
116 E 16th St
New York, NY 10003
Living and loving in NYC, food has been a passion of hers. East Coast to West, Faith's goal is to explore and learn with the contribution of other like-minded foodies. Faith Rein has written for 2Girlsfromabar@blogspot.com. Youtube channel – faith.rein, love food love faith. You can find her @: Faith.rein/facebook (always looking to add friends) / faith rein@twitter / faith.rein@instagram / faith.rein@gmail.com