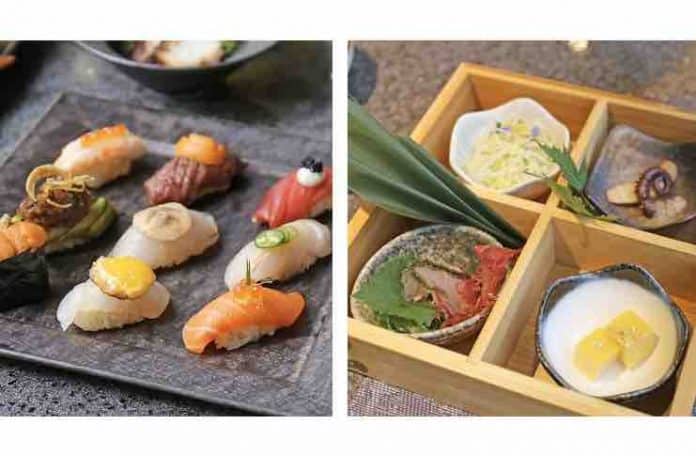 By Ron Rossi
Welcome home. That is how we arrived at Ikebana-Zen NYC. 
My wife and I lived in Tokyo many years ago as I worked there. With our little daughter in hand, we fell in love with the city, the people and the country. It was wonderful. We learned to do everything Japanese. Including the way we learned to eat. Every day, and every way it was always Japanese. And that was whether we ate in our home or went out for a meal over the weekend. It was life. 
Ikebana-Zen NYC: Typical Japanese Meals
So, when we went to visit Ikebana-Zen we were excited to go. Once we stepped inside we felt warm and welcomed. The chefs were cooking at the counter. The host greeted us and set us up (outside for now) for the lunch we were here for. As it is, the lunch meal is the same as the evening dinner meal. There is no difference as to the time and the meal. It is the same as if you were back in Japan.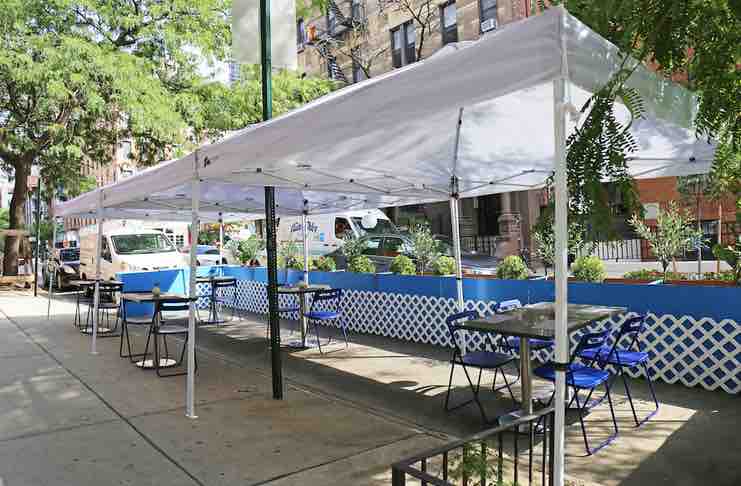 We looked at the menus and made our arrangements. We then waited for the first item to meet. This is typical in Japanese meals when you are over there. Meals come as one portion at a time. You are to observe, listen, consider, and review. Then you put your chopsticks in your hand to try the first portion. This can determine everything. 
This meal was selected from the first look at our menus. My wife decided on Miso Soup and a Rainbow Sushi Roll, made with Crab Cucumber Avocado inside, and covered with a roll that had individual layer portions of Salmon, Tuna, Yellowtail, and Avocado. It sounds like heaven of a dish. 
Traditional Japanese Food
I decided on the Kaiseki Omakase selection. This consisted of 5 separate courses. Each different and each unique. It was a combination that was most interesting and exciting as you enjoyed it. Taste. Freshness. Interest. It is all you can need. According to tradition, Omakase is a Japanese term that means "I will leave it up to the Chef". The Chef will have the full creative freedom to decide what specialty dishes to serve and unless otherwise instructed upon booking. 
The host brought out the first course to us. My wife had the Miso, which was a special creation with pieces of fresh crabs and broth. I had an order of Hassun, which had Vinegar Fish, Octopus, Tamago, Napa Cabbage, and Kiku Flower. The dish was amazing and looked special.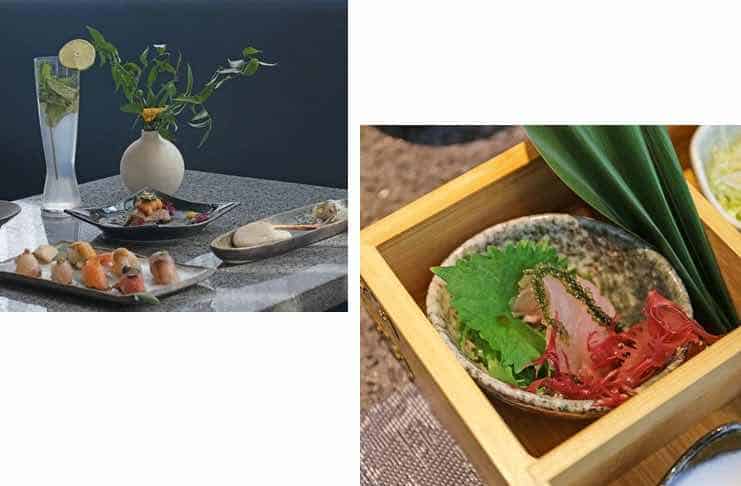 The dishes were described to us and we then started. Taking our first bite we smiled. The second bite we looked and were happy. This time our minds and feelings went back to the time we went home. Only this time we were home in Tokyo where we had lived for several years. 
The food was fresh. This is the most important. The taste was exact. It was not a taste of New York. It was a taste of life back in Tokyo. Fresh. Clear. Tasty. Enjoyable. And just enough to give you the taste you needed for this dish. 
In true Japanese food, you eat enough to enjoy. Not to fill your stomach until you are done. No, this is a selection that has you enjoy the selection and finish it until the next course. 
The Tora Tarta was Divine
Next up was a salad of Napa Cabbage, Lettuce, Baby Carrots, Shiso and Kiku Flowers. It included tuna and was topped with a Soy Vinaigrette. I had Toro tarta which included Tuna Toro, Chopped Salmon, Caviar, Toast, and Quail Egg (rail and inside its own shell). 
After hearing the description of our course, we took a look at the plates and prepared our meal. It was divine. Smooth and gentle. Just enough entree with spice and flavor. In fact, part of taste and flavor included how the dish is designed as you reach for the course and take a bite. It was fresh and unique. Each bite gave you a taste that was made just for that course and that bite. That is truly the way we were used to it in Tokyo, and now here at Ikebana-Zen NYC. 
9 Styles of Sushi
Once we finished this round of delight, out came the next course. This time we had the Rainbow Roll that was perfect. We also have the Nigiri Sushi. It was 9 pieces of Sushi this time. It can also be Sashimi if the design is performed then. But this time it was 9 styles of Sushi including Tuna, Salmon, Fresh (and raw) Shimp, Yellowtail, Chopped Toro. Uni and Spicy Scallop. The toppings were unique to each piece.
The design and flavor were separate but went together. They were good alone. But when they were combined they did create something even better and fresh. They enhanced the taste in your mouth and your mind as you might have dipped the piece in some soy sauce and took the bite. It was truly a great taste. You would discuss the piece with the host or our partner and go from there.
It was true of a Tokyo home. Savor. Enjoy. And on to the next piece. You find you also share with everyone if you must. It is a great way to try new ideas and enjoy the meal. This is what you are here. To have a meal and conversations that fill you. 
This course alone took 30 minutes. You are eating a true course to consider and enjoy. This is why you are here. And if you enjoy good Japanese food, this is a place to be. 
This is What Japanese Dining is All About
Once this was finished we spent time talking to our host. He is a pleasure to talk to. He describes the meal, the background of the team, and the reason they created the dining they have. This truly went back to what Japanese dining is about. You find it in Tokyo, but to have it here in New York is a rare case. Ikebana-Zen NYC has made it. 
Our final course is dessert. Of course. But, as in true Japanese design, it is simple and tasty. It was a simple cherry ice cream concept. Not sweet, but fresh. Along with it was a piece of chocolate. It looked small, but when you took a bite you could taste chocolate that was not common out of a store. This was freshly made, which was opposite the ice cream. They balanced each out and refreshed you until done. It was just right. 
And with that, you were finished. 
It was amazing. Our host came back and we had another talk. We could not stop on the meal itself, but we did learn more. 
Ikebana-Zen NYC was supposed to open earlier in 2020, but the world changed. Over time they had delivery before they then opened up for outside dining. They kept it small and limited. This is typical of true Japanese dining. Inside, when things change, the restaurant could hold up to 27 individuals at one time. This does not move fast to change everyone. Instead, guests need to arrive to enjoy a meal with family or friends. They can talk to the team and discuss what to have. That is important. This place is about enjoying. And that is what it is. Nothing and no one will rush you. Instead, you can take your time and have a good meal.
In fact, Ikebana means flower in Japanese. It is a special flower design ability and one takes a long time to learn this concept. My wife is still an Ikebana specialist when we lived in Tokyo. Zen is about the greater spheres of the world. It is thinking and thought. A good combination when you are eating. 
Ikebana-Zen's Chefs Take on Different Styles of Japanese Cuisine
As for Chef Mou, he was trained in Michelin ranked restaurants, taking on different styles of Japanese cuisine. For Chef Yuan, after years of training, the love for gourmet cooking was planted ever since. 
In fact, traditionally in Japan, sushi courses do not have any menus. The Chef is in charge. Here, Omakase is a spiritual companion and counterpoint to kaiseki, the elaborate multi-course Japanese meal built around seasonality, quality ingredients, and simple preparations. While kaiseki is a highly ritualized meal with a specific ebb and flow, omakase changes with each occasion. And that is ideal in the world we live in. 
Ikebana-Zen NYC is the place to find, discover, and return to. It is not a usually little place to find. Instead, you have entered an experience where you go and learn a way to eat and live. If you lived in Tokyo, you would understand. If you have not, then you need to visit and spend your time at Ikebana-Zen to enjoy life and the meal you can eat this time. Or maybe the next time. 
One thing to remember is to learn life from the Chef. It means "I leave it up to you." 
………………………………………………..
Ikebana-Zen NYC
401 West 53rd Street New York, New York 10019
Phone: 917-388-2268
Website: www.ikebanazennyc.com
If you're looking for more a few Japanese dessert ideas – check out this post.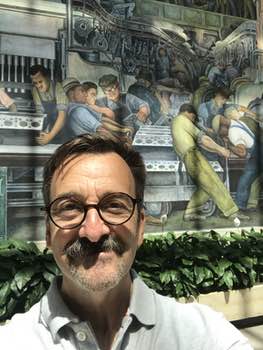 "The Jaded Traveler". Ron Rossi was born and raised in New York. A globalist at heart, Ron is a marketing director by trade, and has lived and worked around the world including Asia, Europe, Africa, and South America. Food is one of the best ways to learn about a country, a people and a culture. So, Ron is always looking for the best in mid-range to budget and street food. He is always on the hunt for a good meal anyone can afford. It is the food of the average citizen that excites him. And with having visited close to 100 countries on 6 continents so far, there have been some pretty good meals.