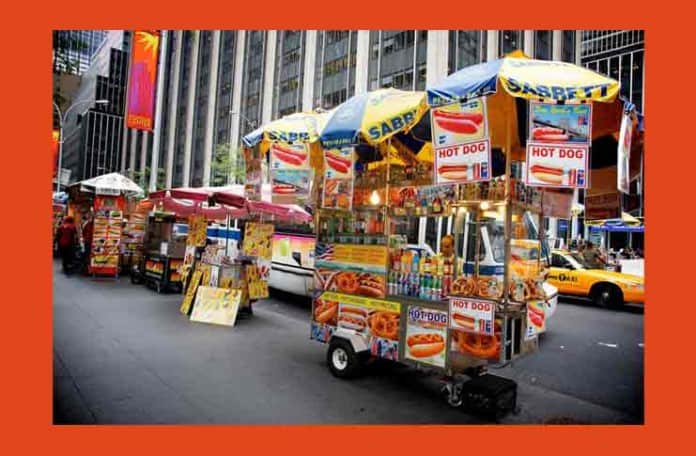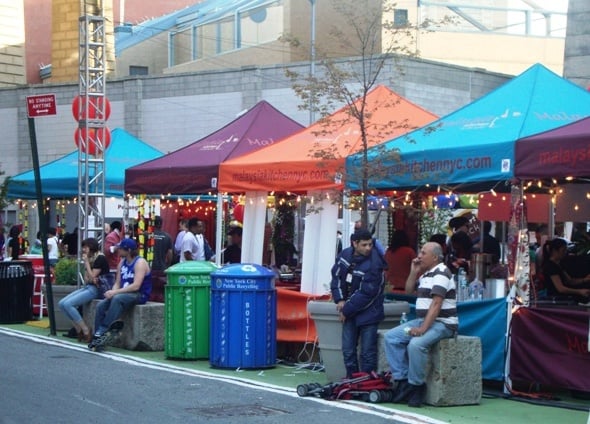 I've been looking forward to the Luckyrice Malaysian Festival since first hearing and writing about it in early March.  There are numerous events being held to highlight the cuisine of Malaysia, which is an amalgam of Malay, Chinese and Indian cuisines, with a smattering of Portuguese, Thai, Indonesian and even Middle Eastern influences thrown in for good measure.
Among the events are a James Beard Dinner, an Afternoon Tea & Dessert Pairing, a Family Dumpling Making Workshop, a discussion about Budddhism in the Kitchen, a Grand Feast, and an Asian Night Market. which I attended and will write about tomorrow.  All these events have top chefs and restaurants involved including David Chang, Anita Lo, Zak Pelaccio, Pichet Ong and many others.  For more details see the Luckyrice Malaysian Festival website.  Special thanks to Colleen Tremont of RF Binder for securing us a ticket to the Asian Night Market, which out very quickly.
The Malaysian Pavilion was adjacent to the archway on Water St in DUMBO, and it was free and open to the public.  People with tickets to the Asian Night Market, which cost $50, received one free sample from each restaurant in the Malaysian Pavilion, but people without tickets could purchase food from $2-4 per serving.  In fact, I purchased a few items of my favorite samples to get more, and even bought dessert home for my wife.
There were 8 Malaysian restaurants in the pavilion: Laut, Penang, Forbidden City Bistro, Hachi Asian Bistro, Sentosa, Tenda Asian, Nyona and Cafe Asean, along with an Asian market and a Malaysian tourism stand. There is a lot to cover, so let's get on with it.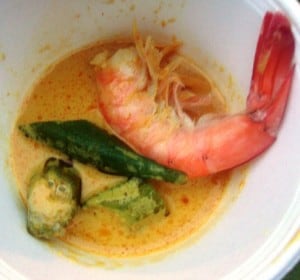 While there were many wonderful dishes in the Malaysian Pavilion, my favorite main course was probably the asam curry shrimp from Hachi Asian Bistro in Williamsburg.  Asam is the Malay word for tamarind, which is used to give stocks and sauces a mildly sour flavor.  Asam curry shrimp was a mix of sour and spicy made with curry, okra and shrimp.  Delicious!
Another favorite was the chicken satay from Tenda Asian in Brooklyn Heights.  What's not to love about satay – grilled meat on a stick with peanut sauce.  They were out of beef by the time I got there, but the chicken was very plump, moist and tender, with that wonderful grilled flavor.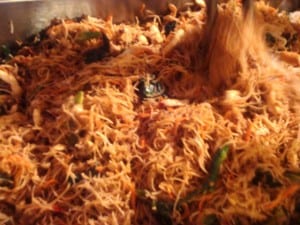 Laut is a restaurant near Union Square, and they featured mee hoon goreng.  This is a dish of thin rice noodles that are fried and bean sprouts, egg, scallions, carrots, onions and Chinese broccoli are typically included, although there are often local variations.  There is a light sauce on it – this one was made from a base of shrimp paste.  Lovely noodle dish.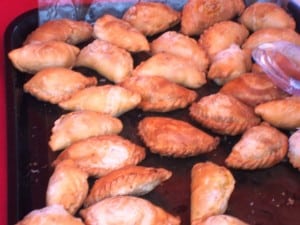 One of the best known Malaysian restaurants is Penang, a mini-chain with 18 restaurants around the country, mainly up and down the east coast.  There are 3 in NYC – Chinatown, Upper West Side and Elmhurst.  They had two dishes, the first being fried curry puffs.  These were very tasty – a light dough filled with curried potato and chicken.  Basically a Malaysian empanada.
For additional Malaysian dishes and some scrumptious desserts, see Part II of my Malaysian Pavilion review here.