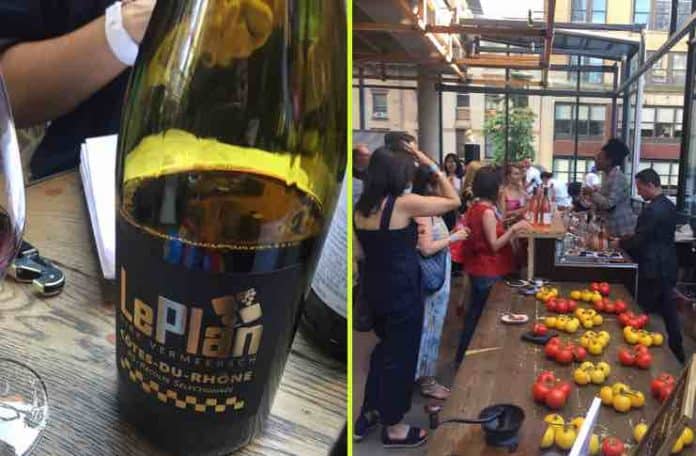 Last Sunday I attended the Cotes du Rhone Food and Wine festival.
Held at Second Floor.
I arrive to see lines of people wrapped around the corner of 6th Ave. Second Floor, a beautiful venue and open-air terrace located above 6th Avenue in Chelsea. I made my way to the front to the venue greeted by gorgeous potted plants with lush greenery. Contemporary design yet warm and inviting.
La vie en Rose playing in the background you climb up the 2 flights of stairs to handsome men and beautiful women. Tables everywhere of clean empty wine glasses sitting on crisp white linen tables just waiting for to get them filled.
60+ Wines, 700+ Bottles of Wine, 10+ Chefs, 10+ Sommeliers as your guides through this event.
As an invited guest I felt honored to among the 400 other paying guests.
The modest fee creates an inclusive atmosphere.
Wine tastings are far from the stuffy white glove sommelier experience. I'm sure those events are still possible.
In my younger years, I would have a desire to be amongst other wine snobs, not that it's a bad thing. But let's be clear. I like wine. I like to drink wine. I know a little and would like to know more but the drinking part is the most fun of all.
Hob-knobbing never suited me. I do pride myself in being able to fit in anywhere.
Thank you google for educating the masses on everything. Wine knowledge is a good thing. Food facts are fun and all of this comes down to drinking delicious wine and eating delicious food.
Côtes du Rhône Food and Wine festival in the middle of Manhattan on a hot summer Sunday fits just perfectly.
I started my wine tour at food, but of course. Managing to find myself in Rose.
Milling Room on Columbus, Chef Philip Kirschen Clark offered Purple Tomato Skewer- Reblochon Cheese, Turnip Seed Oil, Shibazi Spice – A GREAT BITE. Refreshing bright…tomatos to envy my Uncle Charlie's. draped with Le d'elice du luna, turnip seed oil, shibozi spice and elderflowers. Tomato bites were generous and so juicy. My food memory reminds me I should have had more and look forward to an evening at Milling Room.
I paired this with my first wine for the day a Domaine de la bastide. Perfect pairing.
Working my way across the room to chef Joshua Smith and his Assorted Country Pate, Mustards, Pickles, Crostini. Another tasty bite.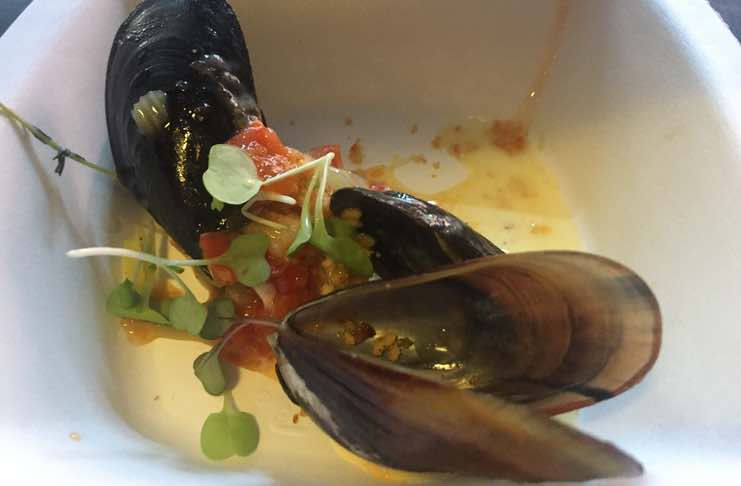 Nearby was the most beautiful table I have seen. It was like page 32 of Architectural Digest – special garden edition (totally in my mind). Also would be my dream buffet at my imaginary wedding or a smart dinner party of which neither will be happening.
Chef Mary Dumont and her Radish & French Butter Bar THIS WAS ONE OF MY FAVORITES OF THE DAY. BEAUTIFUL TABLE FILLED WITH RADISH FLOWERS…TOPPED WITH BLACK SEA SALT. WHAT'S BETTER THAN THAT.
Blacksmiths Artisan Breads with French Butter & Salt – THE BUTTER CAN BE EATEN LIKE CANDY.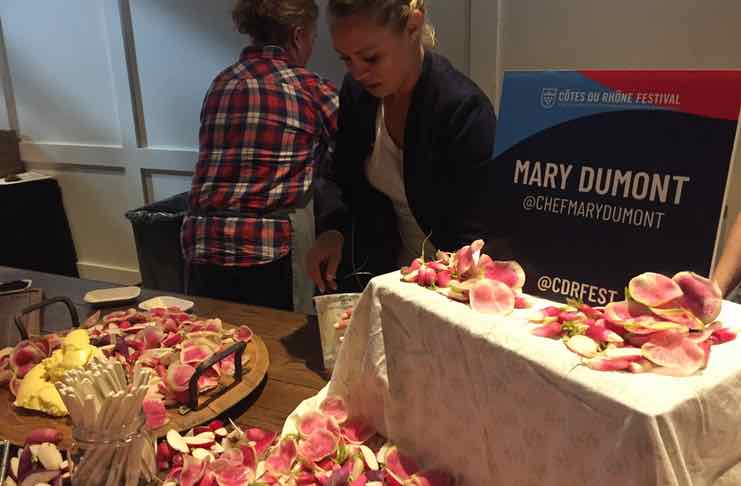 Into the white's now with Domaine Pelaquie Laudin. Crisp and light.
Hand cut Tartare of Beef that delightfully paired nicely with the white wines.
Another super popular table was Tyler Atwell of Lafayette Grand Café and Bakery. Who can resist a tower of French macaroons? Praline Profiterole: Cocoa Choux, Hazelnut Ice Cream, Vanilla-Tonka Chantilly, Chocolate Sauce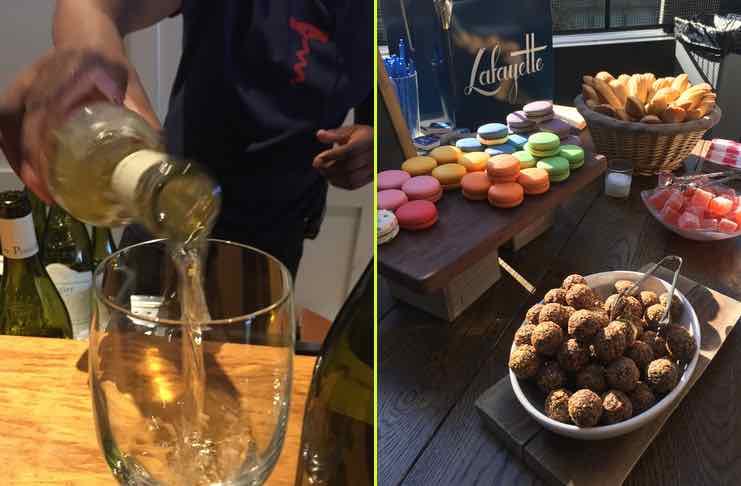 My favorite was this hazelnut chocolate truffle ball of greatness. This might not be the how Tyler described it but…in the words of Veruca Salt "I want it now".
Across the venue, you pass a lush garden as a table display.
Hello, am I in England at a garden party…oh no, it's France in the countryside. Really it's 6th Ave and 36th. Beautifully filled spice jars and herb plants and abundance of flowers and all that you can imagine Rhone to be.
It is encouraged to smell the region.
You then reach the reds.
Hearty beautiful reds.
Red Wines with
Jambon Persille Terrine
Beef Wellington Sausage with Grain Mustard
Boudin Blanc Sausage Red Wine Poached
Mussels Suzette, Crispy Leeks, Sherry and Pepper Conserva
Gnocchi Parisienne, Aged Comte, Tomato Jus, Wildflower Honey
And a wide selection of artisan cheeses, warm French olives, and Biellese Charcuterie.
These wines span the different styles of the Côtes du Rhône, highlighting the diversity and heritage of the area.
Participating chefs include Tyler Atwell of Lafayette Grand Café and Kimberly Plafke of Grand Army, as well as artisan Baker Raymond Smith of Blacksmith's Breads, Salumi-Maker Drew Buzzio of Salumeria Biellese, Phillip Kirschen-Clark of The Milling Room, Jocelyn Guest & Erika Nakamura of J & E Smallgoods, David Robinson of Formaggio Kitchen, Eric Simpson of The East Pole, Joshua Smith (Boston), Mary Dumont (Boston), Mitch Willis and Garth Jobb of Hudson & Charles Dinette and Butcher Shop.
Participating sommeliers include Betsy Ross of L'avenue, Master Sommelier Fred Dex aka The Juiceman, Nicolas Prieto from the Grand Hyatt New York City, Anna Cabrales of Morrell Wine Bar & Cafe and Meaghan Levy of The Pierre New York. They said to expect culinary surprises and education while sipping some of the best wines available in New York City. This was an outstanding event. One I hope will be a yearly tradition to attend.
Living and loving in NYC, food has been a passion of hers. East Coast to West, Faith's goal is to explore and learn with the contribution of other like-minded foodies. Faith Rein has written for 2Girlsfromabar@blogspot.com. Youtube channel – faith.rein, love food love faith. You can find her @: Faith.rein/facebook (always looking to add friends) / faith rein@twitter / faith.rein@instagram / faith.rein@gmail.com