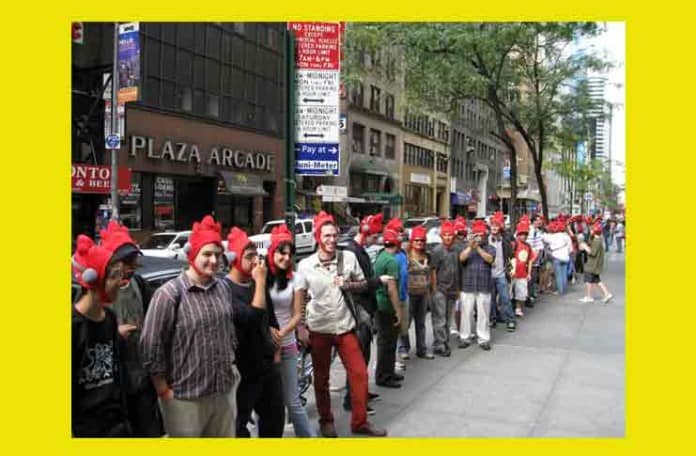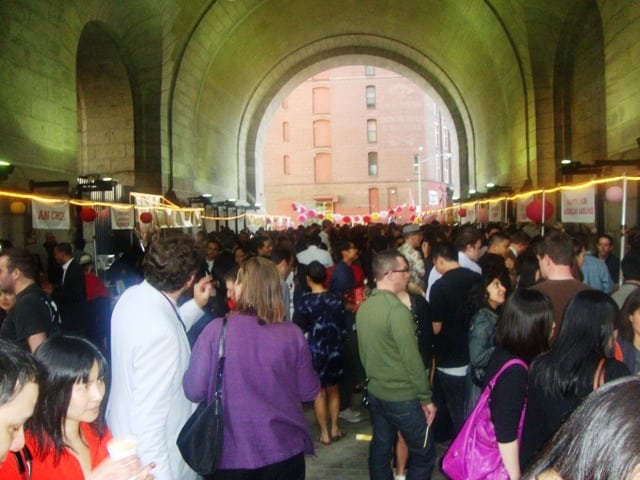 There are a lot of great events being held as part of the Luckyrice Malaysian Festival, but the one I've really been looking forward to was the Night Market hosted by David Chang held Friday night (4/30) under the arch of the Manhattan Bridge in Dumbo.  The Night Market was inspired by the festive night markets held throughout Asia.  We would especially like to thank Colleen Tremont of RF Binder for securing us a ticket to the Night Market.
There were over 25 different restaurants and vendors participating in the Night Market, some of who were associated with various cultural organizations such as the Korean Cultural Service.  There was also an open bar for ticketholders with another dozen or so participants offering wine, beer, sake and even margaritas.  We have a lot of ground to cover, so let's get started.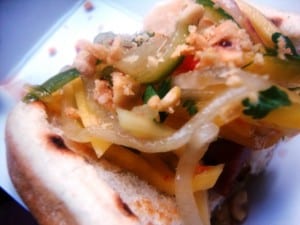 Asia Dog, who are usually at the Brooklyn Flea on weekends, offered up tastes of two different hot dogs when I was there – the Ginny and the Sidney.  Both started with Schaller & Weber hot dogs.  The Ginny was topped with homemade kimchi and nori flakes and the Sidney had thai mango relish with cucumber, red onion, cilantro and peanuts.  The Ginny was spicy and very good, but the Sidney was amazing.  It was sweet a a little spicy, with the mango, cilantro and peanuts working great together.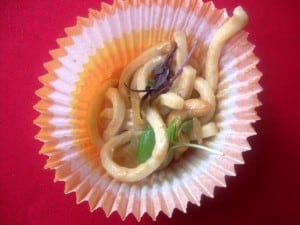 Buddakan in the Meatpacking District had chilled udon noodles with peanut sauce, which were pretty tasty, but it was really just a small tasting.  I'm sure we would have enjoyed a full entree of this dish.
Double Crown on the Bowery offered up both a savory and a sweet dish.  The coconut chicken with snow peas and mint sounded great, but the finished product didn't really impress me.  Their two desserts of shaved ice were very tasty though. One had mango & rhubarb syrup and I tried the tamarind shaved ice.  What a wonderful way to cool off on a warm evening.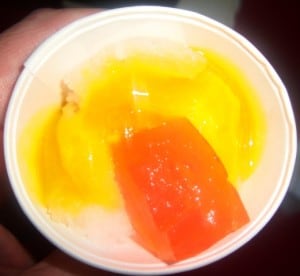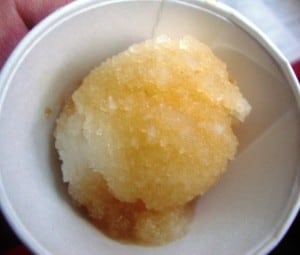 The award for fanciest ingredients of the night went to Delicatessen. They had a foie gras and beef short rib dumpling with an assortment  of Asian vegetables and five-spice consomme. It was very good, but kind of hard to distinguish the ingredients in the dumpling.  If they didn't tell us foie gras was in the dumpling, we wouldn't have been able to tell.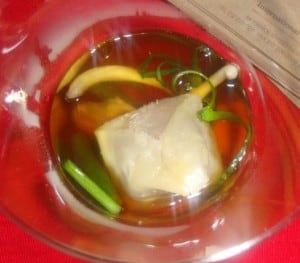 One of my favorites items in the Night Market were the steamed barbecue rainbow carrot buns with carrot hoisin sauce from Dirt Candy in the East Village.  We generally prefer our dumplings steamed to begin with, and the barbecue carrot filling and carrot hoisin sauce was superb.  I'm not particularly fond of carrots, but this was exceptional.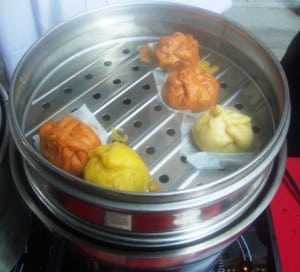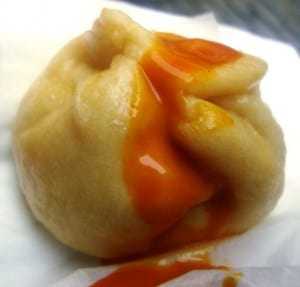 There are a lot more restaurants and food to cover, so please check back later today for Part II & Part III of our Asian Night Market review.  I've got to get something to eat.  Writing this is making me hungry.