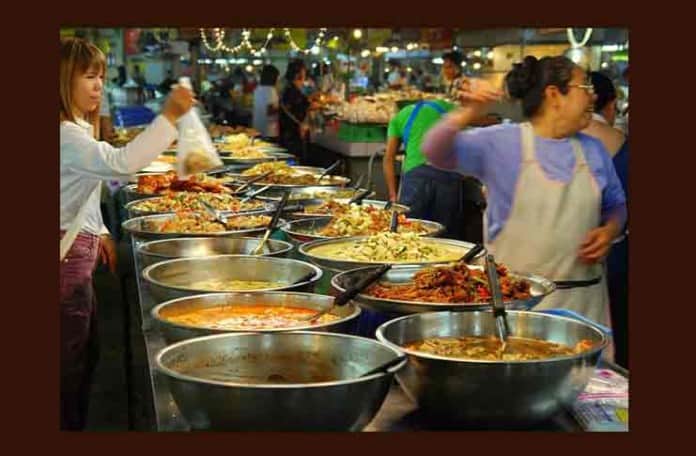 (For Part I of our review of the Malaysian Pavilion from the Luckyrice Malaysian Festival, click here.)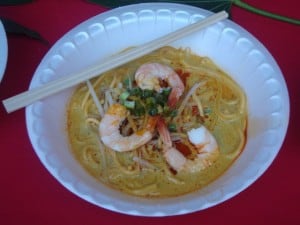 The 2nd dish offered by Penang was curry mee shrimp.  Curry mee is a bowl of noodles in a spicy curry with any type of meat, fish or fried tofu, garnished with bean sprouts, scallions and mint leaves.  This was an excellent dish with a good, slightly creamy, spicy curry sauce.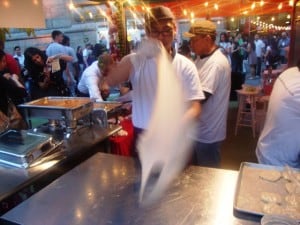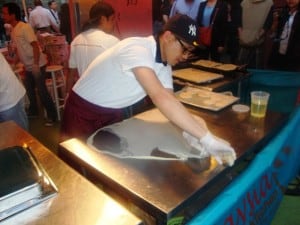 Next up was the roti from Nyona, which means lady in Malay.  There are 3 Nyona restaurants in NYC, two in Brooklyn and one in Chinatown.  They are affiliated with Penang, but have somewhat different menus.
This was a fun food to watch being prepared.  They take bread dough and spin it out like pizza dough, then lay it out on a table, fold it over many times and grill it.  The roti bread is then served with a spicy, slightly creamy curry sauce similar to some of the other dishes described above.  You dip the many-layered bread in the sauce and eat it.  Lovely – although it was so much fun watching the Malaysian chef in the NY Yankees cap making roti, I forgot to take a picture of this dish before I ate it.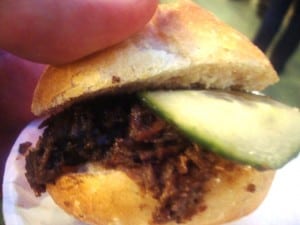 The last main course was the beef rendang from Cafe Asean in Greenwich Village.  Beef rendang is cooked slowly for several hours in coconut milk and spices until almost all the liquid is gone and the spices are absorbed into the meat.  Spices vary according to the chef and can include ginger, turmeric, lemongrass, chilis and galangal.
This dish was a bit spicy and topped with a cucumber slice, which balanced the spiciness.  The liquid wasn't totally absorbed because some juice dripped down my hand and got onto my camera, but it was easily wiped off.  Cafe Asean is the closest restaurant to my apartment that was featured, and I look forward to going there and trying some of their other dishes.
Whew! That was a lot of great food – and I still had the desserts to try.
All the desserts were great, but my favorite was probably the kaya truffles from Forbidden City Bistro in Middletown, CT.  There were dark chocolate truffles with white chocolate stripes and white chocolate truffles with dark chocolate stripes, and they were both filled with kaya, a creamy coconut jam-type filling.  The woman next to me was very excited to see these, as she said her grandmother used to make kaya.  I can see why she was excited – they were wonderful!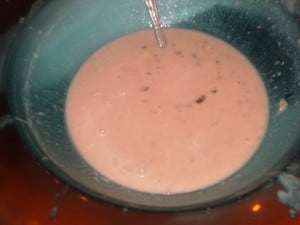 Forbidden City Bistro also had bubur cha-cha, a tapioca-like dessert made with coconut milk, tapioca flour, sugar and some small chunks of what might have been potato.  It was very creamy, thick and sweet, and I really enjoyed this as well.  There was a 3rd dessert featured, pandan creme brulee, which looked great, but I didn't get to try.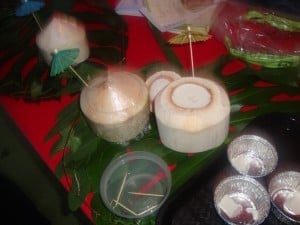 The final dish I tried was fresh coconut pudding from Sentosa in Flushing, Queens.  This was served in hollowed-out shells with little tropical straws.  It was a little firmer than what we call pudding, but very refreshing.
The Luckyrice Malaysian Festival Pavilion was a great introduction to Malaysian food for novices, but the food was good enough to satisfy more adventurous palates as well.  If you try any of the restaurants featured here, you won't be disappointed.