Tucked off Adam's Avenue in the LES (Lower East Side) is 8282, a Korean restaurant that is blending flavors and combinations that you may not have experienced before, but definitely should! 
This is the kind of place you would want to bring a date, a visiting friend, or a group of friends to spend a nice night out. The ambiance of this place is very low-key with colorful chairs outside and a clean and simple interior; this place is inviting and relaxing. 
Inside 8282: A Unique Korean Restaurant
Inside the restaurant is an open bar showcasing some of the beautiful ingredients and Kat, the mixologist who I'd best describe as an alchemist. With great music and views, it is a most welcoming atmosphere!
During our visit, Jee, one of the owners, welcomed us into the restaurant and led us to our small but cozy table against the wall. My friend and I scanned the cocktails first, and with the recommendation of our service ordered the Gochujang Margarita and the Yuzu Matcha Magic. 
Phenomenal Gochujang Margarita and Tuna Tartare
And let me tell you…both of these cocktails were phenomenal as the Gochujang Margarita had a scaling spiciness which became spicier as time went on and the Yuzu Matcha Magic was very herbal and hydrating.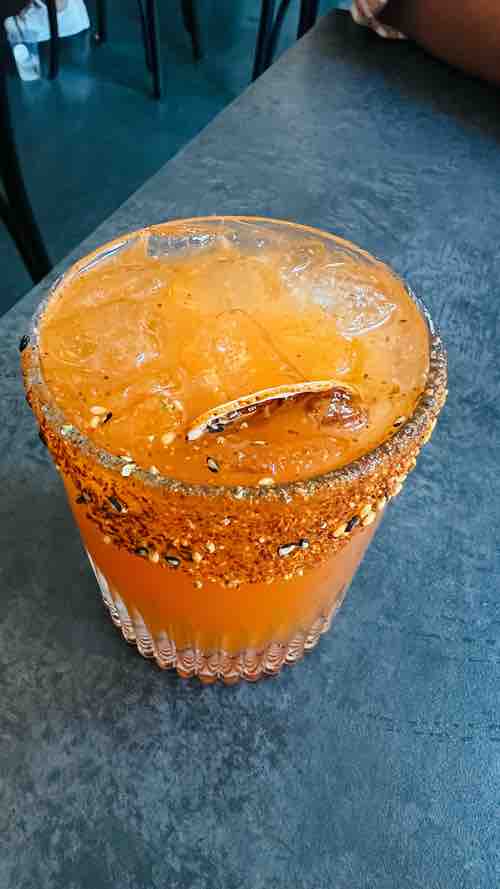 For starters, we ordered two of the Anju plates: the Tuna Tartare + Kim Bukak and the Littleneck SooJebi. Both of these were amazing. The Tuna Tartare came accompanied by breaded and fried seaweed chips (SO GOOD!) topped with a dusting of gochujang spice. This seaweed chip was the perfect vessel for the fresh tuna.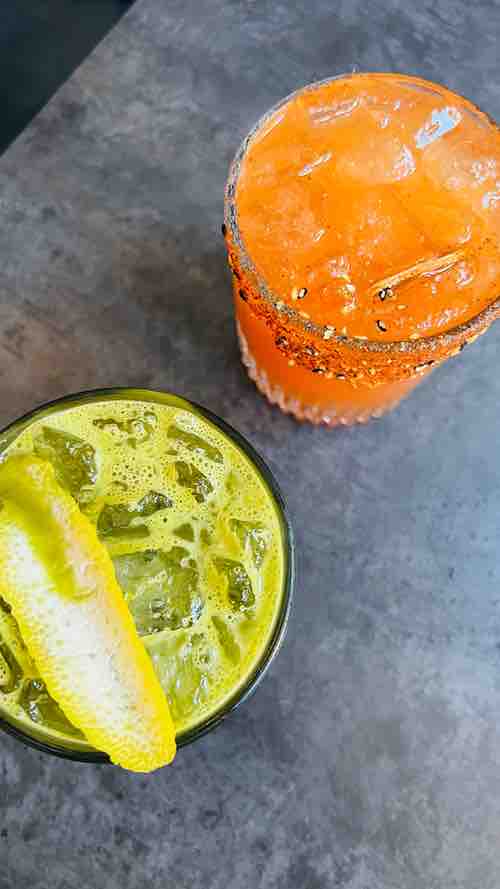 The tuna was topped with what looked to be yuzu and capers which added a wonderful flavor to the fish. Not only delicious, this was also a beautiful dish to look at. 
The Littleneck Soojebi
The Littleneck Soojebi was something I didn't expect. Littleneck clams were accompanied with a potato dough that added chewiness, texture and bite to the clams. But I must say, the star of this dish was the broth.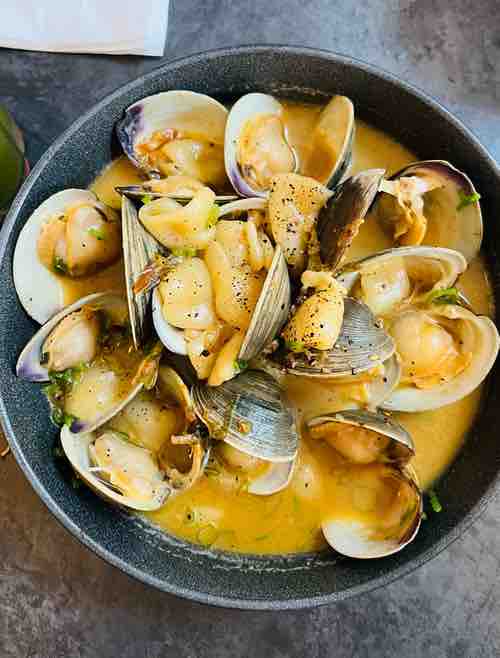 The broth was a black bean infusion with sweet, tangy, umami, and drinkable flavors. This broth was black pepper forward (which one of my favorite spices!) so good that I couldn't help but lift the bowl and drink the broth refusing to waste even a drop. At this point, the Gochujang Margarita was a perfect pair for these appetizers, and our bellies ready for the main course and maybe another stellar drink.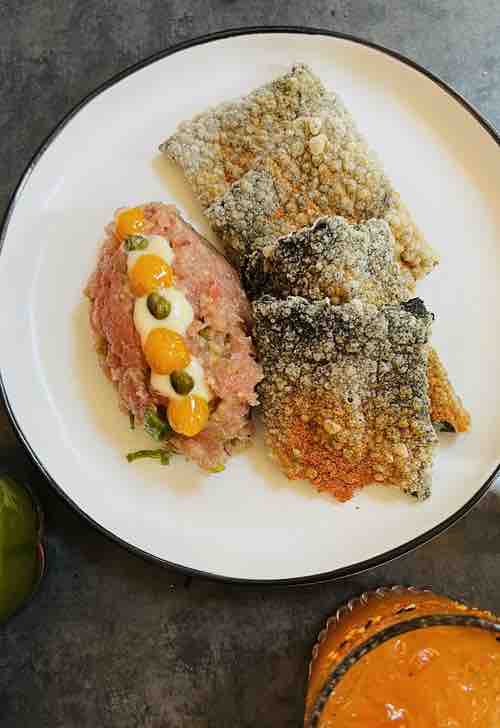 Kat, the lovely bartender came to check on our table, and we asked her to surprise us with some fun cocktails and she did not disappoint! First was the grape cloud, which was a super light and airy grape drink made with gin.
This beverage brought me back to some happy nights sipping on a grape kool-aid as the grape flavor was so sweet and forward. The other drink Kat made for us was the "Beer and a shot". This had some complexity meeting up with some appealing flavors. Using a turmeric and yuzu reduction, this drink was something I've never had before and with its added heat, it was easily one of my favorites!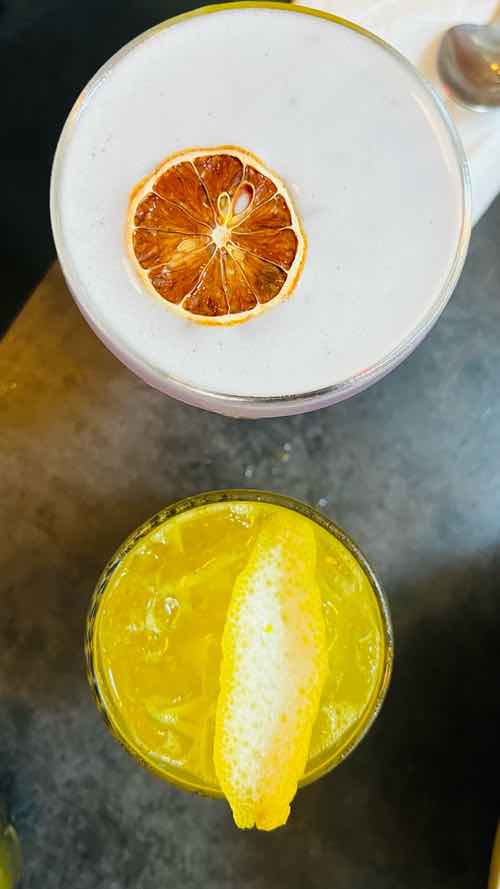 The Entrees: Lobster and  Jjajang Bori-Bap
For our entrees, we yet again enlisted the help of our expert server. She suggested the Lobster Bibim Soymun and the Jjajang Bori-Bap. 
The lobster was delicate and well-prepared and immediately melted in my mouth. What caught me by surprise was that the dish was cold, perfect for the hot summer days ahead of us. 
The dish was a bit surprising, but became one of my favorites (after the clams) and paired very well with the "Beer and a Shot" cocktail. One of my favorite parts of the dish was the charred tomato it came with. The cool temperature of the dish really let the tomato shine!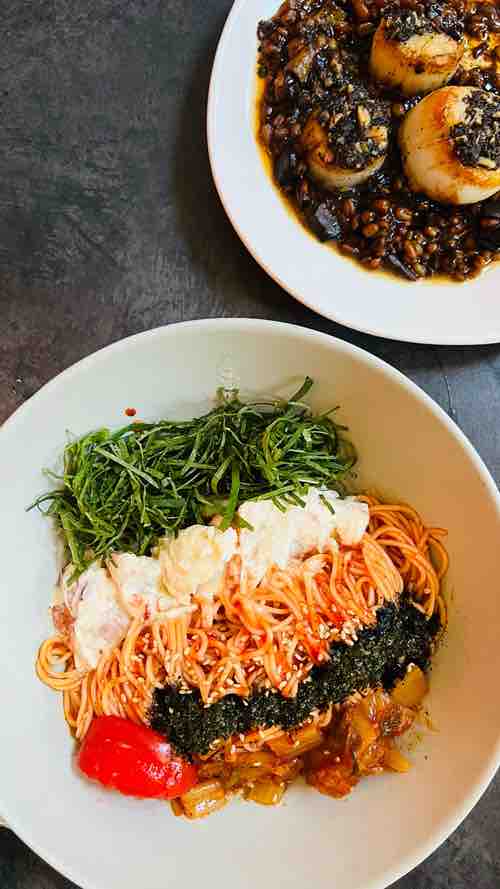 The second entree, the Jjajang Bori-Bap was also incredible. A scallops dish laid on top of a bed of barley and black bean sauce and truffle paste. As a big scallops fan, I had to say that the scallops were perfectly seared and well balanced. 
The sauce underneath was creamy and thick which balanced the flavors oh so well. The barley provided the perfect balance of texture allowing me to customize every bite!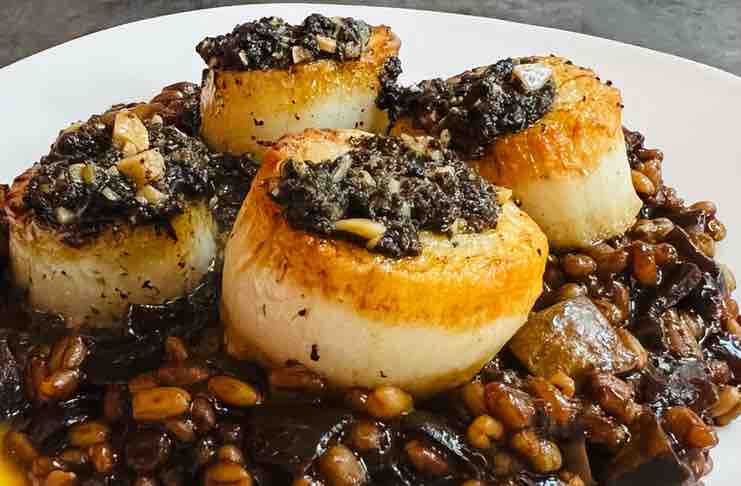 For Dessert: Injeolmi Ice Cream
Finally, the Injeolmi Ice Cream for dessert blew my mind. This dessert was ice cream on top of an injeolmi base and a tahini-like honey sweetener – something I've never had and highly addictive. What blew my mind about this dessert was that there was parmesan covering the top, although it most certainly looked like shaved coconut!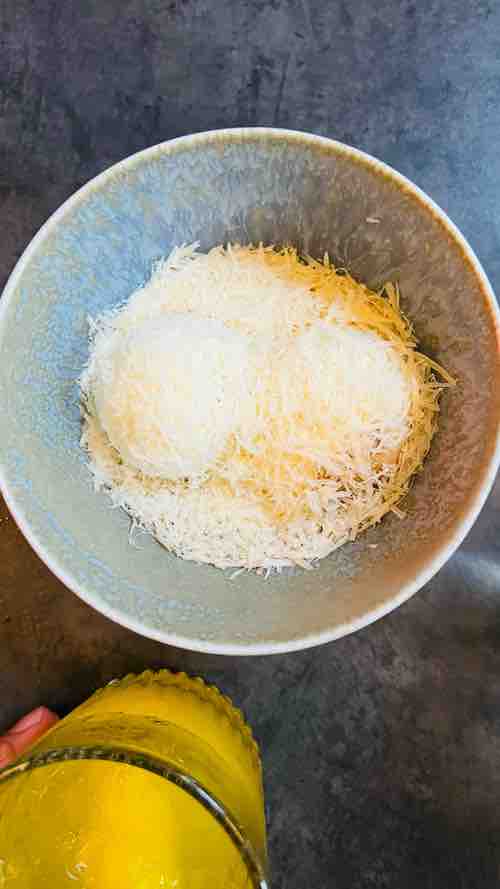 Although this was not something that I expected, I couldn't believe how long I'd been sleeping on this combination. The saltiness of the cheese paired SO well with the injeolmi cracker and ice cream and brought out the best of the dish! I've got to give 10/10 points to the chef on creativity here.
One last note about our experience – I want to give a special shout-out to Jee (owner), Kat (mixologist), and the staff for their amazing service. We were taken care of very well and our server helped guide our decision-making skills expertly across the menu. 
I honestly didn't pick a single thing from the menu myself and was blown away by just how much I enjoyed everything. Pro tip: if you cannot decide between a few things on the menu here, ask your server! They will not let you down. Once we got done with our meal, to say our goodbyes, Jee and I took a shot and promised to meet again soon and we parted ways, me with a happy stomach and her with the satisfying feeling of another impressed customer. As I write this article, I am yet again browsing the menu for my next trip, see you soon 8282!
Check more reviews on Yelp.
Want more Korean food tips? Check out our review of this Korean BBQ place.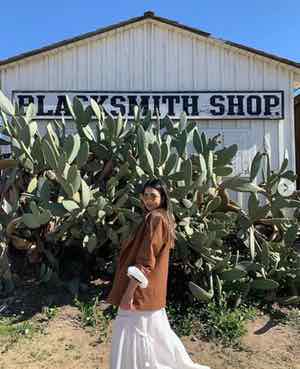 A travel hobbyist from Dallas TX, Mehru believes we all share one common language: good food. Eating her way around the world, Mehru has spent significant time learning about other cultures and their flavors (she also makes a mean chicken curry!). Now living in Brooklyn, she shares her adventures on social media (IG: @sheikhshack_). Previously, she's ghost-written for travel blogs and even ran a food page.