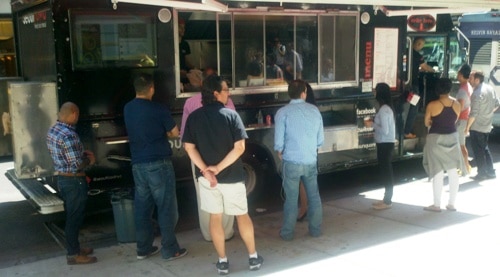 Not too long ago, we thought the Seoul Food truck was out of business. We hadn't seen them on the street in a while, and then the Supreme Burger Truck showed up with most of the Seoul Food crew working the truck.
It looks like Seoul Food may have ironed out their financial issues, because we've seen them on 5th Ave around 21st St a few times in the past month or two.
The menu is basically the same, and we were in the mood for some kalbi, marinated short rib. Unfortunately, they were out by the time we arrive (around 1pm), so we had to settle for a bulgogi (marinated rib-eye) rice platter for $8.95, plus tax.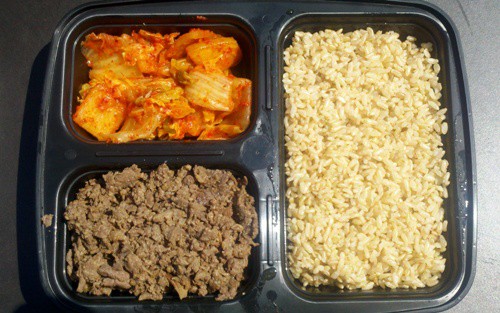 While waiting for our order, we received an important call (wifey), and were not paying attention when picking up our lunch. We forgot to ask for hot sauce, or any sauce for that matter, and headed back to the office.
On the train from Flatiron back to Midtown, the smell of kimchi was fairly potent, even though lunch was fully sealed. Apologies to everyone in our car on the R train around 1:30 yesterday for the smelly lunch.
The rice platter at Seoul Food is slightly different from other rice platters we've had, in that each component is separated. The beef, rice and kimchi were all in different compartments. At other places, it's basically a one-dish meal.
Trying the bulgogi, we could taste a light, sweet mirin marinade on the beef. We prefer kalbi because the quality of the meat is better than with bulgogi. The bulgogi wasn't bad, but we prefer a better cut of beef.
The brown rice was decent, and was a nice change of pace from white rice, which everyone seems to serve.
The kimchi was as strong as advertised by the pungent aroma. At this point, there are a lot of Korean street vendors, and the kimchi is not always up to snuff. At Seoul Food, the kimchi was potent.
You can follow Seoul Food on twitter here or on our Mobile Munchies twitter feed.   To see their full menu, look here, here and here.
So far, our favorite dish from Seoul Food has been their bibimbap.