Searching for some yummy, easy and healthy meals for college students? You've reached the right place. Summer is slowly fading, and within no time, the semesters will be here, filling your schedule with classes again. With tied hands, cooking becomes a luxury; then again, having takeouts is too expensive to be a regular occurrence.
However, healthy meals need a quick fix for you as a college student and can be prepared on weekends. In as much you want to hit the books, the food should not be overlooked.
You'll need to be well-nourished and full of energy for the classes, discussions, and most probably that part-time job. Hence I have compiled a few recipes for tasty meals to help you through the semester. 
It's way convenient to grab some fast food, but nothing beats homemade food as it is nutritious and therapeutic. This semester, you will need to take care of yourself. 
Essential Kitchen Equipment
Since you're in college, I understand that you may probably own a few kitchen tools or probably share them with others as I did. 
Hey, we won't need sophisticated kitchen tools, but the simple basic ones will also do the trick. Here's what you'll need to be the master chef in your kitchen:
Food bags: Eco-friendly ones will help you store your food in portions.

Utensils:  A knife, serving spoon, spatula, and cutlery

Oven: Oven is a real lifesaver in meals at times

Blender; if you prefer juices or blend your ingredients. 

Bowls: Bowls are necessary for salad dressing, soups, and sauces, and serving. 

A frying pan or a pot; They'll  come in handy when preparing the dishes

Rice cooker: For meals served with rice, a rice cooker is convenient, but so is a pot. 
The Ideal Recipe For College Students
As a college student, I was there as well, so I am well acquainted with the events. The recipes you will need to be simple, have few ingredients, basic equipment, easy to prepare, something healthy, something you'd enjoy eating and look forward to the leftovers.
With our kitchen equipment on set, get to choose any of the recipes below, and let's get cooking.
A Blend of Chickpeas with Spinach
 Prep: 5 mins
 Cook: 20 mins
 Estimated total time: 25 mins
Ingredients
2 tablespoons olive oil

1 onion, yellow

2 garlic cloves

1 pound fresh ginger

1-2  tablespoons curry powder

8 ounces spinach 

1 can  tomato sauce

2 cans chickpeas, 15 oz
Methodology
On a small holed cheese grater, grate the ginger,  have the onion diced, and mince the garlic.

Have the olive oil in your pan, then sauté the finely chopped onion, grated garlic, and ginger over medium heat until the onions have softened or turned golden brown, about 3-5 minutes.

Continue to sauté the onion mixture with the curry powder.

Add a quarter to half a cup of water to the pan along with fresh spinach until the spinach wilts.

The water will steam the spinach; however, adding water will not be required if you are using frozen spinach. 

Add tomato sauce along the well rinsed and drained chickpeas in the pan.

Stir the content well, and ensure heat is evenly distributed. 

Heat for about 5 minutes.
Estimated Nutrition Facts
Calories: 439.03 kilocalories, Sodium: 1286.48 mg, Carbohydrates: 62.03 g, Protein: 21.3 g, Fat: 14.8 g, Fiber: 21.55 g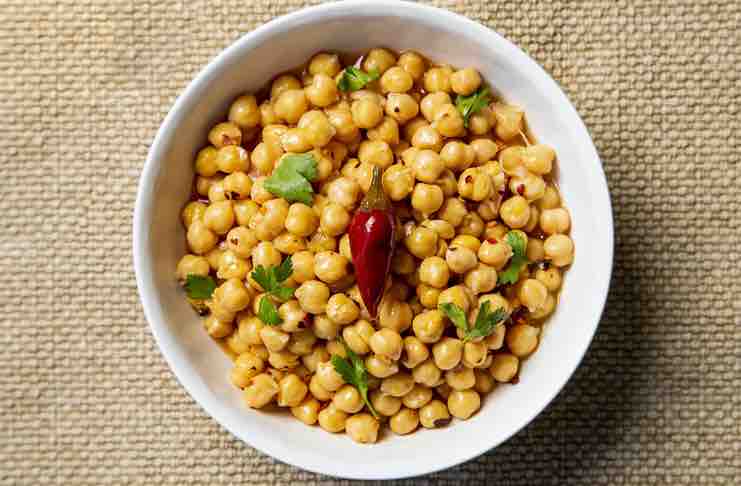 Chicken Quickie
Prep: 5 mins
Cook: 10 mins
Estimated total time: 15 mins
Ingredients
1 tablespoon melted butter

a third cup barbeque sauce

1 tsp. Worcestershire sauce

A half tsp garlic powder

One – two-pound chicken breasts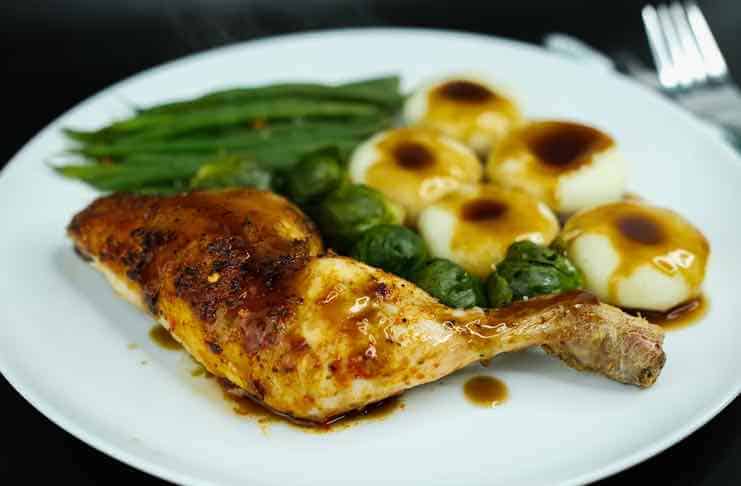 Methodology
Melt the butter in a small saucepan over medium heat.

Have the sauces combined with the butter and garlic powder in the pan.

Ensure the chicken is evenly coated with the resulting sauce in the saucepan. 

Cover the saucepan and cook for 3 to 5 minutes. Ensure the chicken is cooked through and doesn't appear pinkish in the center.

Remove the cover and get to coat the chicken pieces with the soup through a spoon once again. 

Cook until the desired sauce's thickness for about 5 minutes.
Estimated Nutrition Facts
530 calories; 66.3g protein; 32.5g carbohydrates; 12.9g fat; 190.8mg cholesterol; 1200.6mg sodium
Mashed Sweet Potatoes
Five-seven small sweet potatoes

Half cup melted butter

Two minced garlic cloves

One tablespoon dried basil

Half tsp dried thyme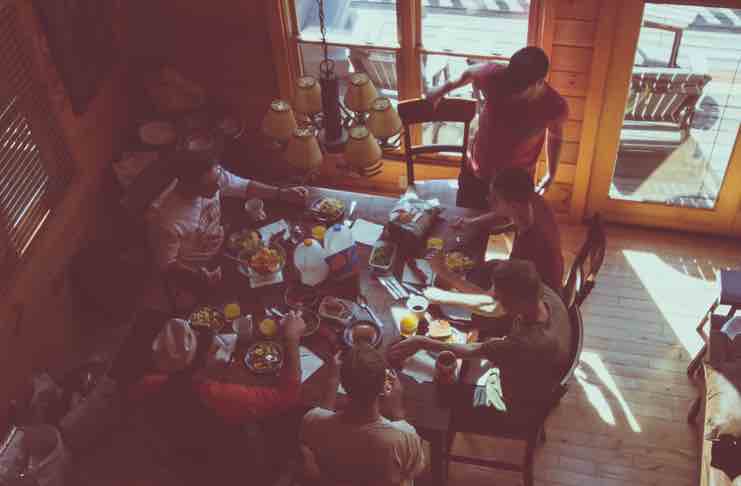 Methodology
Fill up a large pot (to only half of it) with salted water and let it boil. Put the heat on medium-low and cook until the potatoes are nicely tender.

After 30 minutes, drain.

Have the potatoes in a large bowl.

Mash with a potato, masher the butter evenly, adding garlic, basil, and thyme.

Serve.
Estimated Nutrition Facts
86.6g carbohydrates; 573 calories;  398.2mg sodium; 7.1g protein; 23.3g fat; 61mg cholesterol;
Scrambled Eggs
Two eggs

One teaspoon sriracha sauce

Salt and ground pepper

Melted butter
Methodology
In a mixing bowl, whisk the eggs, sriracha, salt, and pepper until evenly mixed.

Melt butter in your pan over medium-low heat, ensuring the whole pan is coated.

Cook the egg mixture in the pan, constantly stirring, until the eggs are fully set, for about 4 to 6 minutes.
Estimated Nutrition Facts
369 calories; 13.3g protein; 2g carbohydrates; 34.7g fat; 438.6mg cholesterol; 536.5mg sodium
Avocado Sandwich
Two slices of bread

Cheese as desired

Nicely peeled and sliced avocado

Nicely peeled and sliced avocado

One tablespoon balsamic vinegar
Methodology
Place one slice of bread on a plate.

 Place a slice of cheese on each piece of bread and top with slices of avocado and tomato.

Sprinkle a few droplets of balsamic vinegar over the tomato and top with the remaining bread slice.
Estimated Nutrition Facts
428 calories; 19.9g protein; 34.4g carbohydrates; 24.2g fat; 39.1mg cholesterol; 845.7mg sodium
Roasty French Beans
2 pounds trimmed fresh green beans

Olive oil as desired

Freshly ground black pepper

Salt to taste
Methodology
Have the oven preheated to 200°C 

If necessary, pat green beans dry with paper towels before spreading them on a pan.

Add olive oil, completely coat the beans, and season with salt and pepper to taste. 

Evenly spread the beans to avoid them overlapping.

Roast the beans in the oven for about 30 minutes until they appear brown and shriveled. 
Estimated Nutrition Facts
101 calories; 4.2g protein; 16.4g carbohydrates; 3.7g fat; 493.8mg sodium
Eggs and Fries
Butter as desired

Frozen french fries

Two beaten eggs

Table salt

Freshly ground black pepper to taste
Methodology
In a pan over medium heat, melt the butter. 

For 3 to 5 minutes, cook and stir French fries in hot butter until browned and hot. 

Season eggs with salt and black pepper; cook and stir until scrambled and set, 3 to 5 minutes.



Estimated Nutrition Facts
212 calories; 13.1g protein; 6.4g carbohydrates; 15.1g fat; 382.8mg cholesterol; 399.4mg sodium
Protein Shakes
If you are after a high-calorie breakfast, this recipe blends in proteins and calories in considerably high amounts making it your ideal protein shake.
Along with providing energy to fuel your upcoming hectic day(s), it's recommended to have enough traces of protein; whey is the recipe that is quickly digested, ensures you will be more than prepared to face the busy schedules ahead. An hour after drinking the shake and you'll be ready.
Most shakes have that characteristic nutty flavor, but some come in a variety of flavors that you may prefer. Examples of protein shake you may use include Kachava, Shakeology, Whey Protein Isolate, and Vital Proteins Collagen Peptides.
Kachava especially is known for its great taste, almost everybody on the internet agrees to that.
Ingredients
A scoop of Protein Powder

Banana(s)

Low-fat yogurt as desired

A glass of skim milk

Peanut Butter or a  Handful Almonds

Raisins in a Handful

A spoonful of cinnamon
Most shakes contain whey, which will digest easily and provide essential amino acids you require to maximize the effects of a long day of juggling classes and a part-time job. On the other hand, casein is avoided in the recipe as it takes more time to digest. 
Skim milk constitutes all essentials as whole milk but less fat to slow digestion. Bananas are excellent in carbs and they actually help in protein efficacy.
Nuts provide protein and fats, while cinnamon chips maintain your energy. 
If you drink this protein shake 1-2 hours before going to class, your body will be flooded with energy and amino acids, allowing you to make the most of your semester. 
Estimated Nutrition Facts
340 calories; 40g protein; Carbohydrates  26g; 11g fat;  2g Saturated Fat; 3g fiber 30g sugar
Conclusion
You are not alone if eating healthy on your college budget is proving hard to actualize. Getting to enjoy a tasty and healthy meal while juggling classes can sometimes prove to be impossible. 
It's no surprise that most students prefer to eat fast food on the go or buy microwave meals at the grocery store, so they don't have to waste time cooking. But the truth is that there are a variety of great healthy college meals that you can prepare without spending too much money, time, or energy.
Today is not the day to go to the dining hall or cafeteria; attempt one of the recipes in your hostel, and you will not be disappointed. There are a variety of recipes to choose from, and they are all instant to prepare, suitable for everyone. 
Fun fact, the meals require simple ingredients, easy-to-follow instructions and are ready within no time without even breaking a sweat. Hey, invite your friends over, show them it's possible. 
Want to read more of our latest posts? Check out the advantages of a wood pellet grill.