Want to learn more about the most popular street foods in Australia? You've reached the right place. Travellers and tourists always include discovering street food on their itineraries when they're off to somewhere new.
It's exhilarating to experience eating new and unfamiliar dishes while strolling around narrow alleys and crowded streets. You'll be in for a ride of local flavours, rich sensations, and extraordinary encounters with the locals and fellow tourists. If you're planning your next visit to the land down under, it's perfect to be familiar with what street foods to try.
Get ready to splurge on some mouth-watering food in Australia. With its diverse but unique culture, you'll be discovering different delectable snacks and desserts in some food stalls. Feel its authenticity and hang with the country's locals as you eat to your heart's content.
Remember to take a bite of these scrumptious delights on your next trip.
1. Barbecued Snags 
Australian barbecue snags are traditional sausages that are thick pointed sausages made from beef, pork, garlic, and onions.  It usually has a mild flavour. You'll likely find this in every Australian barbecue party. They are served with mashed potato, tomato, and barbecue sauce with grilled onions or some bread on the side.
If you visit the food markets in any Australian city, you'll find this delicious delicacy and some snags that come in different modern versions. For instance, their gourmet fillings can be a combination of either lamb and rosemary or cheese and chicken. 
The barbecued snag is a symbol of Australian food culture.  It's not difficult to understand why it's so popular. Check out some online stores like gotzinger.com and others if you're looking for the best sausages for your barbecue party with local friends.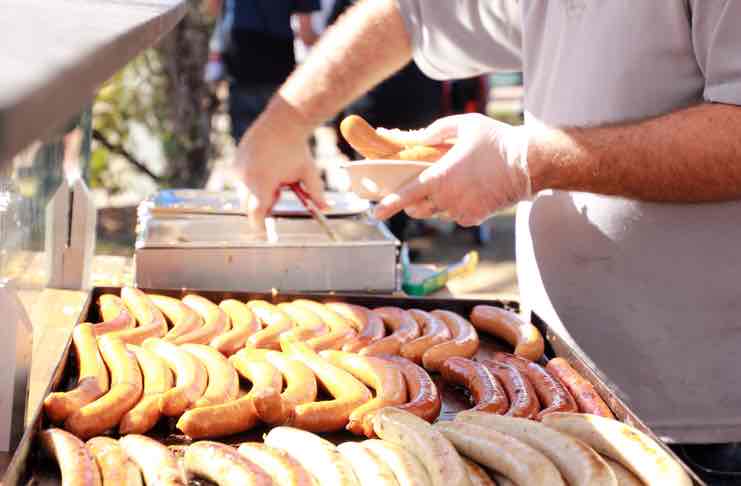 2. Meat Pie 
Meat pies are one of the all-time favourite street foods in Australia. This can be enjoyed as a snack or a full meal depending on the size of the pie. It's a flaky pastry with a similar texture to average pies and they come with minced meat fillings and gravy.
Also, there are different protein versions you can find like beef, pork, or chicken. and some would include other ingredients like onions, cheese, and other veggies. This savoury baked good is topped with generous amounts of tomato sauce and is sure to satisfy your taste buds. Make sure to never miss out on trying this savoury delight.
3. Lamington 
This dessert is a must-try for everyone with a sweet tooth. People often claim it to be Australia's national cake. It's a sweet dessert that you can find in many food stalls or bakeries all over the country.
However, many households may also bake their versions for family parties and events. This dessert consists of a square sponge cake dipped in chocolate and decorated with coconut shreds. Some lamington variants come with fillings like chocolate or cream. You can even find some recipes online and try baking them when you return to your home country. 
4. Fish And Chips 
Fish and chips are another one of the most popular street foods in Australia. It's a dish that anyone can be familiar with but it's also something that you should try on your trip to Australia. Fish and chips are deeply fried fish seasoned with lemon and salt.
They come with neutral flavours, so you won't be overwhelmed with them. Since there are many places to catch the freshest fish and seafood in this country, it's best to try the fish and chips. 
5. John Dory Fillet 
The history of street food goes back to ancient times. Fast forward to today, many people around the world continue to consume them. John Dory Fillet is one of the most famous street food in the nation. It's another fish dish but it's not heavy enough to make you feel bloated.
Also, you'll find some stalls selling John Dory Fillet while strolling in street markets. Make sure to taste this dish before you finish your travel to Australia. The dish can be served with herbal oil, so you can taste more of their rich flavours. This is a favourite local dish, so you might be able to find your local friend serving you the same when you visit their home.
6. Chiko Roll 
Chiko Rolls are an Australian cultural food consisting of cabbage, beef, and a variety of vegetables. They're similar to Asia's spring rolls but they have many types of filling options. They're convenient to eat while taking a walk in the local streets or parks of the city. They could be enough to fill in your hungry tummy after a busy day touring. 
Conclusion 
There is no doubt that dining experiences in Australia are diverse, thanks to the vast array of street food available. The list of street food enclosed in this article is just some of the many delicious and mouth-watering food this amazing country offers. Get ready to experience one of the most memorable food trips in your life when you include these street foods on your list. This list is indeed one of the many delicious reasons to travel right now.