By Chelsea Davis
Those of you familiar with Los Angeles, California know that it's just as famous for sunshine and beaches as it's known for sprawling diversity and a multiethnic population. However, unlike the glamorized Hollywood stereotype often portrayed in media, Sundance Film Festival's featured food documentary, City of Gold, takes us on a revealing journey through the heart and soul of what truly sets LA apart: a rich and intertwined global culture. In theaters March 11th, City of Gold is an intimate look at Pulitzer-Prize winning LA Times food critic Jonathan Gold as he navigates through LA's lesser known neighborhoods, on the hunt for the most authentic ethnic specialties.
The culinary world needs more critics who highlight exceptional food that isn't necessarily "fancy". Food that may never get the opportunity to be Michelin Starred or reviewed in the NY Times. Food that- not for lack of flavor or deliciousness- but rather lack of prestige and visibility, doesn't get the acclaim it deserves. Gold breaks this food critic archetype and instead exudes as much excitement over finding the best taco truck or strip-mall eatery as he would any upscale restaurant.
City of Gold does an insightful job of bringing the audience into the neighborhood gems' kitchens and livelihoods. What remains clear throughout each narration is that these establishments don't compromise authenticity for popularity. They cater to their own ethnic communities- rather than the greater general public- while remaining true to their heritages.
Gold and Director Laura Gabbert expertly bring attention to the smaller establishments with owners and chefs of humble beginnings, many of which began with immigration. City of Gold is a surprisingly heartwarming documentary that showcases the success stories of family-run restaurants, mom and pop shops and the relentless passion that drives them.
Some of the fantastic restaurants featured include: Antojitos Carmen, Mariscos Jalisco, Jitlada, Earlez Dogs and Meals by Genet. While the audience, of course, gets a behind the scenes look at how the food is prepared and served, what really makes this film worth seeing is watching firsthand how Gold's influence and reviews have changed the scope of their businesses and overall lives.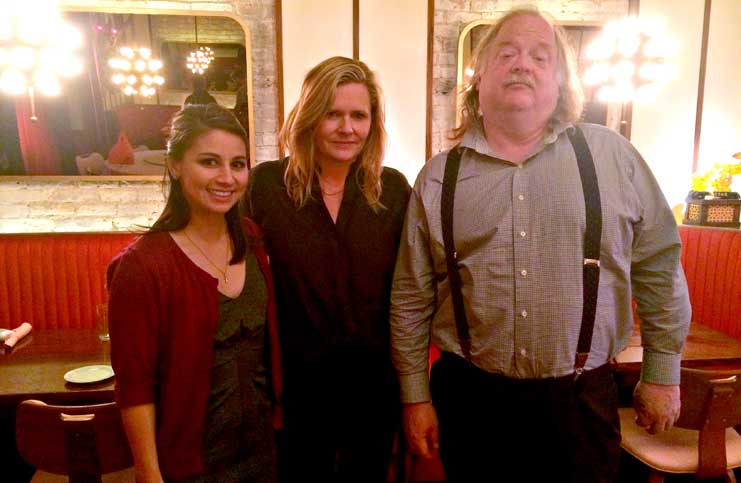 After having the opportunity to attend this special screening of 'City of Gold' at the Museum of Modern Art, the next day I had the unique chance to meet Gold and Gabbert in person at a luncheon at Mission Chinese Food to celebrate the release of City of Gold. Gold and Gabbert are both so very approachable, nice and genuine. Not to mention they each took the time to circulate the restaurant, eating and chatting with each table. Now on to the food!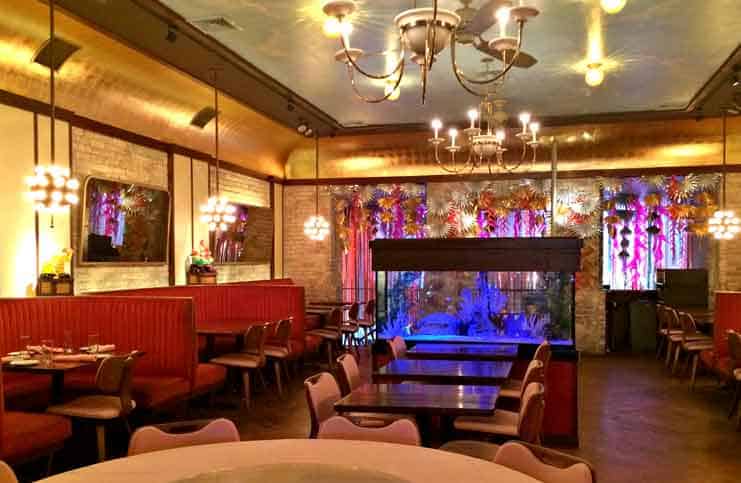 Mission Chinese Food
171 E Broadway, New York, NY 10002, Hours: 11AM–3PM, 5:30–11PM
The first thing that stood out at Mission Chinese Food was the super eclectic décor- which I loved. Think gold dragons with glowing red eyes, hanging chandeliers, gold and silver paper fan decorations and a pretty sweet glowing blue aquarium in the middle of the tables. Playing throughout the restaurant was Raeggaton-esk Sublime rock. The atmosphere is fun, chill and easy going. The perfect scene for City of Gold.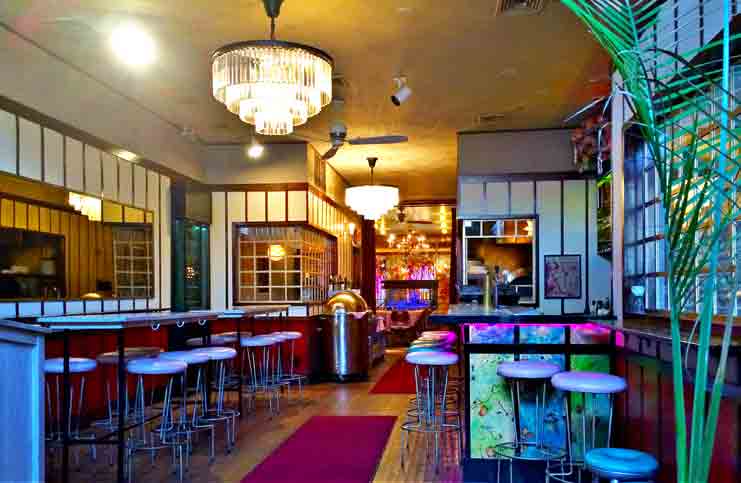 Danny Bowien, the founder of the Mission Chinese Food restaurants, opened his first location in San Francisco and after being welcomed with rave reviews, decided to bring his ambitious, experimental and self-taught style of Americanized Sichuan Cuisine to New York City in the Lower East Side. Though this NYC based Mission Chinese Food was shut down due to various violations, it was likewise heavily praised, and soon re-established at its current location.
On the Menu
Green Papaya and Banana Blossom Salad- smoked shredded chicken/ green tomatoes/ pickled tea leaves/ peanuts. Super light, refreshing and the perfect salad to cool your palate when your mouth inevitably becomes numb and tingly from the other spice infused dishes.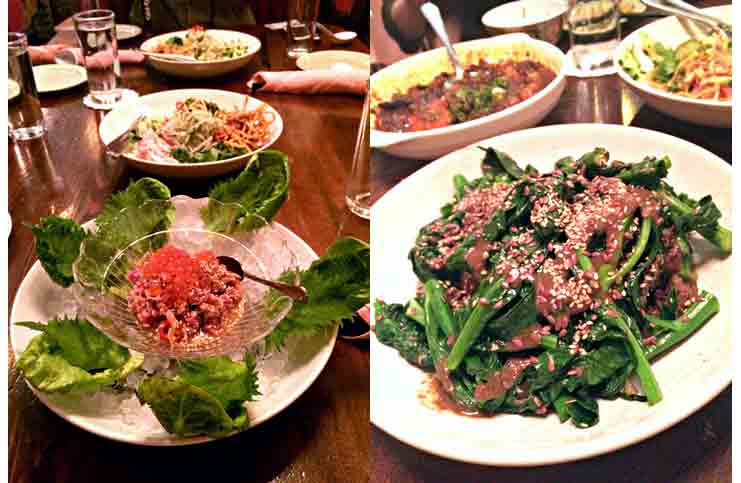 Lettuce Cups- beef tartare/ miso cured salmon roe/ fried onions. This was one of my favorite dishes! It was spicy and super flavorful- unlike any tartare I've ever tasted. The flank steak was topped with bright orange salmon roe and chiles and the plate was beautifully framed with shiso and lettuce leaves meant for wrapping the briny, satisfying, bites of the tartare.
Chewy Green Tea Noodles- ginger scallion/ hoisin/ green tea matcha. This was a lovely and unexpected combo that gave the noodles a gorgeous light green color. The chewy ramen noodles had a nice, fresh kick to it and were dusted with matcha power.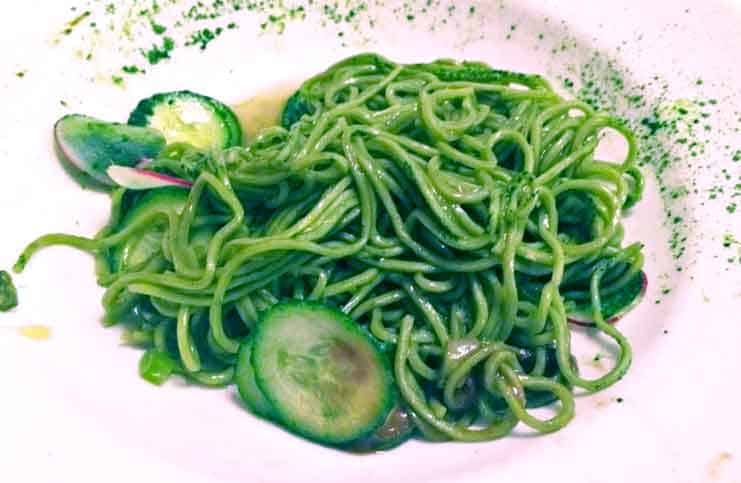 Chongqing Chicken Wings- crispy beef tripe/ explosive chili/ xinjiang spices. These chicken wings have the most insane, fiery flavors. The word "spicy" doesn't do them justice because these wings have a way more complex spice than, say, your everyday hot sauce. These crispy wings are coated in a spice blend of Sichuan peppercorns, fennel, cumin and coriander, and served with dried red chiles, cilantro, scallions and sesame seeds. The result? A numbing build up of searing heat that eventually overcomes your tongue and mouth- in the best way possible. True confession: I could only eat one!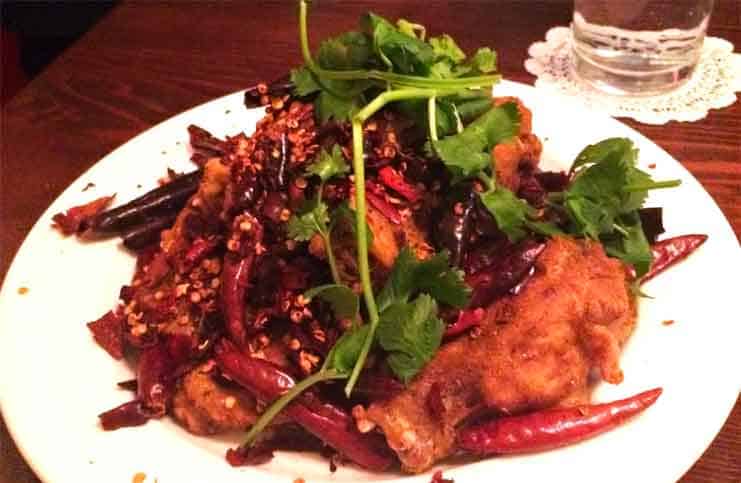 Broccoli Beef Brisket- smoked oyster sauce, flax seeds. A fancy version of the Chinese menu standard: beef and broccoli. In this dish, crunchy broccoli rabe and juicy chunks of fatty brisket are covered in a smoky oyster sauce. As a huge fan of ribeye steak and ribs, I really enjoyed the meatiness of the brisket.
Umeboshi & Shiso Fried Rice. A flavorful fried rice that pairs up delightfully with all of our dishes!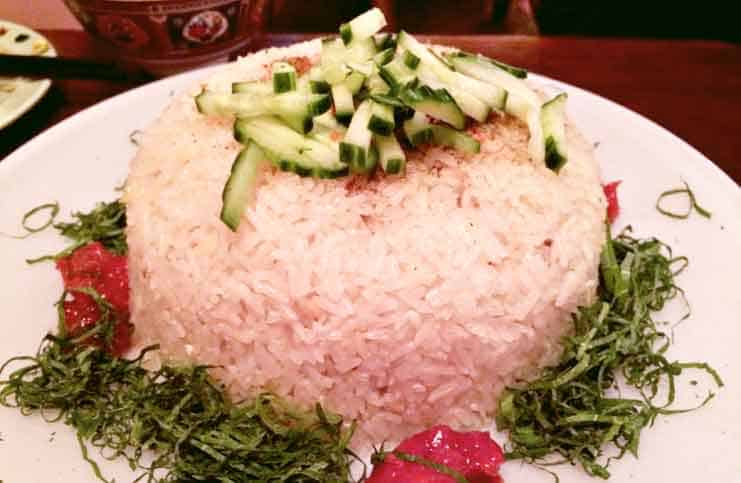 Mapo Tofu- heritage pork, aged beef fat, doubanjiang. Super rich, oily- in a good way, meaty and once again, numbingly outrageous in flavor. The tofu was soft, the pork savory and the spices overwhelming. The dish was similar to an explosively hot, meaty bolognese sauce, Sichuan style.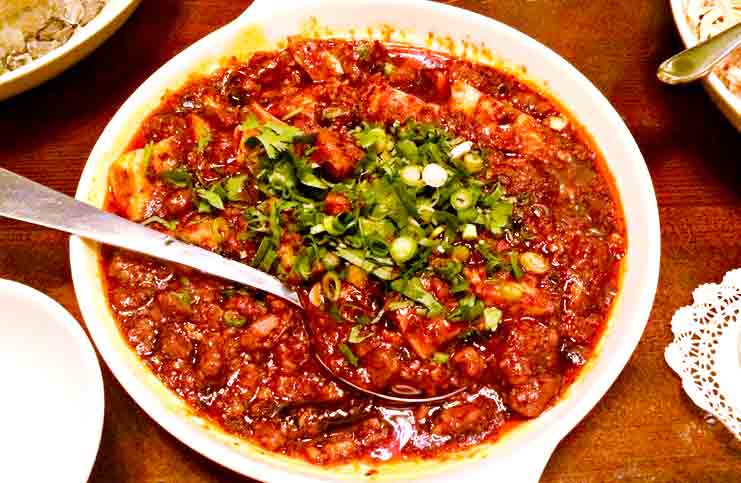 Advice: I've never had Sichuan food like this before, and while I'm a fan, the spice is real. Mission Chinese is not for the faint-hearted and certainly not going to be fun for those who can't handle the heat. That being said, the dishes are inventive, bold and delicious- definitely worth trying at least once!
Chelsea is a freelance journalist based in San Francisco whose passion revolves around traveling the world, immersing herself in foreign cultures, and of course, eating and drinking everything delicious. She covers all things food, drink, and travel and is always up for an adventure, whether that means an adrenaline-pumping excursion or trying new cuisine.