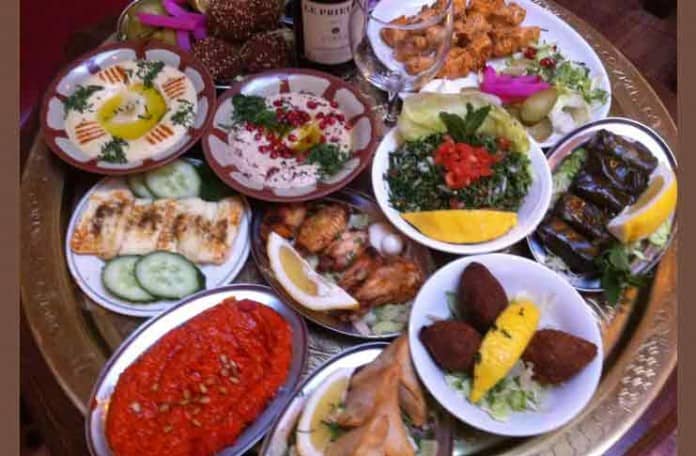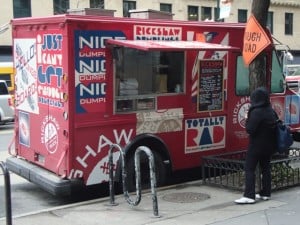 I didn't have much time for lunch today, so I had to stay right near my office.  Therefore, Today's Lunch is from the Rickshaw Dumpling Truck, parked every Wed. on West 57th St and 8th Ave, half a block from my office.
There were no specials today, and I had the thai chicken basil dumplings a couple of weeks ago, so in the interest of research, I got the edamame dumplings with lemon sansho dipping sauce ($6 for 6 dumplings).  I'm not much of a veggie person, but will take the plunge for dumplings or falafel.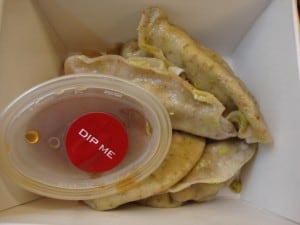 I have been known to nibble on edamame pods once in a while, and the edamame dumplings were nice.  The wrapper was a little different than the plain wrapper.  It had flecks in it of a spice that I couldn't discern, but it added a little more texture than the plain wrappers.  The filling was a mixture of mashed edamame with some whole beans, so it wasn't just mashed beans.  I like the mix.  The lemon sansho dipping sauce was a good condiment; tart, but not mouth-puckering.  When I mentioned liking hot sauce, the people in the truck suggested adding some to the dipping sauce.  Excellent suggestion.  The lemon sansho dipping sauce was even better with some hot sauce added.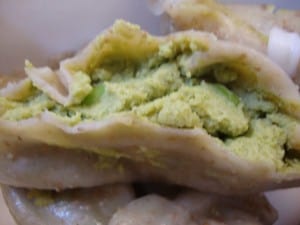 Since 6 dumplings is not usually enough for lunch, I also ordered a side dish of chili sesame noodle salad ($3).  I've had this side dish before and it was pretty good, but taking a cue from the dipping sauce, I added hot sauce to the noodle salad and Viola! It really added something to the noodle salad, which in addition to noodles, also had carrot and cucumber slivers and sesame seeds.  A nice improvement.
One word about their hot sauce…it was hot.  A lot of places put hot sauce on their food upon request, and often it's not very hot.  Rickshaw Dumpling's hot sauce was definitely hot.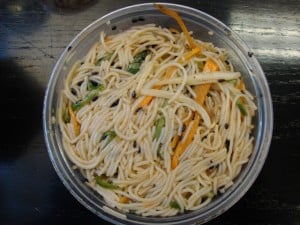 Today's Lunch was an 8.5 out of 10, but that's probably more a reflection of my meat-centric universe than anything else.  Vegetarians would probably give it a 9.  Either way, Today's Lunch was good.