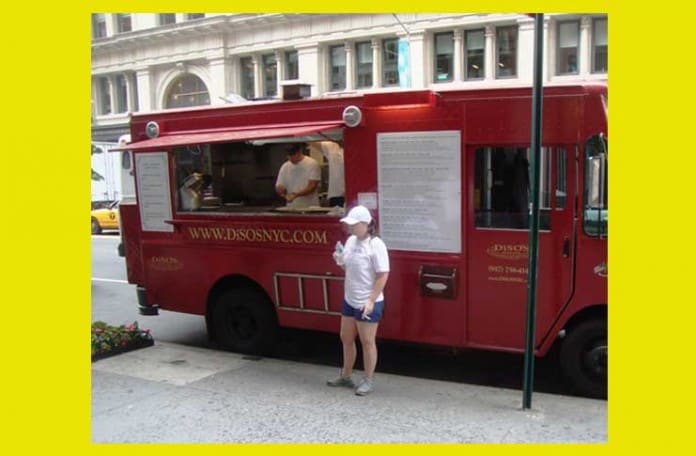 It's a gorgeous day for going outside.  Don't order lunch in – get out for a little while and enjoy some great street food from the food carts to the right and the food trucks below.
We would like to welcome a new food truck to the NYSF Mobile Munchies family.  The Cinnamon Snail truck parks in Hoboken every Thurs-Sun from around 9-3, although some days they stick around for dinner.  Today they are on the waterfront at Sinatra and 3rd. (Shouldn't it be Brando if it's On The Waterfront.)  They are listed in the New Jersey Food Truck section below under VeganLunchTruck, which is appropriate with today being Earth Day.
Since they are new, I'll give you a quick taste of this week's specials: Korean BBQ tempeh sandwich with spicy kimchi, greens and chili butter on toasted baguette ($8); Ginger Island grilled tofu over coconut mashed yams and greens, with grilled mango salsa, spiced candied pecans and fried ginger ($14 entree).  I haven't been there yet, but it looks like they have some kick-ass desserts, and they are open for breakfast too.  If anyone wants to like to write up a guest review, I would be happy to print it.
schnitzeltruck – Spot secured on 48th bet 6th & 7th.. Closer to 6th.. Behind the film crews.. C u soon. We have veal today. The real "Wiener" schnitz!! C u @ 11:30
fritesnmeats – Flatiron! NoMad! Youve been asking 4 Burger Love & were here now! Park bet. 26 & 27 st Come on down & get you some Burgerliciousness!!!
waffletruck – Happy Earth Thursday! We're on 46 btwn 5 & 6 til 4:30pm. Bring us a reusable container for your wafel/dinges/coffee for 1 free dinges today.
StreetSweets – Hey West Village, Hudson btw King & W. Houston today, until 4:30, then off to an open special evening event.
CupcakeStop – 5th&23rd w/ Red Velv,Funfetti,Nutella,Oreo,Van Choc,Choc PB Swirl,PB Cup,Toffee Crunch,Ban Strawberry,Pina Colada,Mexican Chocolate & more!
RickshawTruck – Its thurs so were at hanover sq also serving at hudson & houston from 11 till 3
CalexicoCart – The carts are out and cookin it up! The special today is Pollo Verde; shredded chicken in a tangy roasted jalapeño sauce. Enjoy
BistroTruck – One more day of fixing the truck. Will close for one more day…
New Jersey Food Trucks
VeganLunchTruck – We are parked on Sinatra and third on hobokens waterfront. Do something yummy for earth day. Turn a carnivore onto veg food by bringing them to our truck.
thekrave – 4/22 – 12:00-2:00, Hudson & Harborside Pl. 12:00-2:00, Hudson & Essex, Inside Liberty Towers Gourmet….
laspicetruck10 min of fame came and went back to work! hudson & york 11:45- 2:30 panko chorizo slider today
1 new tweet.
TheTacoTruck – Lunch in JC today @ York St & Hudson St from 11:30-2:30. Call ahead 201.577.4214
As always, check the pink Mobile Munchies twitter feed for the most up-to-date information.