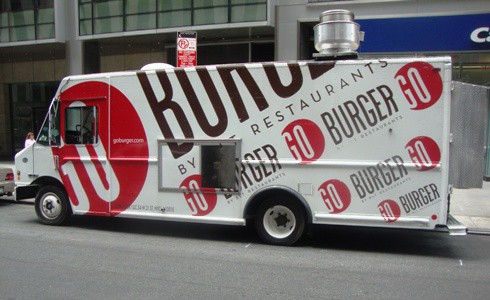 We've tried several of the items on the Go Burger truck, but never had a Go2Burger or one of their shakes. The truck was off the road for a while, but has recently returned. Time to rectify that situation.
The Go2Burger is $6 and vanilla and chocolate shakes are $4, but there's a cheaper option for shakes that we'll explain after the jump.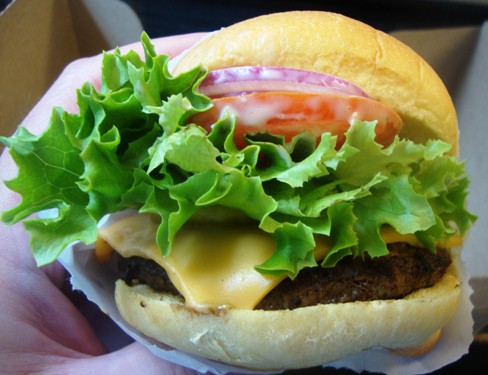 The Go2Burger is basically a cheeseburger deluxe without the fries. It has a 100% Angus beef patty, lettuce, tomato, red onion, American cheese and Go Burger sauce.
I asked about the Go Burger sauce and was told it was made with mayo, ketchup and capers. The capers gave a little umami to the sauce, but it's still basically a "special sauce"-type condiment.
The burger patty wasn't that big, but it was decent. You can double the meat for $3, which a couple of people on line did.
All the ingredients in the lunch – the lettuce, tomato and red onion – were fresh and good quality. The American cheese was fine, but I'm more of a cheddar guy personally.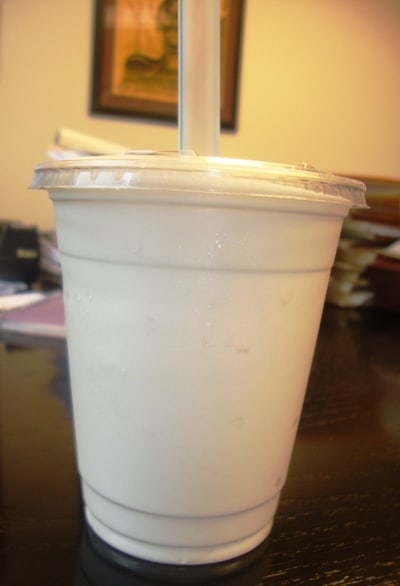 The vanilla shake was very cold, thick and refreshing, and you could taste the vanilla. Some shakes can taste way too sweet or syrupy. Not so here.
A full 12 oz shake is a lot to drink for lunch, so another option Go Burger offers is a Shake Shot for $1. That's a nice way to get some shake, but not too much (if there is such a thing).  Someone ahead of me got a shake shot, and it was a larger than I expected. Definitely more than a liquor shot, which I believe is 1.5 oz.
The Go Burger truck makes the rounds of various neighborhoods, and can be found on twitter here or on our Mobile Munchies twitter feed.
For a burger truck, they have really good hot dogs too.