Who doesn't want to save more money these days? In an economy where the prices of services and commodities are steadily climbing new heights, we are all looking to save money. Grocery shopping might as well be the most dreaded task, it's a regular one and one where you can save some cash regularly, especially if you order groceries online.
Not just that, you can avoid long queues, waltzing through the aisles for hours at a stretch, loading and unloading groceries to and from the supermarket and the traffic, oh God, the traffic. Did I hear you ask, how? The answer is online grocery shopping.
Where can you buy groceries at a low price? Read on to find out more.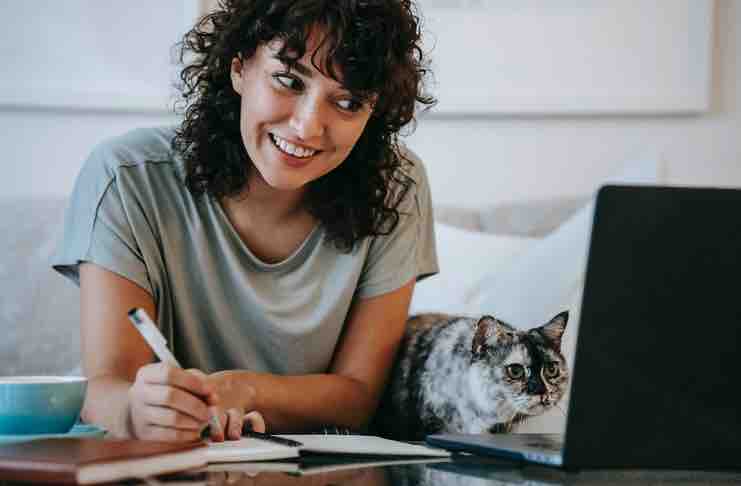 5 Sites Where You Can Order Groceries Online & Save Money:
1. Thrive Market
In my opinion, online grocery shopping at Thrive Market can be one of the easiest ways to save money all while staying in the comfort of your home. An online marketplace, it offers a wide selection of healthy and natural/organic food and lets you filter the search results according to your dietary preferences. 
They have their brand with high-quality products, which is a huge plus because they sell at a lower rate than other name brands. Thrive Market does have a membership fee. However, if you don't save an equivalent to it by the end of the year, the difference will be added to your ThriveCash, which can be redeemed later. They claim to offer products at a 25-50% discount on the retail price.
To save more money, you can shop from deals, extra savings and cash-back offers. It is incredibly easy to locate deals and discounts on their app and website. If you've subscribed to their mailing list, you will also receive coupons and rewards that can be applied to your next purchase. Prices at Thrive Market are usually cheaper than Whole Foods and local grocery stores.
2. Boxed
With any market, buying in bulk is always cheaper. Boxed is bringing that to the grocery industry. They deliver groceries straight to your doorstep. If buying in bulk interests you, Boxed is where you should be shopping. They specialize in bulk deliveries and provide their customers with significant discounts.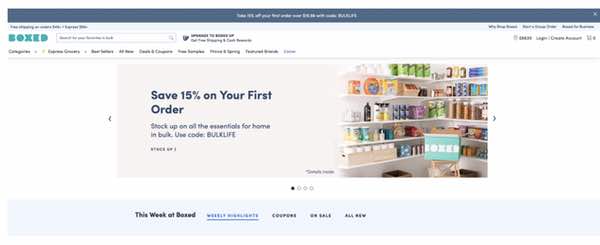 They keep their prices low by limiting product selection. They also have their brand – Prince and Spring – contributing 15% of their total sales. Considering you are buying items in large quantities, there is also a low chance of impulse buying.
However, Boxed is limited to certain metro areas so it is better to check your zip code to see the availability in your region. If your total amounts to $79+, you're even eligible for free delivery. You can also order up to 5 days in advance and choose a time slot that works the best for you.
3. Peapod
Peapod is one of the oldest online grocery delivery apps. Unlike most online grocery shopping sites, Peapod has an inventory of its own, enabling it to cut down on additional moving costs thereby providing their customers with groceries at the best price.

While the prices usually match with those of local supermarkets, you can sign up for PodPass. It's an annual membership costing $119, making the delivery fee nominal. They also offer free pick on orders above $30.
They also make it easy to locate items on sale and also have a coupon inventory that you can use when you are shopping on the app. Delivery charges tend to decrease according to the size of the orders. The larger the order, the less the delivery fee will be. If you order groceries online more than twice a week, then it's probably a good app for you to try out. Remember, it's only available in certain zip codes so make sure you check the availability before you start adding it to your cart.
4. Amazon Fresh/Amazon Pantry
With a plethora of options and consistent delivery mechanisms, Amazon is one of the best places to shop from. Its only drawback is that some items are available on Amazon Fresh while some are not, even though they fall in the same category.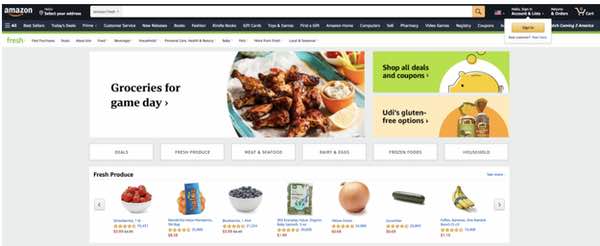 You can shop for all kinds of groceries, from meat, dairy, and produce. These are delivered in climate-controlled packaging. Their prices are at par with other grocery chains, if not less. If you don't like something, you can easily return it and get a refund or replacement.
Opting for 'Subscribe and Save' can help you save money. Most of the time, Amazon has offers on specific banks and credit cards. It also has coupons taking $10 off of a $49 purchase, this can trim the costs so remember to keep an eye out for them.
5. ShopRite
Shoprite is probably the most convenient way to order weekly groceries at a cost-effective price. They offer a variety of food and household products. You can use coupons for discounts and take advantage of their weekly online promotions and freebies.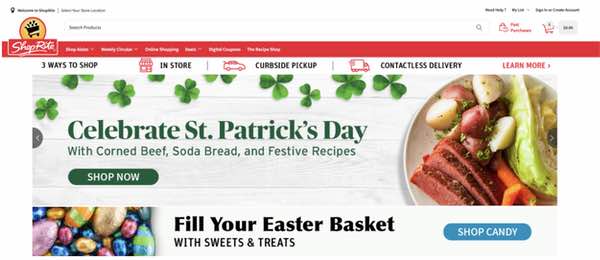 At times, ShopRite offers a promo code that takes cash-off your total if you spend a certain amount. Online shoppers must have a Loyalty Card. Along with other forms of payment, ShopRite also accepts EBT access cards, also known as Food stamps.
They always deliver on time and the groceries are super fresh. The only drawback is their delivery fee which varies according to the location.
Want to read more of NYSF's articles? Check out our post about how Food and Groceries delivery is trending in NYC, our post about a meal delivery for the health-conscious, or our post about what you can expect from a Cookie subscription box.