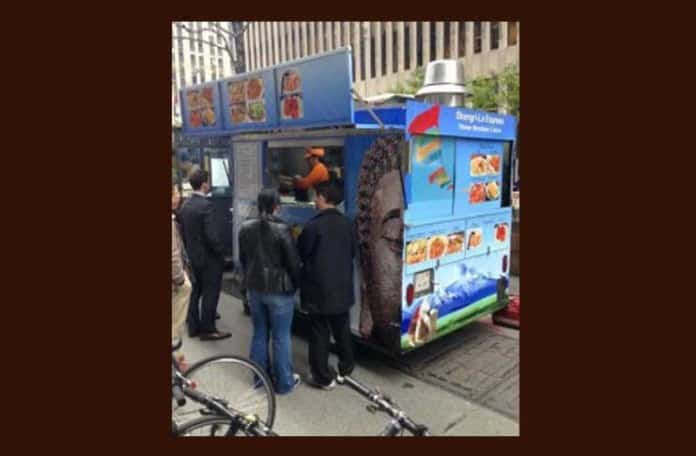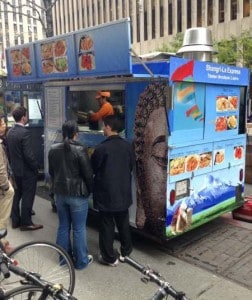 Late last year, a Tibetan food cart called Shangri-La Express appeared on 50th St between 6th & 7th Ave.
The movie Lost Horizon (where they search for Shangri-La, i.e. "paradise") is one of our favorites, so "Shangri-La Express" was a place we wanted to go. Being in the area recently, we stopped by for lunch.
About the only thing we know about Tibetan food is momos, which is their version of dumplings. The menu also had curry chicken, grilled chicken and chili chicken. There must be lots of chickens in Tibet 🙂
We ordered the chili chicken for $7, and added a small order of momos for $4. You can also get a large order of momos for $7.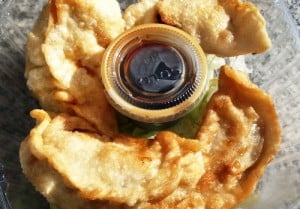 We started with the momos, of which there were 4, plus a dipping sauce.
The momos were fried, but still came up light and airy. Light and airy are not two adjectives we usually use for fried dumplings, but they were in this case.
The ground meat filling was plentiful, and chives were in the mix too. A soy/vinegar dipping sauce was also fairly light, with a little tang to it.
Moving on to the chili chicken, you get the choice of spicy or not spicy. We asked for spicy.
Opening the container, there were marinated pieces of white meat chicken cooked with onions and bell peppers. The chicken was good, but bell peppers were the dominant taste. A few less bell peppers would have been welcome.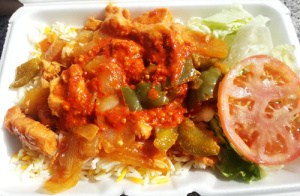 The hot sauce was really hot. Like the kind you get in a Thai restaurant, it was a little coarse, and you could see the chili seeds.
The chili chicken was served over basmati rice, which was very good. It was one of the better rices around.
A side salad was also served on the side. It appeared fresh, but was very basic (iceberg lettuce and tomato slices) , with no dressing. We skipped it.
Shangri-La Express may not take you all the way to paradise, but they did serve a solid lunch at a good price. We especially enjoyed the momos, and might get a large order for lunch next time.
Shangri-La Express doesn't seem to use twitter, facebook or have a website, but they are on 50th St between 6th & 7th Ave every day.
That stretch of 50th St (closer to 6th Ave) has become a real United Nations of street food. The day we went (a Thursday) had Tibetan, Thai, Indian and Philly cheesesteak carts, as well as a Korean taco and a grilled cheese food truck. There was something for everyone.