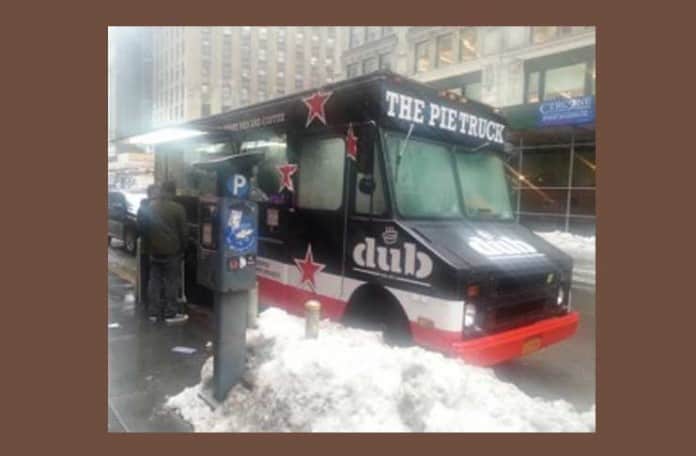 Just over a year ago, we wrote about a DUB Pies Kickstarter campaign. They already had a truck, but needed about $30 grand to get it in shape. The campaign was successful, as they exceeded their goal by $6,868.
Yesterday, we caught up with the DUB Pies truck on 56th St & Broadway, their 2nd day on the street. They are currently in "soft launch" mode, working out the kinks before doing putting out the word.
DUB stands for Down Under Bakery, and the menu has a bunch of pies (duh!), but we're talking about Australian/New Zealand-style savory pies, not apple or cherry pies.
If you've ever been to Pie Face, you get the idea, but they told us Pie Face was the McDonalds of meat pies, and they were much better. Not exactly an unbiased opinion, but we get their point.
Top of the menu was Shepherd's Pie for $7, a good place to start. Worried that would not be enough for lunch, we also got a Sausage Roll for $4.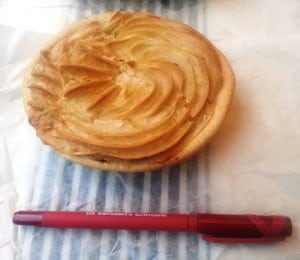 Down under (in Australia and New Zealand), shepherd's pie is made with lamb, where it is much more common. We once heard there were more sheep than people in New Zealand, but are not sure if that's literally true, or just that there are a lot of damn sheep in NZ!
In the US, ground beef is commonly used due to the cost differential. As street meat lovers know, "lamb" from a halal cart is not really lamb. There's no way they could sell lamb over rice for $5 using real lamb.
This shepherd's pie had ground beef in a little bit of gravy, some onions, and a well-presented mashed potato topping.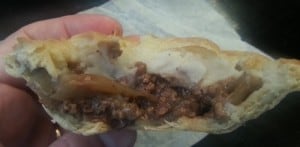 As long as you go in expecting ground beef, you should be satisfied. The meat had a nice flavor, as did the mashed potato topping.
The crust was strong enough to hold what was inside, but was not heavy. In fact, we could easily pick up the pie to eat without utensils. Good thing because we didn't have any silverware.
The sausage roll was more like a banger than what we call sausage. Not a big surprise, with NZ being a former British colony.
Ground pork was mixed with onion, garlic, breadcrumbs, eggs and spices (sage, parsley) to make the sausage. This sausage was less meaty with more filler than American sausages, but pretty it was still pretty tasty.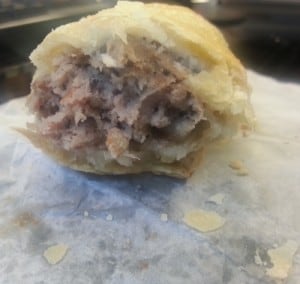 They suggest dipping the sausage pie in ketchup or tomato sauce, but we didn't have any.
The crusts on their rolls are very flaky, so expect a lot of scattered debris from the crust.
Between the two, we had plenty to hold us until dinner. Without the sausage roll, things might have been different.
You can find the DUB Pies truck on twitter here or on our Mobile Munchies twitter feed. Their website is here.
If you can't find the truck, they also have storefronts on Prospect Park West at 16th St in Brooklyn, and in the West Village, on West 3rd St, just east of 6th Ave.
For those who know what it is, they also serve "flat whites", a style of coffee popular in NZ, as well as four other types of coffee.
We'll definitely be back to try some other pies. The Thai chicken curry pie looks especially intriguing.