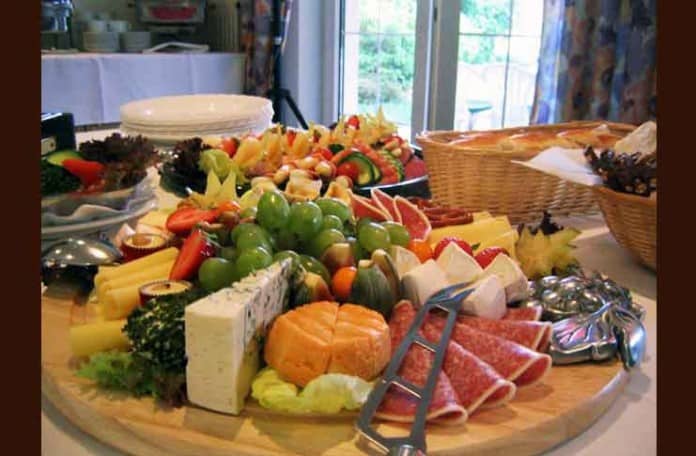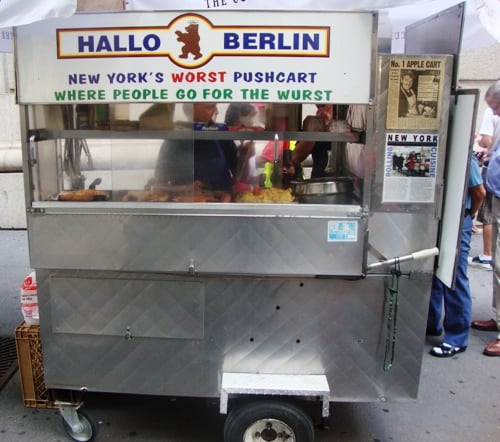 While eating some Mighty Balls yesterday, I was reminded of the Bavarian meatball hero at Hallo Berlin.
Last time I was at Hallo Berlin on 54th St just west of 5th Ave, the guy in front of me ordered a Bavarian meatball hero, and it looked pretty good.  I've been wanting to try one ever since.
Hallo Berlin won the Vendy Cup in 2006, and every wurst I've had there has been delicious – but could Wolfgang pull off Bavarian meatballs?  Today's Lunch is a Bavarian meatball hero ($4) from Hallo Berlin.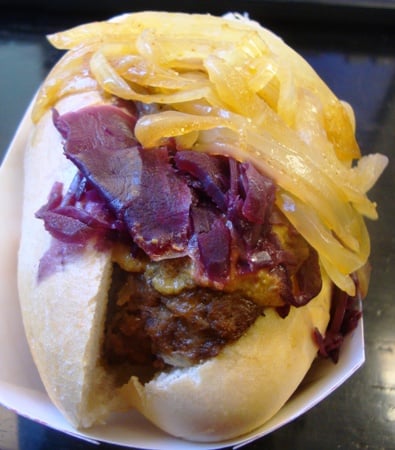 One of the nice things about the Bavarian meatball hero is that it's the 2nd cheapest item on the menu at $4.  Even if it's not great, at least it won't cost an arm and a leg.
Similar to Mighty Balls, the hero is a small hero roll that fits 3 large meatballs.  Unlike Mighty Balls, these are topped with spicy German mustard, red cabbage, grilled onions and sauerkraut (!).
On taking the first bite, my initial thought was "sauerkraut and mustard on meatballs is a little strange", but Wolfgang told me this is exactly how they do it in Bavaria.
Working my way down the roll, one of my initial thoughts was confirmed.  Sauerkraut was a little strange on meatballs…but the mustard was interesting.
Even better were the grilled onions and red cabbage with the meatballs.  These two things both added something extra to the meatballs, which is what toppings and condiments are supposed to do.
I also tasted the meatballs by themselves, and they were soft and herby.  The mixture of beef and pork gave them a slightly different taste than just beef, which the red cabbage played off especially well.
Today's Lunch of a Bavarian meatball hero from Hallo Berlin was different and tasty.  It's also one of the better lunch deals around, costing only $4.  I wasn't stuffed after eating lunch, but the Bavarian meatball hero did hold me until dinner.