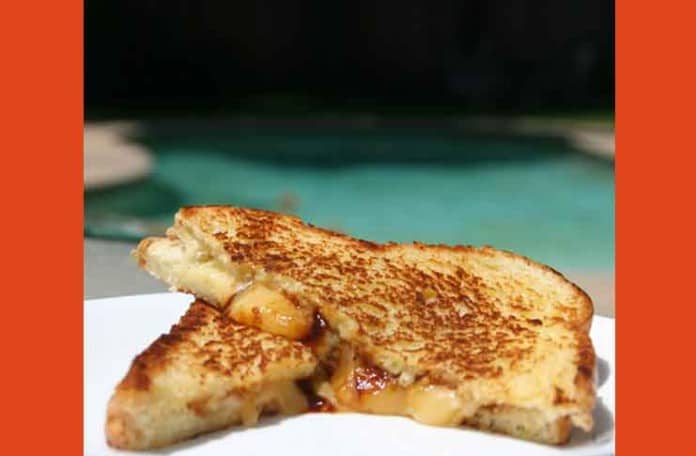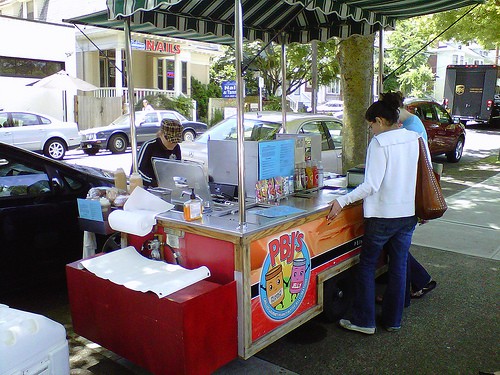 Food Carts Portland reviewed the PBJ Grilled Cart earlier this week – and boy does it look good!
PBJ's Grilled was created by Shane and Keena, who moved to Portland 18 months ago from Las Vegas, with the mission of serving something unique and local.
Shane told Food Carts Portland the idea for the grilled pb&j came from outside the gates of the Oregon Country Fair. One summer, a gentleman who didn't have a ticket was outside serving up tasty treats and viola, a food cart was born.
The sandwiches come on fresh Challah bread smeared with the peanut, almond or hazelnut butter, jam or ingredient which could include bacon, jalapenos, Nutella, bananas, honey, sea salt, chocolate chips and so much more.  For example, the Spicy Thai came with peanut butter, orange marmalade, sriracha, curry and fresh chopped basil.  Check out the full menu at pbjsgrilled.com.  It looks awesome!
PBJ's Grilled has been open for 2 months now and is doing brisk business on NW 23rd.  Next time you are up in NW, or if you need an excuse to go shopping on 23rd, check out PBJ's Grilled and let them know Food Carts Portland sent ya. [Food Carts Portland]