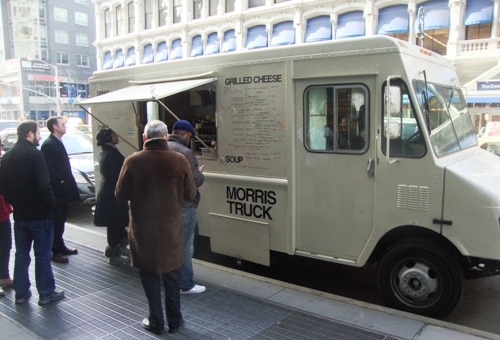 There are currently 3 grilled cheese trucks in New York, and they are pretty different from each other.  Today we're going to talk about the Morris Grilled Cheese truck.
The Morris Grilled Cheese is named after the great-grandfather of the owner, who was a Russian immigrant that drove a produce and meat truck.  The Morris Grilled Cheese truck was reportedly an old NYPD paddy wagon, with bars for handcuffing suspects still intact when they bought the truck!
I was in the mood for Italian food, and Morris had a sandwich with ricotta meatballs, provolone and homemade marinara sauce on focaccia bread for $8.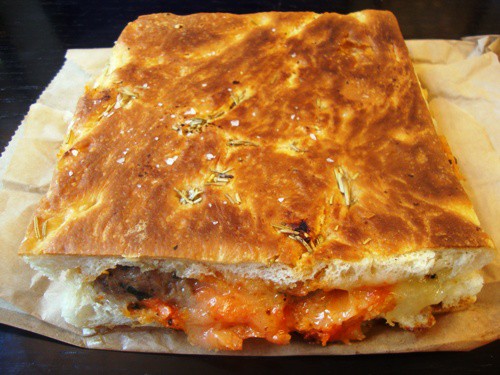 I've had sandwiches from Morris before on focaccia, and the bread was delicious. It's golden brown with rosemary on top.  In the cold sandwich I had over the summer, the focaccia was really soft.  Grilled it wasn't quite as soft, but it was still a wonderful bread.
In my experience, hot Italian sandwiches are mostly meat with some cheese.  This sandwich was mostly cheese with some meatballs.
The provolone cheese had more of an edge to it than mozzarella, which you would normally expect with meatballs.  It melted well and was nice and gooey.
The meatballs had an herby flavor, and the homemade marinara sauce was light and tasty, but the predominant flavors in the sandwich were the focaccia and provolone.  This is a grilled cheese truck after all.
You can follow the Morris Grilled Cheese truck on twitter here or on our Mobile Munchies twitter feed with other food trucks.  They have a pretty interesting menu with top-notch ingredients that changes every so often.  You can see the current menu here.