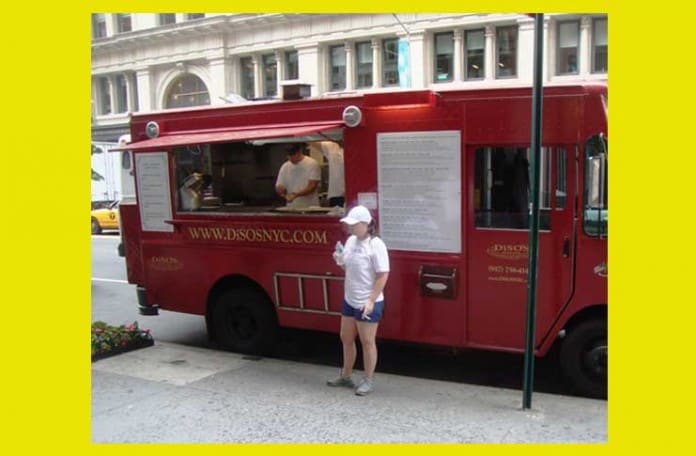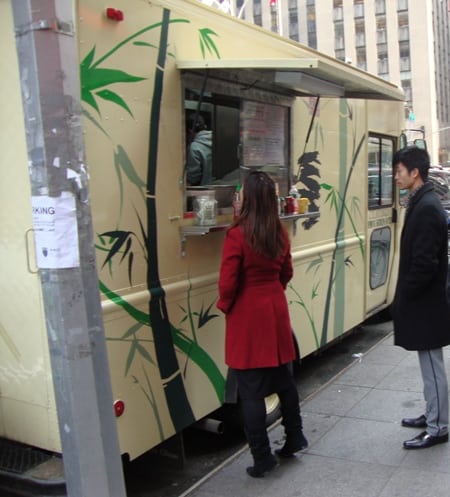 It's a pretty nice day today, if a little warm.  Definitely a good day to enjoy some great street food from the vendors on the right and the trucks below.
If you're downtown in the Financial District, we just received a tip from Sarah about a lot of food carts parked on Broad St between South & Water St.  She has spotted a Thai truck and arepas, among others.  If anyone checks it out, let us know.  The QBA truck will also be downtown today.
If you're in NJ or near the PATH train, don't forget that today is the Grand Opening of The Taco Truck store on Hoboken.  It's only 2 blocks from the PATH station and very easy to get to from Manhattan.  It's worth it – their food is excellent!
As always, check the pink Mobile Munchies twitter feed on our homepage before heading out.  You never know when a food truck will have to move on a moment's notice.
Have a great weekend everyone!
nyccravings – Hudson and King…ready in 10 minutes!
CupcakeStop – Truck on Broadway & Spring, Truck on the Seaport (making local deliveries call 917.385.7081) & shoppe inside the Limelight 6th&20th, 1st fl. The new Malt Ball Cupcake tastes just like a Whoppers malted milk ball…but better
EddiesPizzaNY – Happy friday (7/9), we r on park btwn 26th and 27th from 11am until 3pm! Start the weekend off with a bar pie. Its only 270 calories!
StreetSweets – Street Sweets is on Murray St btw West & Greenwich St until 1p then off to a TV shoot in Midtown
schnitzeltruck – Morning 52nd & lex.. No Lebron but you still have the schnitzel truck! We won't opt out and demand an espn special to move to Miami. 11:30:)
qbacubankitchen – Surpise visit to Wall St area!! C u soon!
GOBurger – Good morning today were under FDR south seaport special Blt burger,veggie burger,chili cheese fries yummy see you soon.
waffletruckHAPPY FRIDAY! CAPS LOCK! We're on 52 btwn 6 & 7 til 4:30pm. Do the Carlton dance from Fresh Prince Of Bel Air=1 free dinges.
CalexicoCart – Sorry guys, the Broome St cart remains closed. However, the Wooster St cart is open and cooking up Chili Verde Pork as today's special!
LCBBurgerTruck – TGIF! The La Cense Beef Burger Truck is parked at 75 Wall Street today. Start the weekend off right with our 100% All Natural Steakburger!
juicepirate – Fresh squeezed juice today for Jamsterdam 2010 in Coney Island! http://nyjamsterdam.com/
Hoboken/Jersey City
TheKrave – 7/9 – 12:00-2:00, Hudson & Harborside Pl. 5:30-9:30, Columbus and Marin Blvd http://tumblr.com/xl1d21zxb
laspicetruck – hudson & york 11:45-2:00. Check out the new sandwiches on the menu today.
VeganLunchTruck – Making progress with the truck repairs. Will be on the street in 2 more weeks for sure! http://fb.me/CyGgRpMX