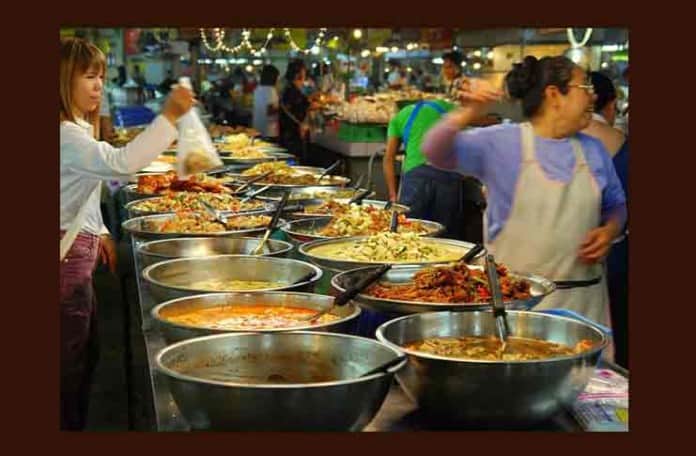 (Part I of our review of the Luckyrice Asian Night Market can be found here and Part II can be found here.)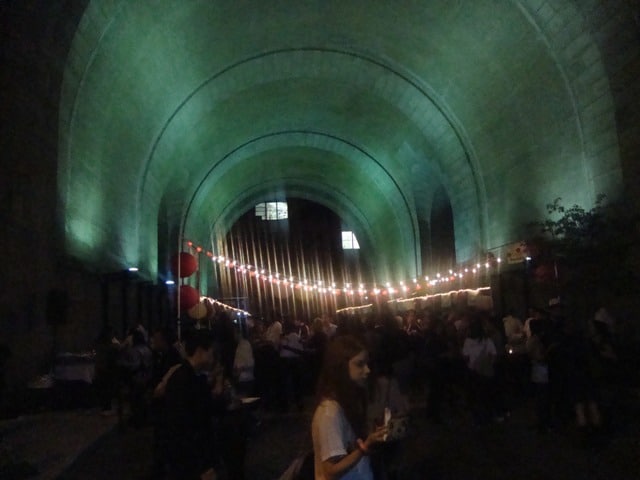 I was getting pretty full, but duty called.  There were still some dishes at the Night Market that had not been sampled yet and it was getting dark.
The next dish was seafood ceviche from Zengo in Midtown East.  It included shrimp, octopus, calamari, aji panca (Peruvian red pepper), heart of palm, orange, and bonito, and was as delicious as could be.  Not exactly Asian, but cool and spicy and very enjoyable.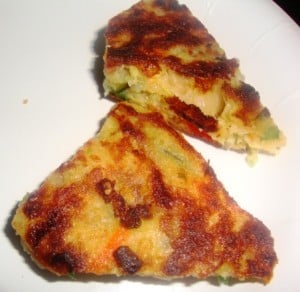 My Brooklyn Kitchen had bindaeduk, a Korean pancake made from mung beans with some vegetables in it.  This was fairly similar to scallion pancakes, a staple of Chinese restaurants for many years.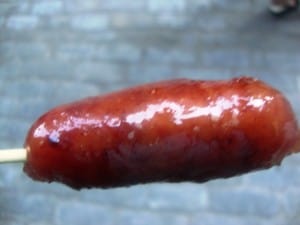 I've always loved Chinese sausage.  It's probably my favorite part of zongzi, but in zongzi, you only get thin slices.  Tonight I got a whole sausage on a stick, courtesy of Tea Magic in Morningside Heights, who represented Taiwan Tourism.  They also had tapioca tea, shaved ice and zongzi, but not when I was at the table.
I was lucky enough to get the Taiwanese sausage, which was as good as I've had.  The sausage had that mild sweetness you get with this type of sausage, and was roughly the size of a large cocktail frank. I was a very happy man.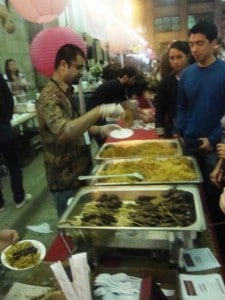 One of the worst mob scenes was at Satay Junction, the table representing the West Village restaurant. They weren't really enforcing any type of line, so people just crowded around and waited.  It seemed popular because they gave one of the largest portions of any place there – a heaping amount of fried rice with 3 small satays on top.
By this point, I was very full, and skipped this table.  There were a few other tables I didn't get to, but there was one I made sure to hit on my way out – Momofuku's cookies.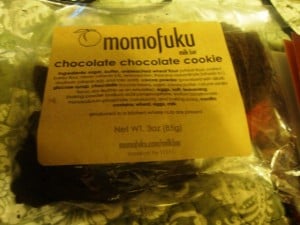 David Chang was the nominal host of the Night Market, and he could be seen wandering around the market talking to people.  His Momofuku table had 3 types of cookies – chocolate chocolate, peanut butter and blueberry cream.  They asked people to take only 1 per person, but I was evil and took a chocolate chocolate cookie and a peanut butter cookie to bring home for my wife and I for later.  There was no way I could eat any more at that point, but there was no way I was going to pass up these cookies.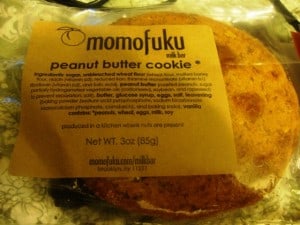 The chocolate chocolate cookie had some really nice chunks and a slight saltiness.  The peanut butter cookie had more of a peanut brittle in the cookie, not peanuts or peanut butter chips.  Both of them were excellent.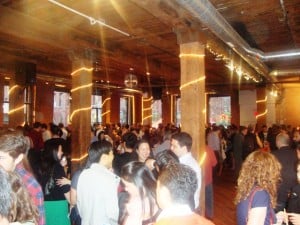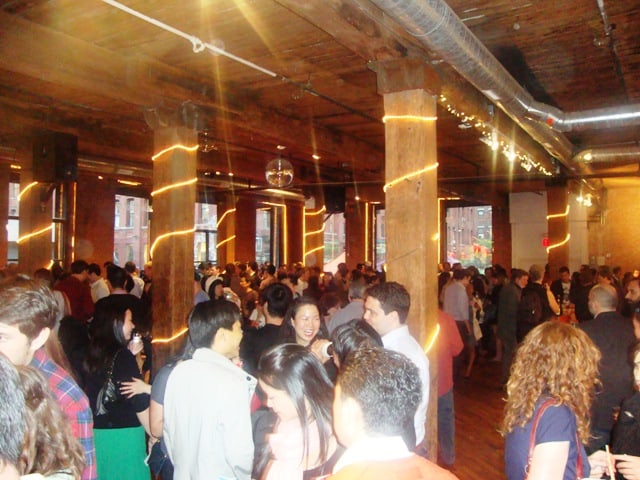 I went into the open bar area, which had around 10 vendors giving out wine, beer, sake, margaritas and a few other things.  I tried some sake, which was delicious, but didn't spend much time there.  I was more interested in the food.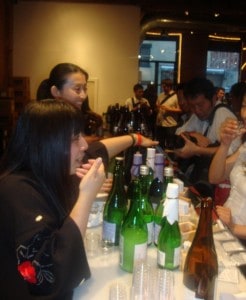 There was so much available at the Asian Night Market and the adjacent Malaysian Pavillion that it took a day or two to process it all.  It was a wonderful experience and I'm still thinking about constantly.  Thanks again to Colleen Tremont of RF Binder for the Night Market ticket.