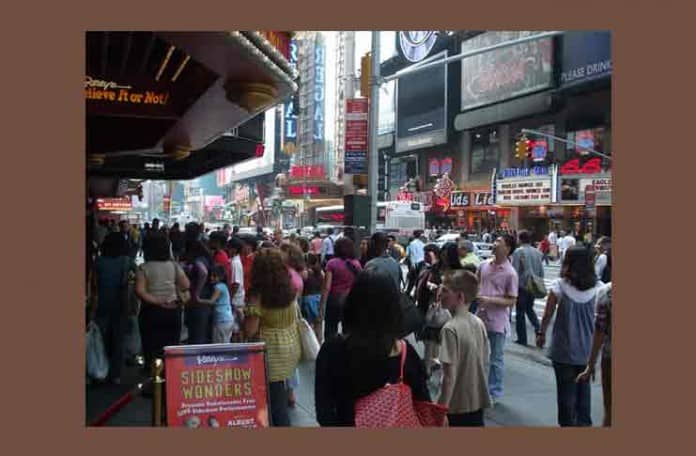 (Part I of our review of the Luckyrice Asian Night Market can be found here.)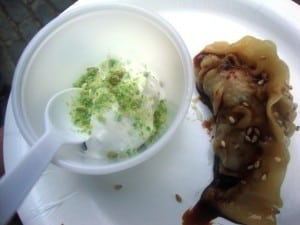 After thoroughly enjoying the rainbow barbecue steamed carrot buns from Dirt Candy, the next taste was another dumpling, this one from The Good Fork restaurant in Red Hook, Brooklyn.  It was a pork and chive dumpling with a sesame and dark soy dipping sauce.  I've always liked dark soy sauce and sesame seeds, so this was a great sauce to have on top of a very hot, tasty dumpling.
As I walked away from their stand, someone from the Big Gay Ice Cream Truck was handing out samples of vanilla ice cream with crushed wasabi pea topping.  This was perfect after nearly burning my mouth on the hot, fresh dumpling, and it cooled me off nicely, in addition to being creamy and yummy.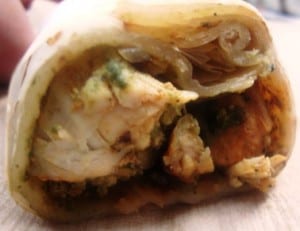 Next up was a trip to India, with a chicken kati roll from the Kati Roll Company.  I've had these before, and it was just as good as I remembered, but it was one of the spicier dishes of the evening.  If you get anything from the Kati Roll Company, be aware of the heat.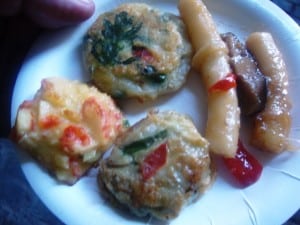 Getting back to the theme of this website, the Korean Cultural Service had some Korean street food.  There were 3 types of fried mini-pancakes; crab, vegetable, and beef.  They were all good, but my favorite was crab.  There was also something called royal noodle, which were thick, solid noodles with mushrooms and sweet red peppers.  They were a bit doughy, and I preferred the mini-cakes.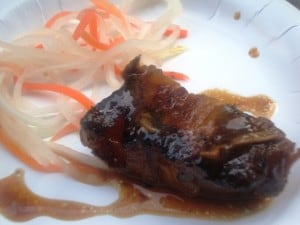 Kuma Inn on the Lower East Side had "adobo and atchara" pork belly braised in soy, vinegar and garlic with pickled vegetables.  This looked great, and the sauce was excellent, as was the small bite of meat, but the rest of it was fat.  I know pork belly tends to be fatty, but this was one bite of meat and two bites of fat.  Not my idea of fun.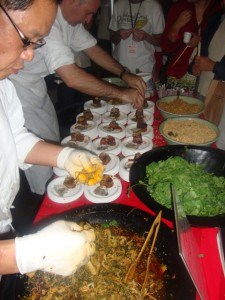 One of the more adventurous tastes was provided by The Setai from South Beach, Miami.  They had 3 guys working side-by-side putting together crisp fried pork belly, kim chi, and Island Creek oysters with chili jam and fried shallots.
This dish was as good as it sounded, with the pork belly not being overly fatty, and the chili jam and shallots making a great mouthful with the oyster, which was served on its shell.  This was one of the more popular tables, and it was no secret why – their food rocked!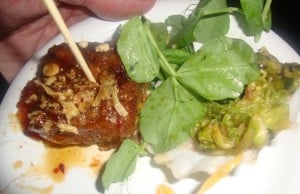 There were still a few more tables to go, including Taiwanese sausage and a seafood ceviche, so please check back later tonight for Part III, the final installment of our Luckyrice Asian Night Market review.  If you missed Part I, click here.