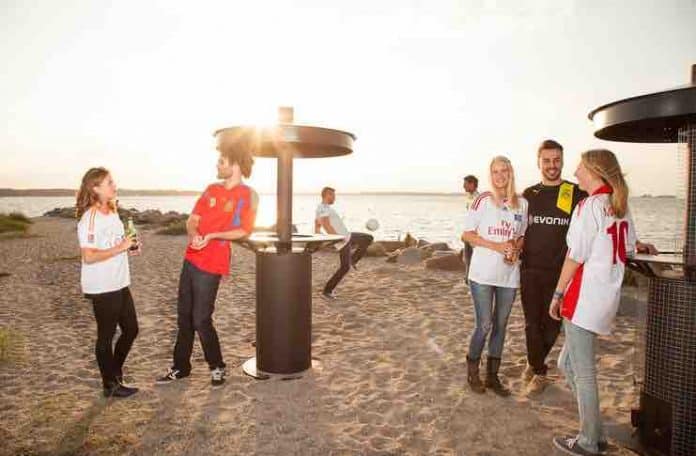 The sun is out? What? Today's weather can be characterized as erratic at best. So, when the shine hits, we have to take advantage of it. And, there is no better way to do so than to throw a barbecue party. In this post, I'll discuss my top BBQ tips that make sure my parties are a blast.
For an incredibly impressive barbecue party, the success depends on the planning and getting the tools right. We understand large parties present unique planning challenges, but since most of your time will be spent grilling, preparing ahead of time is vital.  
Six BBQ Tips For Your Next Party:
1. Perfect Planning
We all love the exciting nature of impromptu parties. They are fun. But, a good barbecue party needs a little more planning to make it memorable. So, start scribing those to-do items in your notepad. And, be sure to check some particulars with your guests. Are they coming with their kids? Do they have any allergies or any special dietary requirements? 
Remember; make a shopping list before going to the store. You don't want to break the bank getting more than necessary. Planning for the last detail is important. 
2. Have Enough Charcoal or Propane 
As you notice, most of these BBQ tips are founded on the mistakes some people make when hosting a barbecue party. So, triple check to make sure the propane gas is on a good level. Or, is the charcoal enough to last the whole cookout? We've all seen someone make runs to the gas station with burgers still sitting on the grill. You don't want to end up with a rubbery and tasteless burger. Planning is vital. 
3. Phenomenal Food and Great Drinks
Have you ever attended a party that served charred meat? We don't want that experience at your party. Make sure to prepare a variety of dishes, salads, among other buffet delicacies. You could prepare some of the side dishes before, so you can socialize more on the day. 
And, consider vegetarians. They will appreciate some mushroom shawarma, some smoky miso aubergines, or some tomato and mozzarella skewers that are good with everyone. 
For the desserts, it's always great to go for something that will be nice for the kids as well like some barbecued bananas with some chocolate buttons, ice creams, or some simple fruit salad. 
The typical notion is that a barbecue party goes well with alcoholic beverages; there will always be a few guests who don't take alcohol. Like the kids, obviously. A giant pitcher of both alcoholic and non-alcoholic fruity punch will make the party memorable.
Also, make sure to have a bucket of some ice-cold beers by the garden for self-service.  Great barbecue parties will also have some classic drinks like lemonades.
You could spruce up yours with some sprig of mint or some sliced lemon. Add some chopped fresh fruit to serve. 
While beer is always assumed as the natural pairing at BBQ parties, set aside some whiskey. Actually, whiskey goes well with your grilled cuisines.  
4. Extraordinary Grilling
People are particular about how they like their meat. Meat eaters will shun blackened sausages or overcooked dishes served with some tough burgers. But, grilling can be easy. The secret is to make sure the flames are gone before placing the meat.
Also, clean the metal bars and be sure to drizzle some olive oil on them before lighting up. And, if you're preparing different meats, confirm their cooking times. Remember, the best way to cook ribs is to have them stay succulent. Observe their rest time before serving and wrap in some foil. 
For a party, grilling is heaven's gift of cooking methods. The grill is not just limited to meat but also makes your vegetables taste like no other. Grills are one of the most essential items you need to cater to your guests' needs. As grills have progressed from the round charcoal-burning devices of old, gas grills, electric grills, and wood pellet grills are among the many types available these days. Comparing outdoor grills before purchasing is essential to meet your requirements and host a successful barbecue party
Bonus tip: Offer some ice cubes for those that don't prefer neat whiskey. Some might want something lighter or colder.
5. Mix a Great Theme with Thrilling Entertainment 
You can never go wrong with a few balloons at your party – any party. For some thrifty theming, pick Hawaiian luau or any color that will complement the menu options and give the party some personality. And, a great theme creates a great atmosphere. 
Colored tablecloths, outdoor lanterns, or even some bright picnic blankets will serve the magic. If you experience bugs in your neighborhood, some citronella candles will keep them away, and they smell incredibly nice.
Also, have some decorative lights in the yard. The party might go into the late evening. Tiki torches are especially reliable. You could also get some string lights with an automatic timer so they power on as soon as it turns dark. You don't want to be scrambling to turn the lights on.
Having a good entertainment plan will complement the planned theme of your party. Set up some games in the yard. BBQ games can spice up the party and keep the guests preoccupied as they wait for the food. Any kind of party is incomplete without games. You can easily play word puzzles like Scrabble with your friends, and you can use a word tool to dominate the board.
Also, they are perhaps the most popular way of breaking the ice and getting everyone to know the other better. They make socializing easier. Make some twister board- exciting entertainment will keep both adults and kids thrilled. Get those old swing-balls from the garage, some badminton rackets- you want to make everyone comfortable and happy.
And, great music is a must. Have you updated your playlist? Make sure to check with your neighbors before blasting those vibrant tunes that will make your party one to remember. Be sure to keep the yard atmosphere buzzing.
6. Think About The Specific Needs of Your Guests
Make sure to have activities that will keep the kids busy. Most parents are always looking for ways they can keep their kids preoccupied, so they can socialize more at parties. So, have exciting and engaging entertainment for the kids. 
And, after their high-energy games and running around, kids tend to get tired and want just to take a break. Have some living area set aside for them to crash out. Also, if the kids are many, have some adult check on them regularly.
Games like water guns and hide-and-seek will keep them preoccupied for longer.  Lastly, have a plan for ending the party. Sometimes guests linger longer than expected. One final activity that signals that the BBQ party is over could come in handy here. 
Planning a remarkable barbecue party can be challenging and expensive. But, with these amazing tips, you'll make your party unforgettable. Keep it simple, have fun!
Want to read our latest restaurant reviews? Check out our review of Chinese Restaurant Nom Wah Tea Parlor, or our review of the Original Hot Dog Factory in Brooklyn.