Buying a gift for someone can be a challenge, especially when you don't know what they love or what they want. However, one gift idea that usually goes down well is the gift of food! Whether they are chocolate lovers, savory food fans or baking aficionados, there really is a foodie gift for everyone if you look hard enough. 
We've come up with five different gift ideas that all taste great and will leave your recipient feeling very happy and impressed. Take a look at them below and learn more about why each option could be the best choice for your loved one before splashing the cash and buying!
Cooking Lessons
Does your loved one struggle to cook a decent meal or fail to time their cooking properly? Maybe they love cooking but want to try a new type of cuisine? If this sounds like your gift recipient then purchasing a cookery course or cooking lessons could be the answer to your gifting conundrum.
Cooking lessons are often done as part of a bigger group and use the expertise of a chef or cook to teach the participants something they do not already know. It could be developing knife skills. 
Creating show-stopping desserts or learning a new range of recipes to their mid-week meal collection. What's certain is that they will enjoy working alongside other food lovers and learning new tricks that they can take home to impress their loved ones with.
The Gift of Hot Chocolate
Hot chocolate gifts are often a great way to impress someone and offer a thoughtful gift that they can enjoy multiple times over. However, there is some hot chocolate etiquette that you need to consider before you spend your cash. Firstly, buying cheap hot chocolate from the supermarket is never going to be as well received as you hope and secondly, failing to give this gift without the obligatory marshmallows or other tasty toppers is a seriously bad idea!
Start by finding a hot chocolate company that offers high-quality chocolate flakes that your loved one will enjoy. These types of hot chocolate are melted directly into hot milk and offer a luxurious taste and finish.
If you want to really push the boat out then don't just buy one pot of quality hot chocolate, get one in all the flavors they have on offer so that you can gift a hot chocolate kit that is certain to impress!
Restaurant Experiences
Another great food gift for those who either cook all the time or who can't cook at all is a restaurant experience. Pick from fine dining options to specific food types that they want to try and then pick out a restaurant that offers an experience they are sure to enjoy.
Most upmarket restaurants will even offer a chef's table experience where your recipient can watch their food being cooked whilst talking to the chef about where they source their ingredients and where they got their inspiration from for each menu item. 
You can often get a restaurant experience that also offers a wine pairing experience to go with each course they are given, so if your special someone enjoys fine wine then this add-on is certainly worth investing in!
Baked Goodies
Looking for a gift that is more personal? Baked goods are a perfect choice. The number of independent sellers who offer high-quality treats has grown exponentially over the past few years, meaning that you will be able to find lovely treats that suit the person you are buying for. There is even a range of mail-order gifts to choose from too, making it easy to send personal gifts even when you live far away from the person you want to send something to.
If you are looking to lower your gifting budget you could try baking something yourself and then gifting it but this will require you to have some baking skills to start with. If you are worried about messing up a baked treat then be inventive and gift a baking basket to your recipient, adding in everything they need to create a specific sweet treat such as a cake or a batch of brownies. They will love the thought and care that goes into organising the present and get to enjoy the finished result too!
Cheesy Treats
Our final gift idea when you need something tasty to give is cheese! Cheese comes in such a huge variety of options that there is something that will please most people. From strong French cheeses to mild and creamy options and vegan cheese to cheddar, the options are endless. There are restaurants that offer cheese and pairings, cheese tasting sessions or even cheese and wine evenings where meeting new cheese lovers is a bonus to consuming delicious cheesy treats.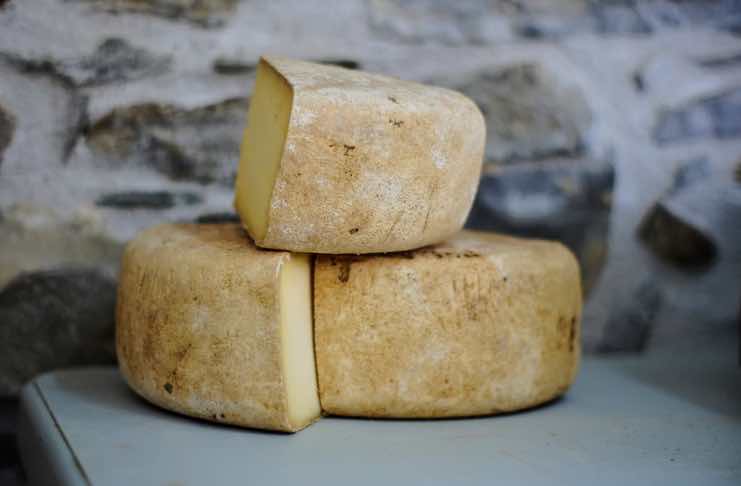 But if a cheesy day or night out isn't something they'd enjoy then why not create a cheese board or cheese hamper that covers all of their cheese favourites? Start by picking out a few nice cheeses from them to try and then get cheese biscuits, fruit and chutneys that match your chosen cheeses. You could also buy a cheese board or cheese knives to go with the gift, making it extra special and memorable.
Invest in a Great Foodie Gift 
Whether you decide to go extravagant or opt for a more conservative gift option, you can be certain that each of our tasty gift ideas will impress and leave your loved ones feeling super special. The great thing about food gifts is that they suit all budgets and can be personalized as much as you want to create a gift they will remember forever.
If you are feeling a bit jealous of the gift that you are giving then why not treat yourself too and make it an experience that you can both enjoy together – it's a win-win for everyone involved and you'll be able to enjoy the treat too!