"Hot dogs!  Hot dogs!  Get your hot dogs here!"  is something that I categorically think of when I think of concessions at any type of sporting event.  New York, what I knew to be the hub of ballparks, street carts, and amusement parks growing up. It seems to have made the 'hot dog' an important part of its food culture.  Traveling to one of the outer boroughs, Brooklyn, I visited The Original Hot Dog Factory. The hot dogs there put any ballpark, street cart, and amusement park 'dog' to shame.
The Original Hot Dog Factory is a new spot in town, which only opened up in August. It brings classic flavors from the southern U.S. as inspiration to make their hot dogs extra special.  This would be the first franchised location in the area and in the state of New York—how exciting is that!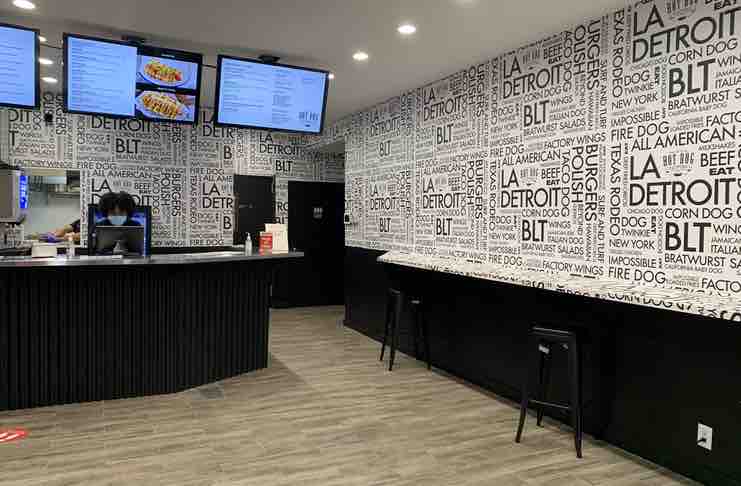 In Awe of the Menu
Like I do with most eateries, I looked up the menu of The Original Hot Dog Factory before I went there. This way, I could have some sense of what I wanted to order.  Even looking at the menu beforehand didn't exactly help me narrow down my decision because there was a laundry list of unique, topping-filled hot dog choices.
To help guide my selection, I looked to chef Shawn, and employees, Winnie and Jarell—and thank goodness I did!  My friend, Becky, who came with me for this lunch outing, and I were in awe of all the menu items. However, once we figured out what we were going to try, we became overwhelmed with excitement (and hunger).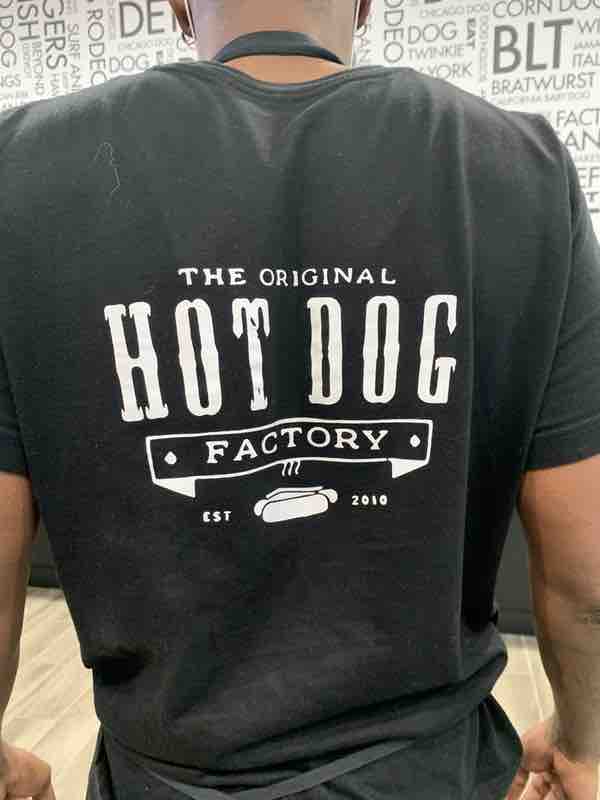 Safety Protocols at The Original Hot Dog Factory
This is the first restaurant visit I have participated in since the onset of COVID. And in New York, I wasn't completely sure what to expect.  Given what restaurants have to, unfortunately, deal with during these crazy times, The Original Hot Dog Factory, for one, is handling it with confidence and precision.
All that being said, when Becky and I were waiting for our order, Winnie took our temperatures before we were allowed to sit down and eat.  By limiting the seating area significantly, taking temperatures, and of course, wearing masks, The Original Hot Dog Factory is taking extra COVID safety protocols to ensure the best and safest dining experience for their customers—that in and of itself is admirable.  For an eatery that opened up only two months ago, they are actively showing the community that their customers come first.
After the temperature check, I was still waiting for my food, so I took the time to take in the atmosphere.  Bar stools and two long bar tops lined the sides of the small restaurant; in "normal times," The Original Hot Dog Factory would've been perfect for grab-n-go or quick bite meals. However, I was happy to learn that amidst the pandemic, online ordering, and delivery through various services (e.g. Grubhub) has been picking up for them.
Starting off with the Memphis Dog & Texas Rodeo Dog
So do I have you on pins and needles?  What. Did. I. Order?  Drumroll, please… I ordered the Memphis Dog, which is a bacon-wrapped hot dog, topped with cheese, BBQ sauce, and scallions.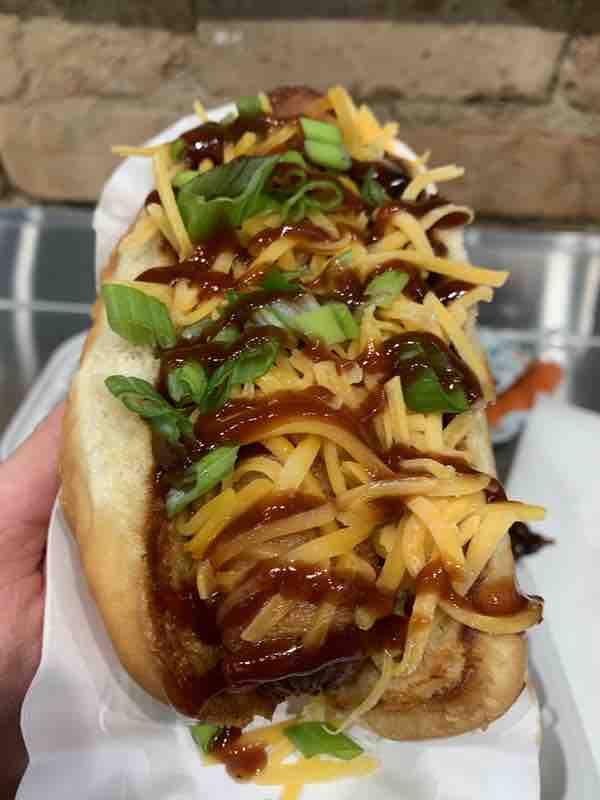 Becky ordered the Texas Rodeo, which is a bacon-wrapped hot dog, with onion rings and "factory chili".  And as if that wasn't enough, we ordered a side of sweet chili-glazed wings AND a side of chili cheese fries.  Can you say filling and fried but delicious?!
The food took a little longer to make, but that's how we knew everything was hot and fresh.  Let's face it: who wants a hot dog that has been sitting around for an hour?  No one.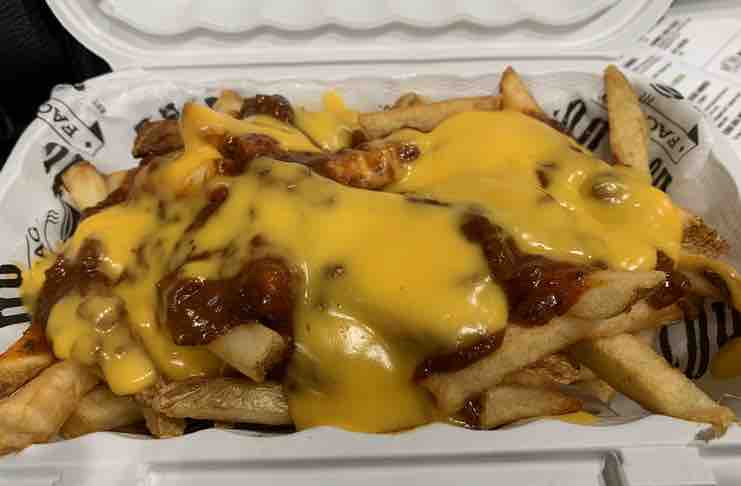 My Memphis Dog was so delicious and fried; there is a hot dog place in New Jersey where I grew up that serves fried hot dogs, and this brought me back.  The BBQ sauce, bacon, cheese, and scallion combo had the right amount of balanced flavor.
The only thing I wished was different was for the cheese to be melted on the hot dog when I got it.  Becky absolutely loved her Texas Rodeo dog as well.  She said it was a delicious kind of messy, and the best part was that the "factory chili" didn't contain beans.
The Sweet Chili-Glazed Wings
I think that was such a smart move for the restaurant. I know a lot of people who don't typically eat chili because of the beans, but this makes everyone happy!  The sweet chili-glazed wings had a nice kick to them. This, in addition to being perfectly fried on the outside and perfectly tender on the inside.  And as for the chili cheese fries?  Well, they brought me back to the flavors of a carnival.  Simple, filling food, that makes your overall eating experience that much better because your belly is happy.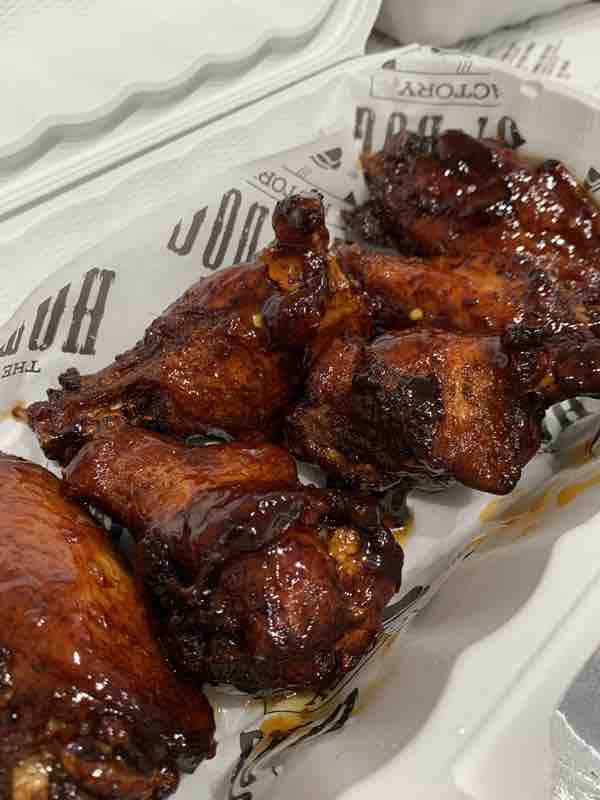 It is with positive thoughts and best wishes that I would like to welcome The Original Hot Dog Factory to the New York scene.  The staff is wonderful, the food is delectable, and the feeling you get after eating is nothing less than good for your soul.
I encourage everyone to go out, support, and give it a try.  Trust me, with The Original Hot Dog Factory's extensive menu, there are items that are bound to satisfy anyone's craving, even for picky eaters.  This is a perfect place to check out for a fun, family trip. And who knows, it might become a trend as the pinnacle for "the new and improved New York hot dog."
Name: The Original Hot Dog Factory
Location: 44 Fifth Avenue, Brooklyn
XOXO
Lauren Baghdo
Want to read more? Check out our list of 10 most beautiful restaurants in NYC!