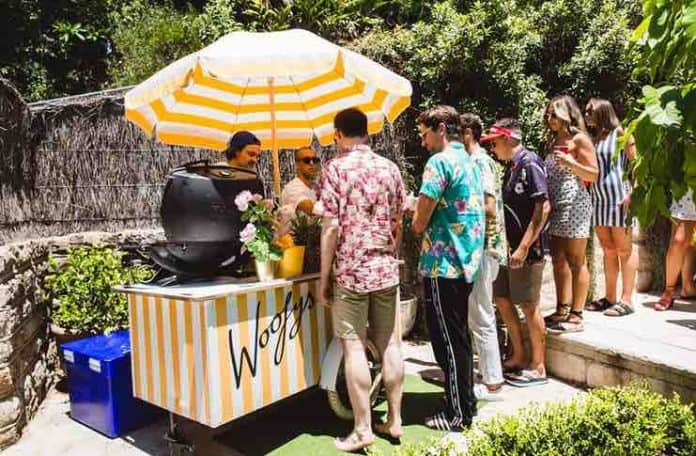 Australia is famous for more than just koalas and kangaroos. The country's budding street food scene has introduced millions of travelers to the region's unique cuisine. Believe it or not, there are nowadays food carts in Australia. If you go to any of the country's big cities during lunchtime, you'll notice a bunch of food carts lining the streets, ready to serve up scrumptious street food delicacies that you can't find anywhere else.
Read on to find out what makes Australian street food so unique and popular among locals and tourists alike, but let's start with a quick crash course on food carts…:-)
Where was the food cart born?
Legend has it that the idea of food carts started in Texas, USA during the 1800s. A cattle rancher called Charles Goodnight fashioned a vehicle known as a chuckwagon out of an old US Army wagon. Goodnight filled the wagon with foodstuffs, medical supplies, and kitchenware to help him survive the long journey from one feeding ground to the next.
A few decades later a food vendor called Walter Scott invented a contraption known as the lunch wagon. He made it by cutting out windows from a covered wagon. Scott would sell coffee, pies, and sandwiches to journalists in a newspaper office from his wagon.
Thomas H. Buckley saw an opportunity and was the first manufacturer of food carts, then referred to as "food wagons" in the 1880s. These were the first food carts to have cooking stoves, refrigerators, food cabinets and sinks as well as decorations.
Nowadays, you'll find food carts stationed outside corporate offices, factories, construction sites, etc. Most of them serve low-cost fast food in generous quantities. But, there are also gourmet food carts that are operated by professional chefs and experienced cooks.
In fact, food carts provide the ideal launching pad for aspiring chefs. It's much cheaper to start a food cart than it is to open a restaurant. You can just take your skills to the people instead of constantly applying for dwindling restaurant jobs.
Food carts are no longer limited to big cities but can be found in small towns and suburbs as well. Nowadays, food carts are available for hire to cater for weddings, corporate gatherings, movie shoots, birthday parties, festivals, and other special events.
Food Carts in Australia
As of this writing, there are over 170 food carts across Australia. They offer a unique atmosphere for gourmands through a wide variety of cuisine styles. From American fast foods like sliders and hotdogs to a fusion of Asian flavors. Here's what makes street food carts in Australia so unique.
Australian Street Food: The Unique flavors
Nothing beats homegrown, authentic Australian cuisine. Unfortunately, most people don't know what this means so it's always a pleasant surprise to discover the unique aromas and flavors of genuine Australian food.
If there's one thing you'll notice when eating Australian fare it's that the Aussies love their meat. Delicacies like Emu and Kangaroo meat share pride of place alongside extraordinary beef and fish dishes.
Australian Food Markets
Another unique aspect of street food carts in Australia is their placement. You'll often find them dotted around at colorful markets across the country. Some of the most popular ones to look out for include the Kings Cross Organic Market and Bondi Farmers Market in Sydney.
Traditional Australian Dishes
Australia has a lot of delicious traditional dishes on offer, including:
Pigs in a Blanket: This is arguably the most popular food in all of Australia. It's basically a scrumptious piece of meat sausage wrapped in bread that's to-die-for!

Meat pies: This is another famous Australian dish that consists of different types of meat paired with mash and gravy.

Barbecued Snags: This dish consists of a sausage made up of different types of meat, dunked into a generous amount of garlic butter and then barbecued to perfection.

Chiko Roll: The Chiko roll is inspired by spring rolls and it's filled with beef and a variety of vegetables.

Barramundi: Succulent fish fillet covered in crispy skin.

Dagwood Dog: The Dagwood dog is basically deep fried meat on a stick.

Fish and Chips: If you visit any seaside town in Australia you're bound to come across a food cart that serves freshly caught fish with hand-cut potato chips.

John Dory Fillets: John Dory is a type of fish that's native to Australian waters. It's a great snack that goes well with a salad or potato chips.

Hamburger with Beetroot: The unique combination of a beetroot slice with a classic hamburger is always a winner for tourists and locals alike.
As you can see, Australians love their food and that's why street food culture continues to thrive in the region. Let us know in the comments section below if you've ever tried any of these unique Australian dishes at a street food cart. We love hearing from you!