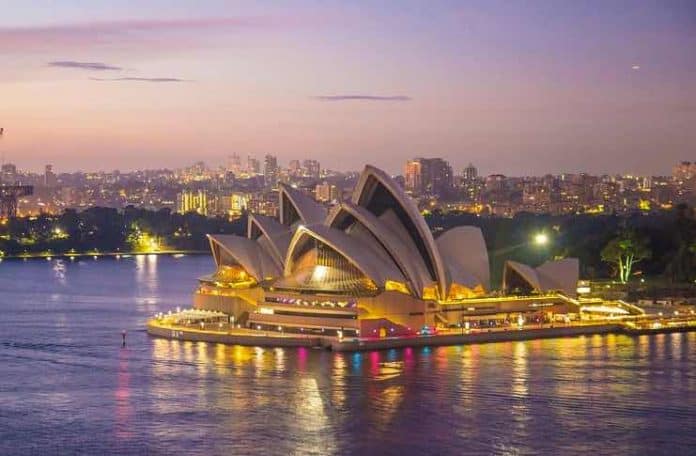 Planning a trip to Australia? Well, we've been there…And it's amazing, but we won't be giving you a travel guide today. We handpicked some of our favorite foods we tasted there, which you should definitely try out when visiting the Land of Oz…
Australia is personally one of my favorite places on the planet. It's filled with incredible scenery, from Sydney's Opera house and Harbor Bridge, its beautiful sandy beaches, the Great Barrier Reef, up to the Blue Mountains and the great Outback. All these come with incredibly nice people as well.
Alongside its scenic landscapes and smiling people, Australia also offers yummy food that we enjoyed a lot. Here are a few of them…
Do you crave for a flavor of delicious hot dog and soft bread packed together? 'Pigs in a Blanket' is probably one of the most delicious street food dishes you will get in Australia.
It's basically a regular frankfurter sausage, or hot dog, with a double dose of meat, wrapped in bacon or flaky puff pastry, so it looks like a sandwich.
Back here in the U.S – the term "Pigs in a Blanket" usually refers to hot dogs in croissant rolls.
When you do visit the land of OZ – give it a try…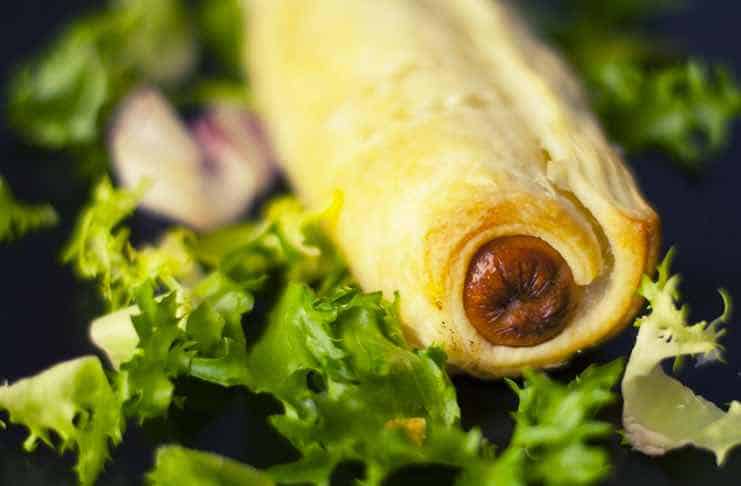 You can't visit Australia and not have the famous Meat Pies. According to statistics, Australians consume between 270 million and 300 million meat pies every year! This flaky dish comes with different combinations of meat and is actually delivered either as a fancy meal, or a snack. The good places we visited paired it with gravy and mashed potatoes, and it was absolutely delicious…
Many Australians bake their own Meat Pies at home, and they are usually much better home-made. If you make an Australian friend during your visit – try to get invited for a Meat Pies dinner. If not – you can try to make one yourself when you're back home. There are plenty of recopies out there.
I know, this is not an Australian food, but during our traveling throughout the country, we noticed a beautiful vibrant Asian community growing in Australia. The Vietnamese-Australians form one of the biggest and most active multicultural communities in the country.
Vietnamese dishes are one of my favorites. They are not just extremely tasty. They're healthy as well, and usually, contain lots of fresh fruits and vegetables. Vietnamese also avoid deep fry – which face it – isn't good for you.
The Vietnamese rice paper roll, known as Goi Cuon, traditionally comes with either pork, prawn, vegetables or other ingredients wrapped in a cold roll, or rice paper. Dip it into a Vietnamese peanut sauce and you will ask for more and more. During our visit to Queensland, we had an amazing authentic Vietnamese experience at a venue called Original Saigon Restaurant, in the city of Toowoomba, around 90 minutes drive from Brisbane.
A bit similar to Vietnamese or Chinese spring rolls, this dish is definitely a part of the Australian food culture. Chiko Rolls come with a variety of vegetables and beef as the stuffing. The most popular fillings are cabbage, barley, carrot, green beans, beef, celery, and onion. That is then enclosed in a thick egg and flour pastry tube, and deep-fried.
Chiko Rolls are the perfect on-the-go food or snack, especially if you're traveling around. We had lots of these when we toured Australia. The media claims they've become a food icon.
Yes, there's probably nothing more American than the Hamburger, and most historians claim the USA was the first nation where a ground of beef steak was combined with two slices of bread and sold to the masses.
However, back in the 1940s, as hamburgers started flooding Australia, the Ozzies managed to create their own 'Australian Hamburger', by adding just one ingredient: Beetroot.
Yes, Australians managed to maintain their own identity by creating a Burger with a crispy beef patty, same old soft burger buns, tomato, lettuce and onion, and on top of all that – a subtle finish with a slice of beetroot. I must say – it's YUMMY.
How did that happen? Some say its thanks to the openings on the Edgell and Golden Circle canneries back in the 1930s, which created a surplus of canned beetroot that people added to many dishes.
Australia has much more tasty foods to offer, and we might cover some more in the future, but for now – let us know if you tasted any of the above. If so – please share with us your experience!