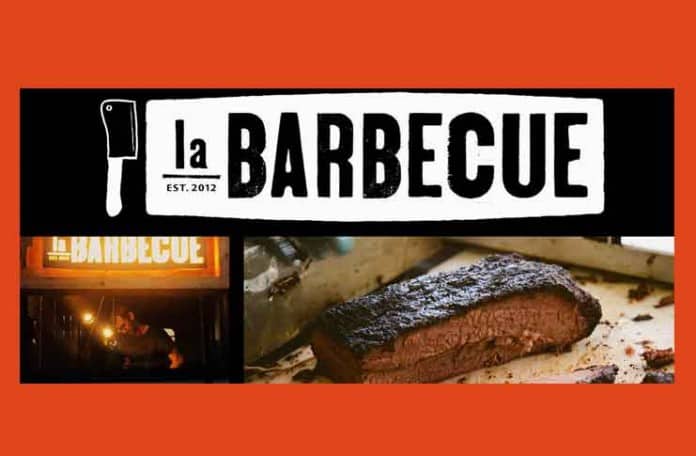 If you're planning a trip to Austin, Texas be prepared to wait in line. This is me forewarning you about the expected long lines for barbecue. Franklin Barbecue even has a Twitter account that updates each morning with photos of the line. Clearly, Austin takes their barbecue seriously.
Make plans to wake up early to get in line at La Barbecue. This food truck has a few giant smokers and has become so popular that loyal patrons wake up as early as 9am to stand in line until the brisket is freshly cut.
I suggest bringing a group of friends to hang out with while you pass the time in line. Plus, standing in the line at La Barbecue gets you unlimited access to a keg of cold Shiner beer. After a few beers in, perhaps the line will seem to move much faster.
While waiting in line during my last trip to La Barbecue, I spotted La Barbecue's pitmaster, John Lewis.
Since I am originally from North Carolina, John and I chatted about the differences between Carolina and Texas barbecue. He also let me get a glimpse inside one of La Barbecue's giant smokers, which are all crafted and welded by hand. La Barbecue smokes close to 600 pounds of brisket each day and when they're out, better luck next time. My mouth dropped as soon as I peeked into the smoker. That's a lot of meat!
Luckily, our place in line scored us access to most of the meats La Barbecue offers. I tried the pulled pork, brisket and turkey. This native Carolina girl was pretty confused by the stack of white bread, pickles and onions. So, I received a crash course in Texas barbecue by a resident Texan who has lived in Austin for about 14 years.
I discovered during my trip to La Barbecue that there are two types of brisket, dry and moist. I'm a huge fan of the moist brisket, which basically means this cut of brisket contains more fat. I quickly learned to place slices of brisket on the white bread and then top with onions and pickles. However, I'm a purist and enjoyed my fatty brisket by itself.
You know that feeling when you eat something so delicious that you just have to close your eyes to savor every moment? That's how I felt after my first taste of Texas brisket. The brisket was so amazing that I couldn't stop eating and I surely didn't want to share. After devouring a few pounds of meat and various sides like chipotle slaw and pinto beans, I had a case of the meat sweats (or maybe it was the hot Austin weather). I've never felt so full or satisfied after a meal.
Waiting in line for brisket is one travel memory I will always cherish. I'm glad I had the chance to get a taste of this delicious Texas staple during my first trip to Austin.