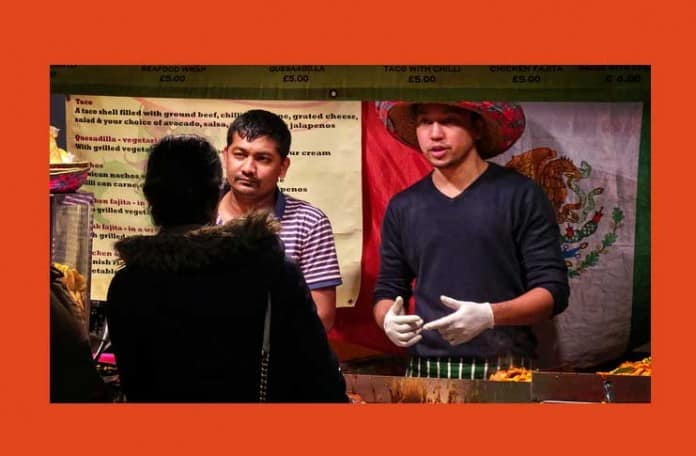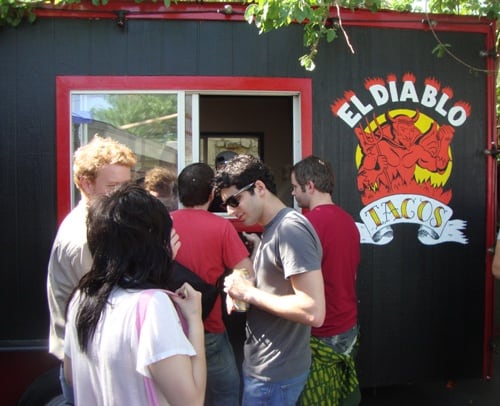 For the final installment of NYSF In Austin, we're bringing it all back home, and making a direct connection between Austin and New York.
What do Austin and New York have in common besides great street food, an awesome music scene, and lots of hipsters:  El Diablo Tacos, who started in the backyard of the Union Pool Hall in Brooklyn, and just last week opened a trailer in the backyard of the Barbarella and Swan Dive bars at 615 Red River in Austin.
Although we haven't been to El Diablo Tacos in Brooklyn, they have enough of a reputation to be listed in our food truck directory.  It's pretty funny that we are first trying them in Austin, but they are the perfect vendor for bringing it all back home.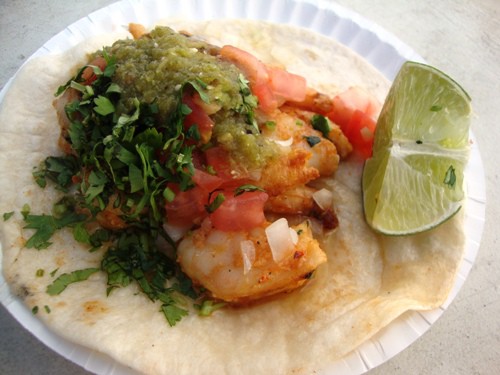 I've heard good things about their grilled corn, shrimp tacos and chorizo tacos ($3 each), but I had a special event to attend in an hour and didn't want to get too messy, so I skipped the corn.  I was invited to a SXSW Grammy Block Party with Jimmy Vaughan and other artists performing, and I couldn't attend with food on my shirt or corn stuck between my teeth.
The shrimp taco had a nice amount of fat, grilled shrimp topped with onions, tomato, cilantro and salsa verde.  I squeezed on some fresh lime and took a bite.
The shrimp taco was juicy and very tasty, with the shrimp taking a front seat, and the salsa verde providing some decent heat.  The onions and cilantro added to the flavor as well.
Unfortunately, a bunch of liquid came out the back of the taco when I took a bite, but I was being extra careful, and it all landed on the plate.  They only used one tortilla, but since I was eating it right away, there was no problem with tortilla breakage.  This was a yum taco!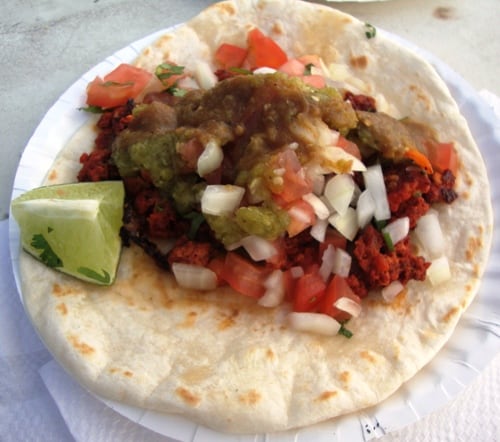 Next up was the chorizo taco.  It had the same toppings as the first taco, with crumbled, grilled chorizo instead of shrimp.
I really like chorizo, and this was good chorizo.  It wasn't super spicy, but had a nice flavor that came out even more from being grilled.  There was a little liquid in this taco, but not as much as the shrimp taco, and the spicy salsa verde was even better with chorizo.
This was the first week El Diablo Tacos was open in Austin, and hopefully they will use a slotted spoon in the future when putting salsa verde and chopped tomatoes on the tacos.  Other than a little extra liquid, these were very good tacos.
I've heard really good things about the breakfast tacos at El Diablo Tacos in Brooklyn, and definitely have to get out there for brunch one weekend.
The El Diablo Tacos website is here, their twitter is here, and facebook is here.