Ever had a Cuban Sandwich? A new food truck opened recently that bills itself as "The Authentic Taste of Puerto Rico". We can't vouch for the authenticity claim, but we can let you know if the Latin Kitchen is worth your time and money.
The side of the truck says "The Home of El Jibarito", so of course we had to find out what El Jibarito was.
It turns out that El Jibarito is a sandwich where they use fried plantains as the bread. Any sandwich can come as a jibarito, on sweet bread, or in a wrap. Our choice was the El Cubano sandwich as a jibarito, or in other words – Cuban Sandwich, which cost $8.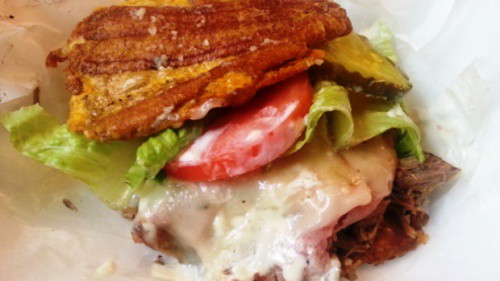 We usually enjoy Cuban sandwiches, and this was no exception. Inside the two large fried plantains were roasted, shredded pork topped with ham, Swiss cheese, lettuce, tomato and pickles.
The topping that really stood out however was the LK Garlic Mayo. This was some seriously garlicky spread. On the way back to our office, we stunk up both the train and the elevator, which just increased our anticipation. (Note: Make sure you have some mints for afterwards if you order anything from the Latin Kitchen with LK Garlic Mayo on it.)
The fried plantains were a little chewier than the bread or wrap would have been, but it was an interesting way to put together a Cuban Sandwich.
We definitely want to try more dishes from the Latin Kitchen. The food was good, the service was friendly, and the prices were reasonable.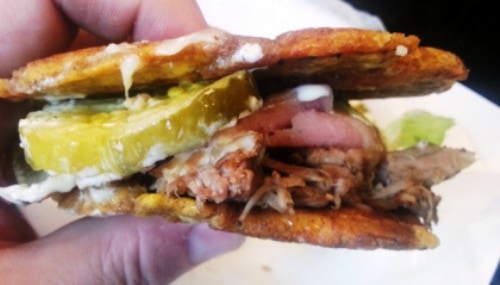 In addition to a long list of the sandwiches, there were Daily Specials that change each day, several types of empanadas (including crab!) and several desserts.
The Latin Kitchen has been generally concentrating on midtown, but you can find out exactly where they are on Twitter here, Facebook is here, and their website is here.
The next sandwich we want to try is La Viagra  (not because we need it, but because we love seafood). La Viagra contains a seafood medley of shrimp, lobster, crab and calamari, but surprisingly, no oysters. It still sounds delicious!