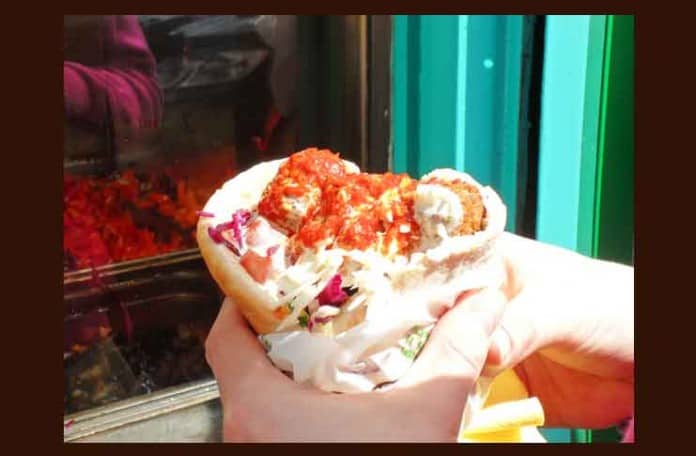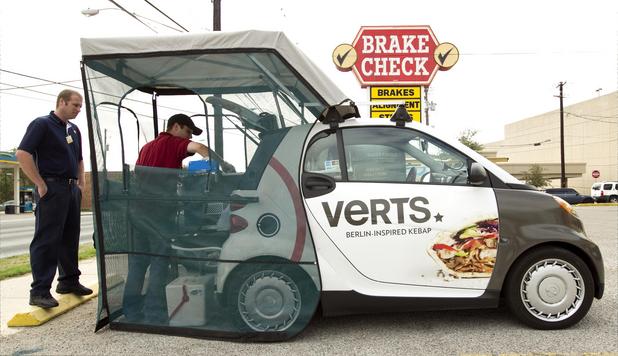 The World's Smallest Food Truck, located in Austin, Texas, sells döner kebaps, the Turkish sandwich similar to a Greek gyro.
What makes these so unique, in addition to being the only döner kebaps sold in Austin, is they are made and sold out of the back of a Smart Car.
Addie Broyles of the (Austin) American-Statesman wrote the story for Austin 360.com.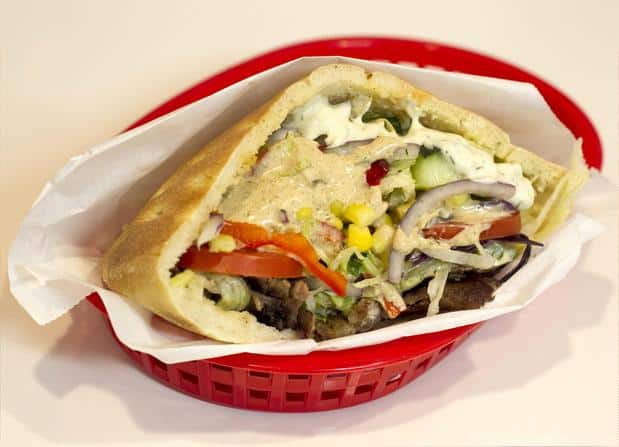 When Michael Heyne and Dominik Stein moved to Austin in 2009 to attend the McCombs School of Business at the University of Texas, they couldn't believe no one was selling the street food that is easily the most popular fast food in Germany thanks to an influx of Turkish immigrants in the decades after World War II. They combined their business savvy and love of döner (pronouced "duhr-nah", light on the "r") to create Verts Kebap, which opened its first two stores in the Dobie Mall and on the Drag just as UT students were returning in August and recently debuted what they are calling the world's smallest food truck tucked inside a Smart car.
"Döner didn't exist here yet," Heyne says. There are plenty of restaurants that sell gyro and shawarma, but döner meat isn't just seasoned differently, it's topped with a yogurt sauce that is heavy on the dill and doesn't have any cucumber, which is essential to the tzatziki sauce found on gyros.
One of the biggest hurdles to starting a proper döner shop is getting the right kind of meat, usually a combination of shaved beef and lamb that is packed into a cone shape and rotated vertically on a spit in front of a broiler. Heyne connected with a Turkish man who moved to the U.S. from Germany and contracted with him to make the just the right combination of meat (90 percent beef, 10 percent lamb) and spices that is most reminiscent of the döner meat found throughout Germany and much of Europe.
Using pizza ovens imported from Italy, Heyne's staff bakes round flatbreads that are slightly more tender than the traditional pita used in gyro but that can still be stuffed with ingredients. In addition to the traditional döner meat, Verts offers both roasted chicken and veggie patties that can be topped with a variety of sauces and toppings, such as lettuce, cabbage, tomato, onion, cucumber, corn and, if you want a more gyro-like sandwich, feta cheese. Customers can then choose from five sauces: house sauce made with dill, hot sauce, vinaigrette, spicy red and garlic.
Inspired by the breakfast taco, Heyne has added two breakfast kebaps to the Verts menu that will debut this weekend: one made with traditional breakfast taco ingredients such as bacon and cheese and another made with egg, shaved döner meat and vegetables.
Heyne knows the "World's Smallest Food Truck" tucked inside the Smart car is a gimmick, but it's a good one. He and Stein spent six months going back and forth with city health inspectors to make sure the car, including the heating and cooling elements, the retractable awning and the hand-washing and utensil-washing stations, were in compliance with city code for mobile vendors.
The whole unit runs off two car batteries and looks perfectly engineered kitchen that you might find on a space shuttle, and Heyne isn't done tweaking it. He plans to add an espresso machine that fits into the unit in the trunk and has figured out a way to cut 100 pounds off the contraption before it goes in the second Smart car.
He had to outsource much of the engineering on the car because he couldn't find anyone in the U.S. who was willing to work on such an unusual project. "I get excited about a challenge and want to do it," he says.
With a kebap that clocks in at less than 580 calories full dressed, an untapped market within arm's reach and a willingness to work around the clock and hire people who specialize in what he doesn't, Heyne wants not only to run a successful business, but he also wants to change Americans' perception of healthy fast food.
"Our main goal is to combine health and taste," Heyne says. "In our market research, we found that in the customer's mind, you are either healthy or tasty, but not both. We want to serve high-quality fast food that is always healthy, but where we don't give up the taste."
abroyles@statesman.com; 912-2504
Verts Kebap 2021 Guadalupe Street (inside the Dobie Mall)
2530 Guadalupe Street 214-802-8342
Verts Kebap's food car, which is housed inside a Smart car, serves lunch from noon to 2 p.m. on Wednesdays through Fridays at the Just Brakes near 37th Street and Lamar Boulevard. Soon, the car will be serving the late night crowd downtown and breakfast elsewhere in Austin.
To find the latest on the kebap food truck, go to vertskebap.com/
food-trucks. [Austin 360.com].