A new Caribbean food truck popped up over the past few weeks in the usual midtown food truck haunts (47th St Park/Lex and 46th/6th). One thing we love about Caribbean food is the availability of seafood on the menu. Even if you don't like seafood, there are plenty of other choices.
We went for the grill fish for $10, but you can get chicken, goat, and even oxtail, a rarity on the street. For any vegetarians out there, mac and cheese is an option, as is rice & beans.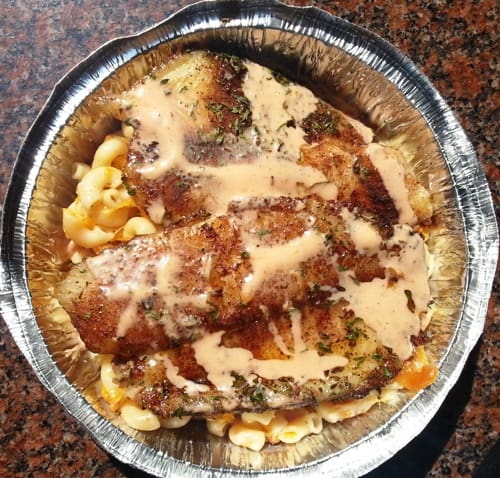 In addition to grill fish, the menu at TMT Caribbean Delights had curry shrimp, chicken, or goat and stew chicken or stew oxtail.  There are also several side dishes to choose from, and you can get roti (bread) with any meat for an additional $1. Unfortunately, they were out of roti by the time we got there 🙁
There were two nice fish fillets served over our choice of side dish. The server said we could have mac and cheese or rice & beans as a side dish, so we chose mac and cheese.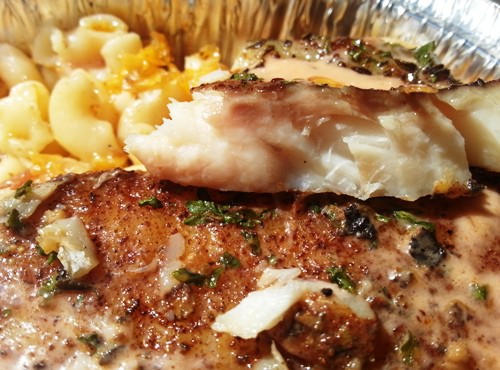 The fish was rubbed with an interesting blend of spices that were not easy to pick out. We think allspice was in there and probably cloves too, but that rub had us scratching our head. Don't get us wrong, it was very tasty. We just couldn't figure out the ingredients.
The amount of fish was good, with two fillets, and they were topped with a sauce that was reminiscent of thousand island dressing, but lighter. Some cayenne in the sauce would have been welcome.
The macaroni and cheese, which the fish was served over, had macaroni and it had cheese, but it did not have cheese sauce. There were pieces of grilled, toasty cheese mixed in, but not a cheese sauce. This was unexpected, but fine. There were enough bites of cheese to still legitimately call this dish macaroni and cheese.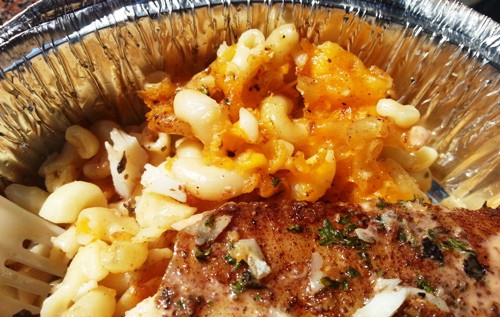 You can find TMT Caribbean Delights on twitter here (although the account does not seem to be updated regularly), and on facebook here. We know they hit both 47th St between Park & Lex and 46th St just east of 6th Ave, among other places, so keep your eyes peeled if you like Caribbean food.
Next time we want to try one of the curry dishes. It will probably be the shrimp curry, knowing us.