March 27th, 2011

We've picked up a lot of new readers this month, so it's a good time to remind everyone to make sure you get the NYSF App, which is now available for iPhone, iPad and Android (sorry BB folks).
With over 3,000 street food vendors in New York, the NYSF App tells you where to find only the best street food when you're walking around.  It features approximately 100 of the best street food vendors, with detailed reviews of most places written exclusively by NYSF writers.  You can choose vendors by type of cuisine or location.
For only $.99, the price of a regular cup of coffee, you can find the best places for breakfast, lunch or dinner while walking around New York City.  We even include public seating areas for after you get your food.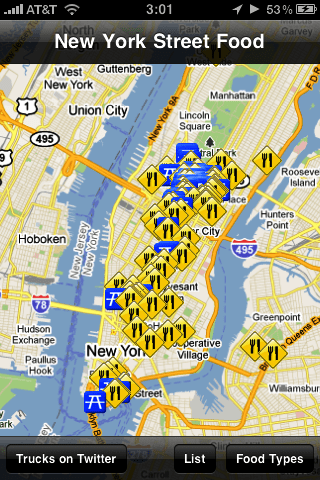 If you already have the NYSF app, we would appreciate if you could write a short review or at least leave a rating.  If you don't have it yet, what are you waiting for!
Click here to get the New York Street Food iPhone or iPad app.
Click here to get the Android app.
If you have purchased the New York Street Food app and have any problems or would like to suggest a feature for the future, please email perry@newyorkstreetfood.com.