Without Subscriptions or Membership Plans, a New Coffee App called 'App of Joe', focuses On Local Businesses And Community…NYC's newest coffee app is excited to announce its official launch for free on iOS (App Store) and on Android (Google Play) today.  Partnerships with the city's favorite local coffee shops on the Lower East Side and East Village provide coffee hounds with the ability to purchase $1 coffees and pre-order to skip lines.
After users install App of Joe on their devices, they are geo-located to discover participating coffee shops within the vicinity. From there, you are able to order and pay via mobile device and, in turn, pick up the order without waiting in line.  The new Coffee App provides a fast and practical service for coffee lovers for their daily New York routine and constant state of hustle.
Romi Shriki, Manager of B-Cup Café in the East Village says, "Most of our customers are regulars. We love that familiar vibe that B-Cup maintains and we want to expand our community by partnering with App of Joe. Although we make traditionally less money per cup, we have seen a major influx in new customers who continue to come back." He continues, "people are getting tired of the big chains and are starting to look for more human connect and personal touch that those guys simply cannot offer."
App of Joe embraces a more personal connection that is jumpstarted through technology. Drinking coffee is a regular practice in millions of people's routines. Founder, Ohad Attias believes that "the world is moving toward mobile ordering (Starbucks new app got 20% adoption by its customers) and that by leveraging the marketing power and technology of App of Joe with the uniqueness and quality of the independent coffee shops, we have the ability to help customers discover new, local coffee shops, order easily, and pay less than half price."  "This model also provides independent coffee shop owners massive exposure, cutting edge technology, and a fighting chance against the big players while maintaining their identity and uniqueness."
Where did the founders get inspired? "Our families are based in Israel and on one of our visits,", they tell NYSF, "we saw the power of 'Cofix', a chain of Israeli coffee shops that sells everything on the menu for a $1.50. With living expenses as high as New York's in many regards, Israel adopted this concept extremely fast, making 'Cofix' one of the most successful players in its coffee market. That was the proof of concept we needed – charging less at a higher volume of sales proved to be a sustainable working model in the coffee market and we know it's only a matter of time before the same model will be deeply rooted into New York's coffee scene. So Instead of opening another big chain we decided to partner with the best cafes in town, arm them with the top of the line technology and fight the big chains together."
Albert Rafailov, owner of Golden Crepes on the Lower East Side and in Chelsea also understands people's coffee habits: "customers tend to stick to one coffee place. If they're used to going to Starbucks, then that's what they'll do every day. They won't go search for something new, even if they're not getting the most out of their regular spot. Some people live right around the corner from an independent shop and have no idea."
The new Coffee App allows users to discover local coffee shops and help support these businesses. Without a subscription plan, App of Joe also gives people the opportunity to simply try new places without fully committing. The company believes that once people taste products from independent shops, they will be hooked and enjoy a much higher quality beverage as well as small-batch food offerings, and unique vibes and energy. People are drawn more and more to these types of environments and App of Joe is a step in the right direction to rebuild NYC communities centered on privately owned businesses.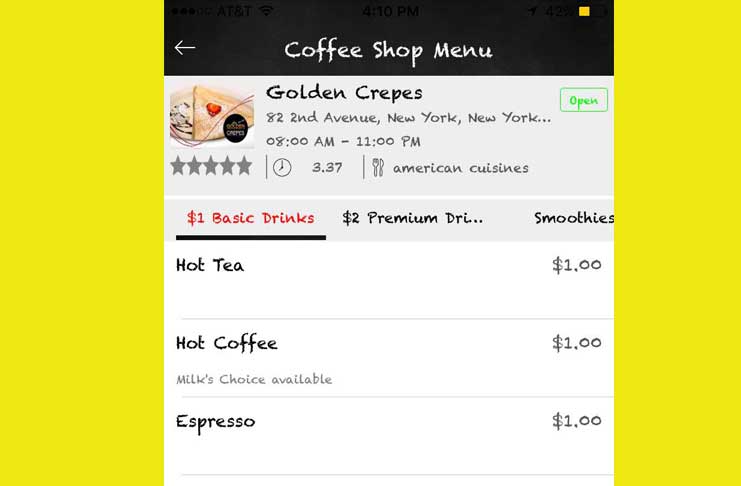 App Highlights Include:
Basic Drinks cost $1 (coffee, tea, espresso), "Fancy Drinks" cost $2 (eg: lattes, macchiatos, etc.)
Zero subscription plans or pre-paid membership needed
Seamless mobile drink customization (larger sizes, extra shot, extra flavor) at an additional 50 cents
In-app payment; uses Strip technology via credit card (shops are paid weekly and App of Joe takes a portion of purchases)
Selection of "munchies" for purchase from each coffee shop; specially curated by owners
App of Joe currently has 20 independent coffee shop partners in Manhattan- specifically in the East Village and Lower East Side neighborhoods – and is continuing to grow throughout the city. For more information on App of Joe, visit www.appofjoe.com.