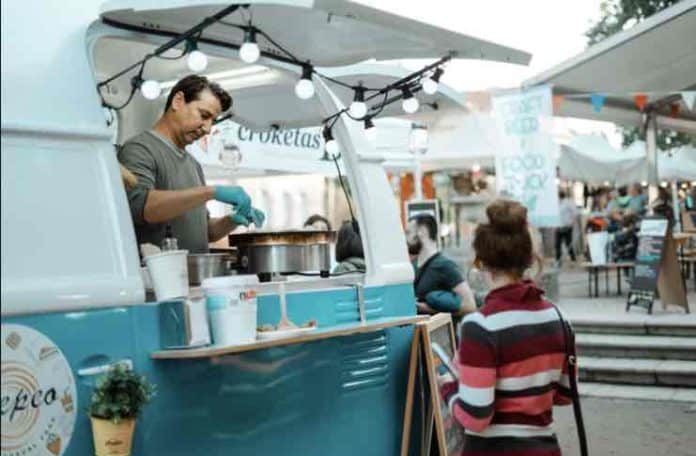 There's nothing more rewarding and satisfying than launching your own business. It becomes even more exciting when you're kickstarting your entrepreneurial journey with an awesome food truck. Searching for the latest food truck apps and technologies you can use?
The vibrant ambiance of a food truck combined with the lively young crowd is something a brick and mortar business rarely offers. With more than 26,000 operational food trucks across the U.S., it won't be wrong to say that the food truck industry exploding right now. In fact, it's a $1.3 billion industry just in the U.S.
Challenges of the Food Truck Business
Nevertheless, the growing popularity of this market has also given rise to stiff competition among food truck owners. Gone are the days when you could just park your truck in a public place and expect customers to pour in.
Today, you have to use the right tools and technology to attract your customers to the right location at the right time. This is particularly crucial considering that running a food truck poses unique challenges, such as:
Lack of adequate manpower

Operating out of a cramped space

Managing inventory, finances, safety checks, etc. on your own 

Dealing with a seasonal influx of customers

Promoting your business on various social media platforms
Also, you must provide an excellent customer experience and entice people to keep coming back to your food truck. Luckily, you now have access to cutting-edge food truck tech that can minimize your stress and workload.
Here are a few must-have food truck technology and apps that deserve your attention.
Food Truck Apps & Technology You Need To Know About:
1. Hyperlocal Weather Forecasting
Your food truck business is going to be weather dependent. The weather will dictate when, where, and for how long you can operate your business. That's why it is always a good idea to check the weather forecast before planning your truck's route for the upcoming months.
Don't just rely on generic weather information that's available on the news. Instead, use hyperlocal weather intelligence platforms to find how the weather's going to behave precisely in a selected neighborhood.
For instance, you can check the temperature here on ClimaCell's website before deciding whether you should bring your truck to a particular location. You can even find other useful weather data on wind speed, humidity, precipitation, etc.
2. Mobile POS
Ditch the traditional cash register and get a reliable mobile point of sale (mPOS) solution instead. It can go a long way to eliminate delays in taking orders and processing payments. Also, it'll give your customers a wide array of payment options to choose from.
mPOS systems are quite affordable and easy to implement. You can even find specialized solutions that are tailor-made for food trucks. Popular mPOS solutions for food trucks include Square, ShopKeep, and TouchBistro.
3. Digital Display
No. Providing printed copies of your menu isn't enough. If you want to grab eyeballs, it's high time you install a digital menu display outside your truck. You can showcase the day's specials and even announce discounts and offers.
Use an app like ScreenCloud to turn any screen into a digital display with an Amazon Fire Stick or Android TV.
4. Mobile Hotspot
Nothing lures a crowd better than the temptation of free WiFi. If you're operating in a public space that doesn't have WiFi, use it as an opportunity to improve your customer experience. All you have to do is turn on your smartphone's tethering option and amp up the WiFi signal using a wireless router.
5. Location Tracker Apps
These are definitely among my favorite food truck apps. Wouldn't it be great if you could send timely location updates to your customers? What if you could also automatically update your location on various map apps, social media platforms, and business directories? Better still, do you want a way to reach out to your customers every time you're in their neighborhood?
Location tracker apps, such as Truckily and Food Truck Tracker, help you accomplish all this and much more. It's a great tool to help your existing and potential customers find your food truck whenever you're near them.
6. Personal Finance Apps
Irrespective of how much you dislike financial recordkeeping, it's still an indispensable part of running a business. You can simplify the process by using an app, such as Mint or Spendee, to organize your finances and efficiently manage cash flow.
7. Cloud Storage
Paperwork is an integral part of every business. Your food truck isn't an exception. From business registration and tax summaries to bank statements and marketing collaterals – you likely have to store a wide range of important documents.
However, with an office the size of a food truck, squeezing a filing cabinet into the cramped space won't be a great idea. Instead, you can use cloud storage apps, such as Google Drive, Dropbox, OneDrive, etc., to securely store digital copies of important documents.
8. Food Safety Apps
The last thing you want is to land in the bad books of the FDA after an inspection goes wrong. But when you're running a food truck, it's easy to lose track of important things, such as maintaining the right food temperature.
This is where a food safety app, such as FreshCheq, step into the picture by automating food safety checks. These apps constantly monitor various devices to ensure that the proper temperature and safety standards are being met. Also, they generate useful reports that'll come in handy during an FDA inspection.
9. Social Media Management Tools
Skyrocketing your social media presence is a crucial aspect of growing a food truck business. However, between taking orders and fetching supplies, chances are you won't have the time to frequently post updates.
That's why you need to use a social media management tool, such as Buffer or Hootsuite, to automatically publish content on different platforms. You also get access to plenty of insights on how your content is performing and what you can do better.
10. Customized Apps
That's right! You can get a fully-customized food truck apps made to take orders, process payments, manage inventories, and even control cashflow. It's recommended that you list your needs, set a budget, and consult an experienced app developer to get your own food truck app.
Have you used any other apps and tools to grow your food truck business? Share your suggestions in the comments section below.